Four Ways to Upgrade Your Cooking
With Michel Roux Jnr
Savour every moment in the kitchen, delivering perfect results every time.
Entertaining can be daunting. You want to delight guests with a tantalisingly good meal, while also being able to enjoy their company and relax yourself.

We invited renowned international chef Michel Roux Jr. to our kitchen at Samsung KX, London, to talk us through some of his favourite show-stopping, yet simple recipes, using our Infinite Line range of cooking appliances.

These four simple recipes, guide you through various delicious techniques, from expertly roasting and steaming a chicken at the same time, to steaming a healthy fish to perfection.
Roast chicken is a classic that deserves to be cooked to a juicy, yet crispy perfection, and carved at the table with eager onlookers ready to tuck in. Michel shows you how to roast a chicken that your guests won't be able to get enough of.

Using the Dual Cook Steam Oven, he cleverly steams the chicken on the inside, while simultaneously roasting it to achieve a crispy skin on the outside. Prepared and served with an array of sweet roasted vegetables. Cooking the chicken in this way allows you to relax, sit back and enjoy nibbles with your guests while it's in the oven.

Steam and bake simultaneously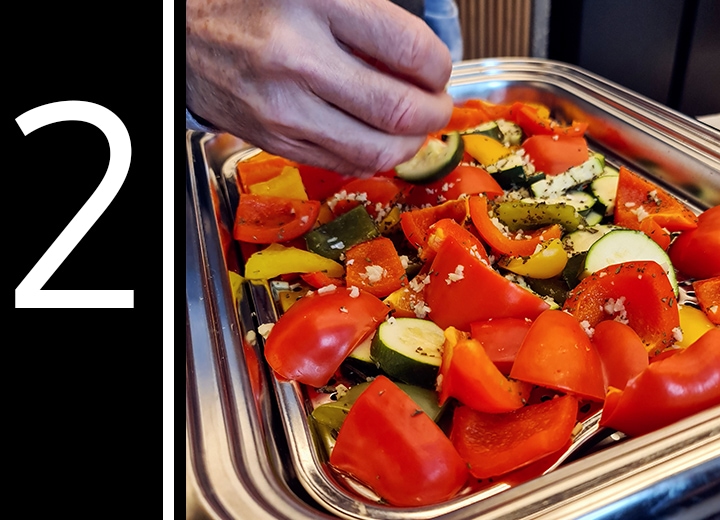 Saving time in the kitchen is a huge relief, enabling you to spend it with your guests, worry-free. Often, dessert and savoury foods are cooked at separate times in the oven to prevent any transfer of flavours or odours. No one wants a garlic-infused tart tatin!

Using our Dual Cook technology, Michel shows you how to cook two different dishes simultaneously - his garlicky steamed vegetables, cooked at the same time as his buttery apple tart. Both at different temperatures, with absolutely no transfer of odours. Your guests will be asking for a second helping of both.

A wonderful steamed fish is all about good quality produce and careful cooking, with the cooking part often putting people off.

Here, Michel talks you through easily steaming fish using the Dual Cook Steam oven - taking away the stress of 'careful' cooking, to produce perfect results every time. The fish lightly fluffs onto the fork, while delivering a flavour so exquisite, you'll be shocked that it's healthy. Why not try serving with a vegetable mash and a light sauce to add even more texture to the table.



Don't waste the leftovers – cook a fuss-free, yummy lunch.

With leftovers waiting in the fridge, here's how to get creative with a simple, tasty meal. It's time to love bringing your leftovers back to the hob. Michel whips up a scrumptious, left-overs frittata using the previous night's steamed vegetables, and the Infinite Line Hob with integrated extractor fan.

You can swap out vegetables for various leftovers, including meats, cheeses and fish. Adding different herbs and spices can also add a new, exciting element to your leftovers cooking. Your guests will be inviting themselves back over!

Our Infinite Line takes kitchen technology to a new level. The range has been designed to assist and elevate all of your cooking needs, with a showstopping design finish. Exquisite materials and extraordinary features come together to create a modern kitchen aesthetic for a beautiful, professional feel with a powerful performance.
Discover the Infinite Line™ range
Hob with integrated extractor