The evolution of
how we got here

There's been a lot of talk about 5G. 3G was fast. 4G is faster. And 5G will redefine what you think of speed.
Every new generation opened a new world to mobile users. Now, with Samsung's 5G-ready devices, you can unlock the future.


The start of fast
3G was the first step to mobile broadband, transforming the way we lived, worked and played on our phones.
A decade ago, 3G opened the doors to data speeds that allowed us to access media wirelessly. It even blazed a trail for apps — something no mobile user can live without now.

But 3G was still limited in bandwidth, taking up to 10 minutes to download even a short video. We had to do better.

The speed of innovation
We've always been early adopters of mobile technology — Samsung was one of the first to introduce 4G devices to the mobile market.
A leap forward in speed compared to 3G, 4G still left something to be desired. Occasional lagging and bandwidth issues don't fully meet the demands of the always-on population.


The next step in speed
4G LTE-A brought us closer to real-time connections, supporting gaming, mobile HD TV and video conferencing.
Although it ramped up the data speeds from 4G, remaining lag and even the potential for dropped calls kept this connection from satisfying the masses.

Experience the fastest Galaxy ever
There's fast. And then there's 5G fast. With one of our 5G enabled devices — including the entire Galaxy S23 series, Galaxy Z Fold4 and Galaxy Z Flip4 — you'll experience near instantaneous, seamless response times when you stream, download and browse at 3x the speed of 4G.*
Fewer loading bars, and fewer buffering wheels. Family video chats will be more seamless, and you'll get to experience your gaming in real time.

Stay connected, always. 5G will mean you can connect all your devices, so you can be always on, no matter where you are.* Our increasing range of 5G-ready phones, will make sure you stay connected.

What's next?
We're working towards unlocking a future
that connects you like never before.
With each new generation of wireless technology,
our devices gain new intelligence that allows
them to seamlessly sync up and keep you
part of the Samsung universe.
The expanding universe of Samsung 5G
Discover Samsung's 5G-enabled devices.
Galaxy S23 Ultra
Enjoy awesome images in a flash with the Galaxy S23 Ultra. Featuring a 50MP Rear Camera and the latest generation of mobile processing power, this device is packed with next level power.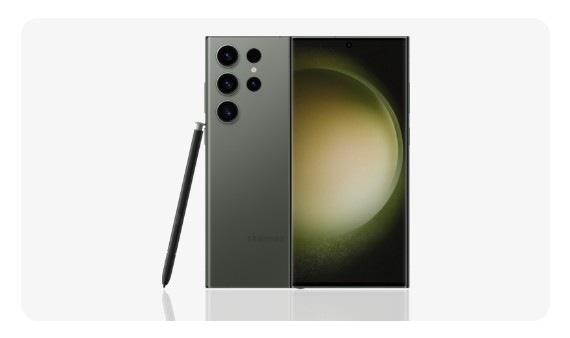 Galaxy Z Flip4
Folds into your pocket. Tucks into your purse. Slips into your skinniest jeans. You can take it out and it flips open into a full-screened 5G smartphone and flexes to your favorite angles.

Galaxy Z Fold4
This is everything you'd want in a premium, durable, 5G smartphone. We made it unfold — revealing a massive screen so you can watch, work and play like never before.
*5G functionality requires compatible network connection and tariff.
Banner vertical alignment fix