key features

TV when it's on, Art when it's off
Watching a drama or a dramatic artwork – The Frame looks just as striking on or off. Thanks to QLED technology, you can experience the brilliance of watching everything in lifelike colour and incredible detail, just as the creator intended.

Designed to look like a frame
Frame-look Design
Because it looks like a real frame, The Frame enhances the surroundings, wherever it is.
Style it your way
Customisable Bezel
The choice is yours when it comes to The Frame. Pick the ideal customisable bezel* colour to work with your taste, home or simply the artwork on display. As they're magnetic, it's really easy to swap them whenever you fancy a change.

*Customisable bezels sold separately.
Add inspiration to your daily life
Art Mode
Instead of fading to black when the TV is off, turn The Frame into your very own gallery. Choose from over 1,200 beautiful art pieces on the Art Store* – from contemporary to classic styles. And with curated recommendations, it's easy to find what you like. Or showcase precious moments by uploading your photos and creating a slideshow.

See more than a billion colours brought to life
Colour Volume 100%* by Quantum Dot
Whatever you're watching, it's all spectacular in stunning QLED quality with over a billion cinematic colours. Only Samsung QLED TVs are certified to provide 100% Colour Volume*. Together with Dual LED technology, memories, movies and art come to life like never before.
* QLED has received verification from the world-class testing and certification association, Verband Deutscher Elektrotechniker (VDE), for its ability to produce 100 percent color volume.* 100% color volume measured to DCI-P3 standard, certified by VDE.

See nothing but the beautiful picture
No-Gap Wall Mount & One Near-Invisible Cable
Mount The Frame flush against the wall to let it blend beautifully with your decor. With One Near-Invisible Cable for all your connections, you won't have a spaghetti of wires cluttering up your home. So wherever you place your TV, nothing will disturb your view. You can even plug all your multimedia devices into the One Connect Box and keep them hidden away in a cupboard or cabinet.

Make it a stylish design piece
Studio Stand
Think different. Design your home and place The Frame anywhere you like with the Studio Stand. Realise clutter-free living with cables concealed within the stand leg.
* Studio Stand sold separately. Not compatible with 75". * Wires not shown.

* Studio Stand sold separately. Not compatible with 75". * Wires not shown.
Bringing world-class galleries to you
Art Store
Bring beloved classics and contemporary masterpieces straight to your home with your free trial. Becoming a full member gives you unlimited access to art collections and photography, spanning the classics to the contemporary.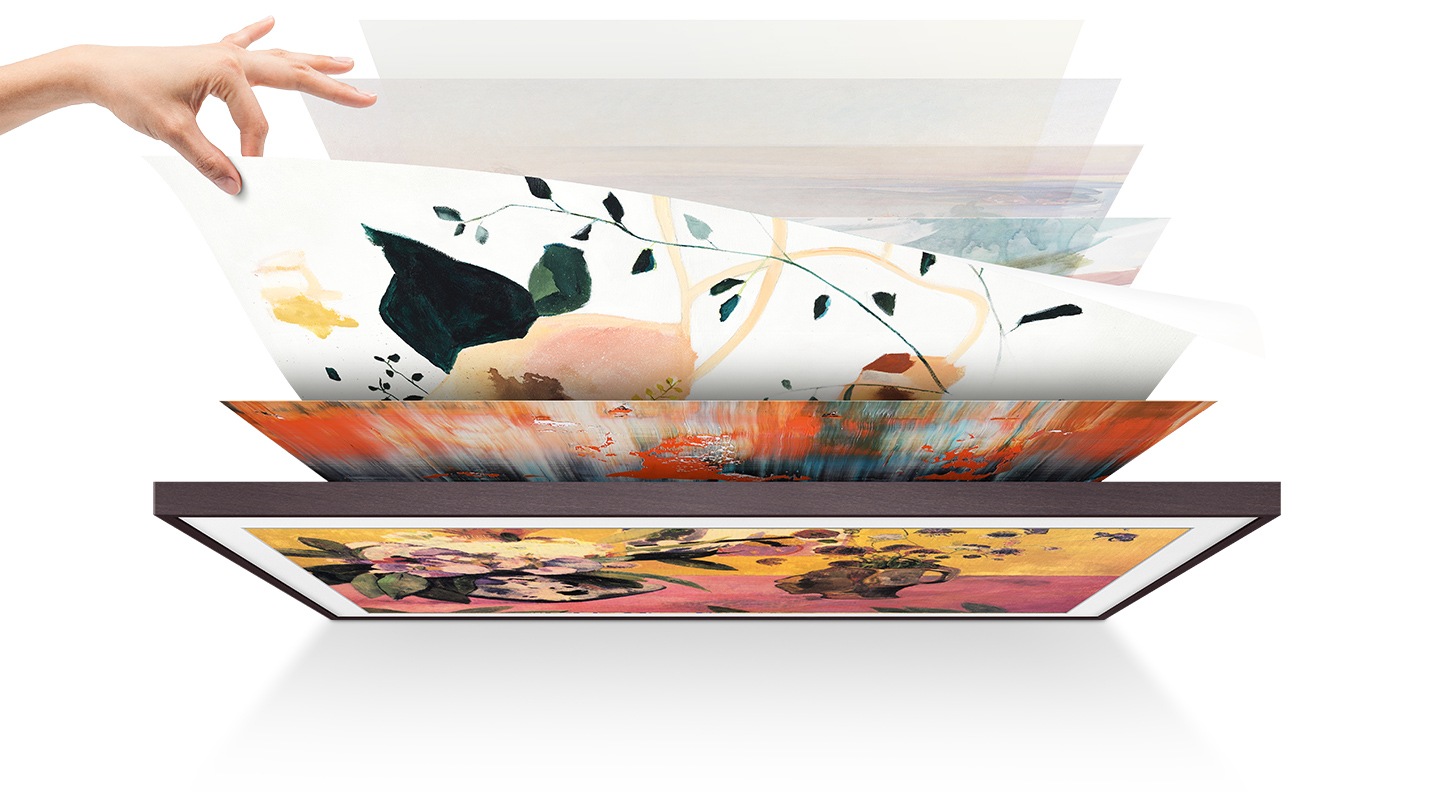 * Requires subscription fee of £3.99 per month.*Art pieces in the Art Store are subject to change without prior notice.
Curated art just for you
Auto Curation
The Frame learns what you like and automatically recommends artworks you'd love to see on your wall. It'll also keep you up to date with new and popular artworks.
* Actual user experience may vary.
Collect your favourites
Favourites
Create your own personalised gallery using favourite art pieces in your living room. Select and mark the pieces you like as favourites and see them all in one place.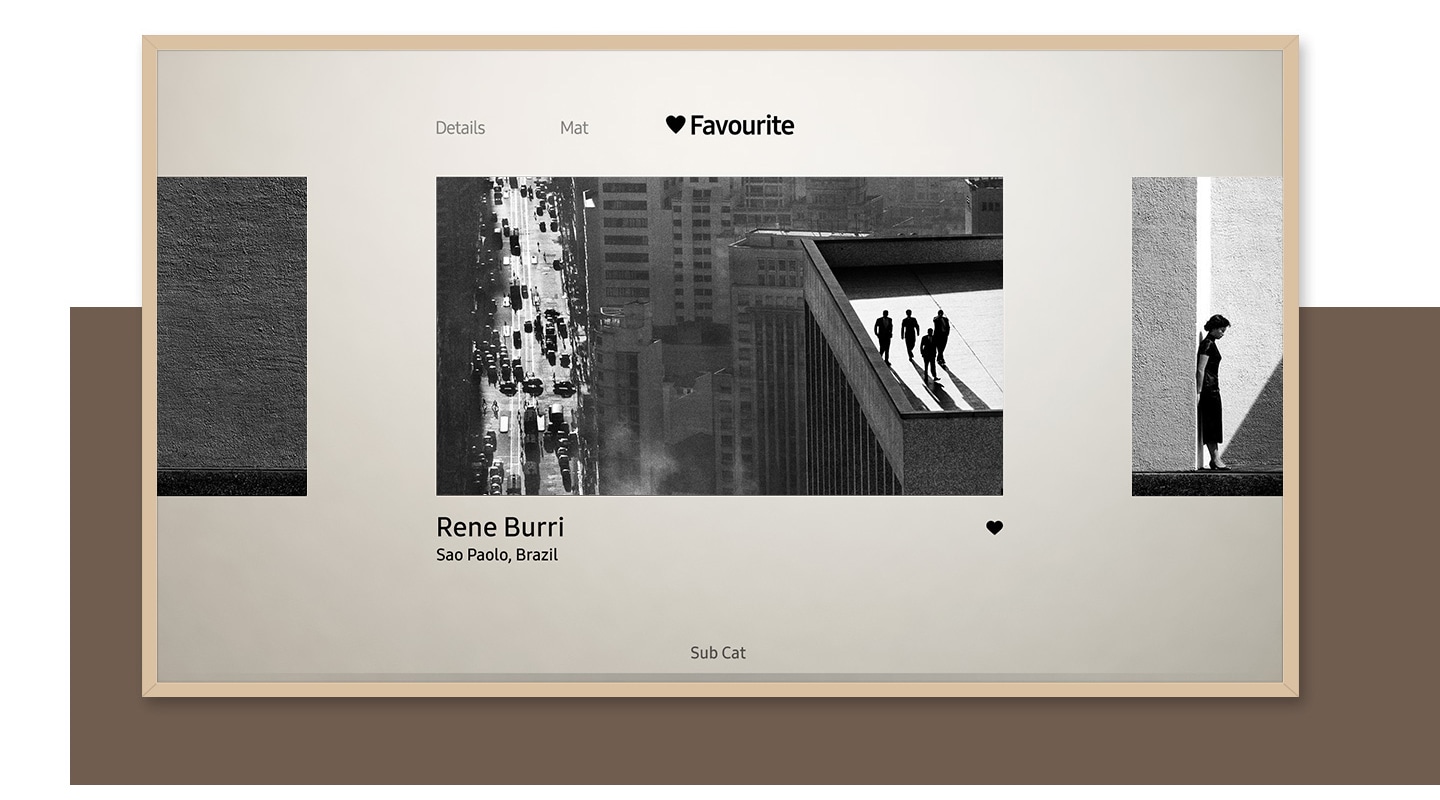 * The images are for illustrative purposes only and are intended to provide better understanding.
Frame your most-loved moments
My Collection
You can easily upload and exhibit your own photography—or a new family portrait. Simply send your photos to The Frame via your phone or a USB flash drive.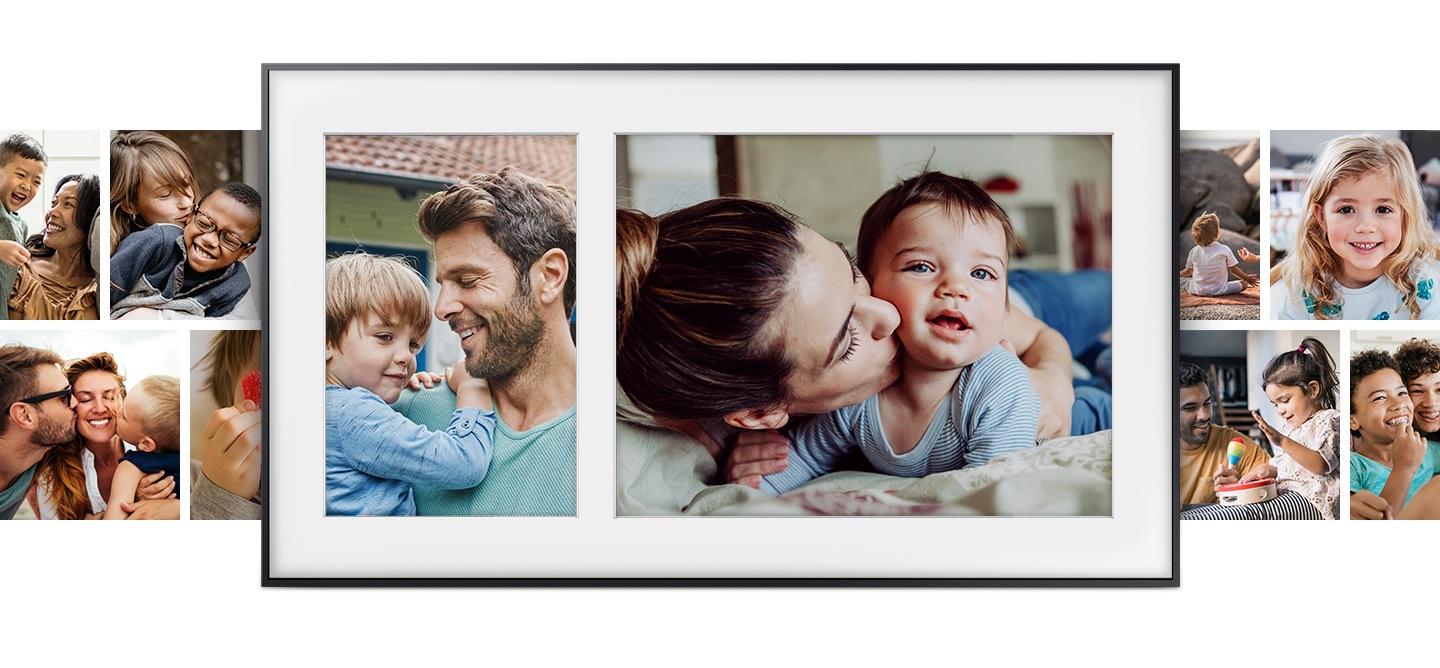 * Personal photos uploaded to The Frame will be displayed at the original resolution. Displaying 4K(3840*2160 pixels) and above images is recommended. * Compatible devices only.
Elevate your photos to new artistic heights
Filters
Transform your photos into masterpieces. Choose from six aesthetic filters that give your photos unique new flair.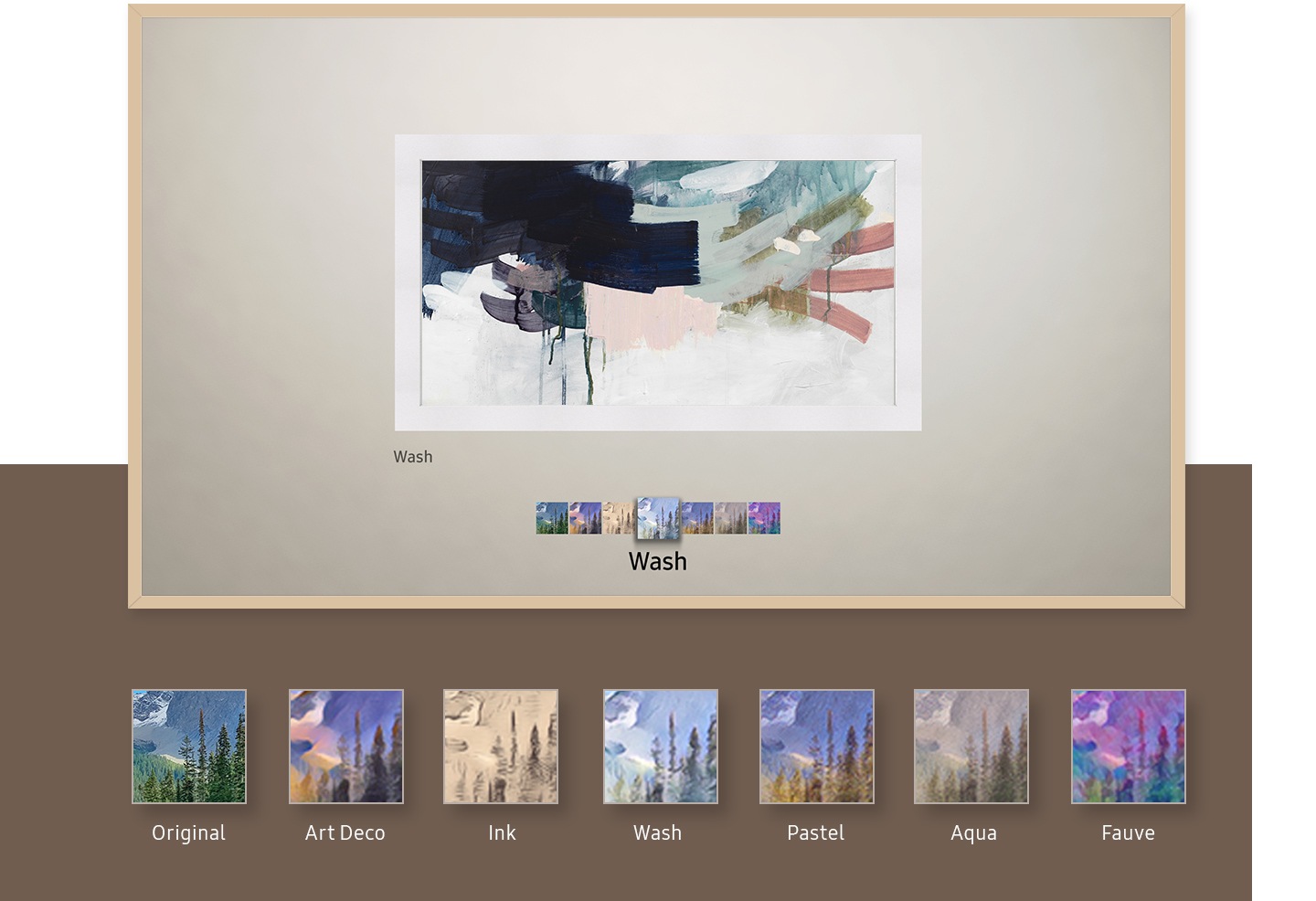 * Actual user experience may vary.* On-screen portrait : \Following the Pack" - by Jennifer Daily from Minted.
Your art, your way
Matte Options
Now there are more ways to customize The Frame. With Art Mode, you get 7 different types of layout styles and a palette of 10 different colors to choose from. Set up the gallery to suit your mood, making your artwork and photographs look great.
The ideal way to appreciate art all day long
Brightness Sensor
By detecting the ambient light, the Brightness Sensor automatically balances the screen's brightness and colour tone to perfectly match a traditional art piece.*
* Brightness sensor operates when turned on in Art Mode. Performance may vary depending on lighting condition.
Senses your presence
Motion Sensor
When you're in the room, the Motion Sensor detects your presence and turns the screen on, so you can enjoy your favourite art while you're there. When you leave, it turns off into standby mode to save energy.
* Motion sensor operates when turned on in Art Mode. Performance may vary depending on lighting condition.
Remove the big blank screen
Ambient Mode +
Ambient Mode+ lets you change what you see on-screen. Set it up so the time, weather and news headlines are waiting for you every time you look over. Or have The Frame match the surrounding wall's colour and pattern to virtually blend in. It's all up to you.

* Ambient Mode service may vary by region.* Background feature accuracy may vary based on TV location, dependent on wall designs, patterns, and/or colours.
Surroundings change, picture stays pristine
Adaptive Picture
The Frame automatically adjusts its brightness and contrast settings so you get a natural-looking picture even as lighting changes. Just sit back, relax and let The Frame do the work for you.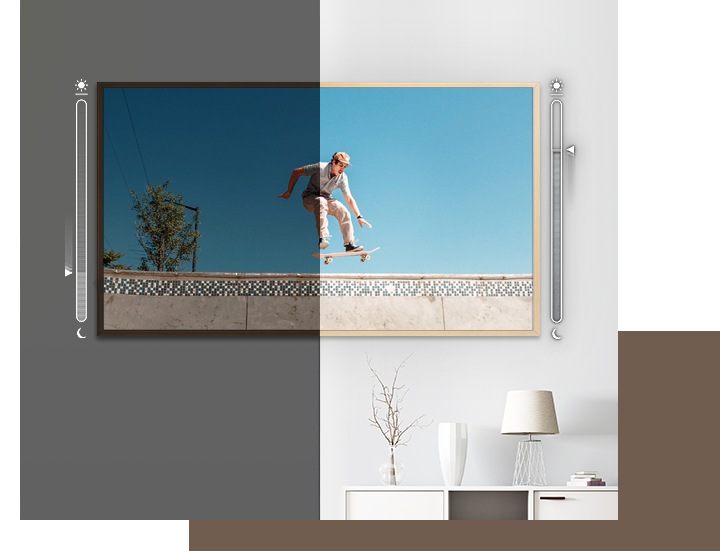 Catch every word
Active Voice Amplifier (AVA)
Thanks to AI sound, you can listen to everything on The Frame like never before. You'll never miss what your favourite characters are saying – even over the hum of the vacuum – as The Frame adjusts to the background noise in your room.
Discover just how smart a TV can be
Smart TV powered by Tizen
With the best-selling Samsung Smart TV* at your fingertips, it's never been easier to enjoy TV. Set it up in no time with your smartphone. Then you're only a few clicks away from all your must-see entertainment. Disney+**, Apple TV, NOW TV, BT Sport – dive into a huge collection of 4K content and catch-up TV apps.***
*Samsung TV has been the No.1 selling TV Brand for 13 consecutive years by IHS Markit.**© 2020 Disney and its related entities. ***3rd party content providers may remove apps from the Smart TV platform or stop updating them at any time. Subscriptions required.

Mirror it all on the big screen
Mobile Mirroring
Go from watching your favorite show on your mobile device to watching on The Frame. It uses SmartThings to mirror content, and you can even pair it with your Apple devices via AirPlay 2.

AirPlay 2
With AirPlay 2 built-in you can effortlessly play movies, shows, music and photos on The Frame right from your iPhone, iPad or Mac.
* AirPlay 2 functionality is available on all 2020 and later Samsung smart TV.* Apple and AirPlay 2 are trademarks of Apple Inc., registered in the U.S. and other countries.* AirPlay 2 requires iOS 12.3 or later, or macOS 10.14.5 or later.
SmartThings
Start a movie on your smartphone during your commute and easily switch to your Samsung TV when you get home. Whether Android or iOS, the SmartThing's app makes it easy to connect and enjoy.
* Each device must be connected to Wi-Fi or other wireless network.* Must download and install the SmartThings app.* For interoperability through SmartThings, all the devices should be registered with a single Samsung Account.
Experience more at once
Multi View
Split the The Frame's screen and see what's on TV and your mobile device at the same time without having to look away. Simply connect your mobile to your TV and customize video size and audio settings to your liking so you can enjoy both on the same screen. On The Frame, you can watch it your way.

*Only supports Android OS based smartphone.
Choose your favourite voice assistant
Multiple Voice Assistants

Bixby
You can even talk to The Frame. The Bixby voice assistant can go beyond just controlling The Frame. Just ask and get more.
* Available technology, functions, GUI(Graphic User Interface) and smart features may vary by region, service provider, network environment, mobile devices or TV product, and are subject to change without notice.* Actual user experience may vary.
Amazon Alexa
Control your TV with your voice. Just ask Alexa to change the channel, search for movies, play your favorite music, show the front door, and more.
* Available technology, functions, GUI(Graphic User Interface) and smart features may vary by region, service provider, network environment, mobile devices or TV product, and are subject to change without notice.* Actual user experience may vary.* Amazon, Alexa, and all related logos are trademarks of Amazon.com, Inc. or its affiliates.
Google Assistant
Easily find and enjoy your favorite photos, quickly access entertainment and ask questions. Dim the lights and control smart home devices. Just press the mic button on your remote to get started.
* Available technology, functions, GUI(Graphic User Interface) and smart features may vary by region, service provider, network environment, mobile devices or TV product, and are subject to change without notice. * Actual user experience may vary. * The service may not yet be available at the time of purchase of this product. Plan to have the service available later this year, in certain countries and languages. * Google is a trademark of Google LLC.
Simple and intuitive control
One Remote Control / SmartThings App
The Frame makes your digital life a breeze. Forget fumbling for the right control, with One universal Remote Control linking to your every device. The SmartThings App let you effortlessly access and control your connected devices.
*Actual user experience may vary

*Actual user experience may vary
2020 43" The Frame Art Mode QLED 4K HDR Smart TV(QE43LS03TAUXXU)
is rated out of
5
by
1871
.
Rated

5

out of

5
by
Faust
from
Beautiful TV at a high price point
[This review was collected as part of a promotion.] I really love how this TV blends in with the great room to my house. It matches seamlessly with the other pictures and artwork in the room. TV picture quality is more than acceptable, but definitely not the best I've seen especially for the price. You can get a better TV for cheaper, but it will be a giant black rectangle while off. If you do not mind that then I would get a different TV. The form factor of this TV is excellent. Very thin and mounts flush to the wall just like a piece of art. It will not fool anyone as art since the light coming from the screen is obvious especially in low light, but it is a very good looking TV and everyone that sees it loves it. I recommend running the one connect wire through conduit behind the wall. That means you'll have to cut your wall and do minor dry wall work or hire someone to, but it's worth the effort. Having a visible wire coming out of this would ruin the effect and you might as well go for a cheaper panel at that point. I highly recommend this panel if you want a TV that still looks good while off. I personally love it, but the price is high. It does costs less than my artwork and greatly improves the look of the room so it might be worth it depending on what you're going for. If you don't care about any of that and just want a very nice display then get a different model coz this is first and foremost a fake out art piece and a good, but not excellent TV.
Date published: 2020-11-13
Rated

1

out of

5
by
albertofu
from
Una decepción
Han querido sacar el modelo en 32'' y no lo han pensado muy bien. El One Connect es la versión mini, por lo que a la TV va el cable de alimentación de la TV, el cable de antena y el del one connect, que no es cable óptico sino un cable gris gordo al uso. Para colmo, le han dibujado en la trasera dos raíles por los que no caben los tres cables. Vamos, menudo "frame".
Date published: 2020-07-31
Rated

1

out of

5
by
JackInTheBox
from
Publicité mensongère
Cette TV est présentée comme faisant partie de la gamme The Frame mais ses caractéristiques n'ont rien à voir avec les autres modèles. Vérifiez bien les détails. - Le boitier connect n'est pas le même, seulement 2HDMI, pas de RJ45 - La prise antenne est sur la TV donc 2 cables à brancher ! - Le cable connect est gris, affreux, pas du tout transparent. - PAS d'AIRPLAY - IMPOSSIBLE d'INSTALLER APPLE TV+ - La version de Tizen est d'un autre âge, et très peu réactive. - Attention les pieds sont en plastique et font "cheap".
Date published: 2020-07-06
Rated

5

out of

5
by
Lander
from
Fantastic Art Piece! I meant... TV!
[This review was collected as part of a promotion.] This is a really great product. One great feature is that there is a separate box to do all connections, HDMI, optical cable, even the power cable. That's what makes it easier to position - there are no messy connections to worry about. It came with 3 months of art subscription which is highly appreciated. There is only 2 criticisms I have. First, for the arts available - I may be wrong but I do not see an option to put bezels or frame around all the arts to be displayed. It only allows you to do it one by one, which is very tedious. Second, I hope the remote comes in black too. It is beautiful in white but it can accumulate dirt which may leave marks or dark spots and I am not sure how easy it is to clean it. Other than those, it is superb and the TV broadcast images are sharp... and the arts look like framed art. I even had a visitor and he asked... is that a framed art? Looks like it but it changed content.
Date published: 2020-11-12
Rated

5

out of

5
by
Vicents
from
Tv y cuadro
Televisor qled 4k con excelente calidad de imagen. Se ven todos los detalles (viendo un documental para probar me quede sorprendido con como se ve el pelo, la espuma del mar, la arena, las hojas... todos los detalles). La galeria de obras para poner en el modo arte es muy compketa y queda lateralmente como un cuadro. Para los que queremoa algo más que el ripi o televisor normalito pero sin perder calidad.
Date published: 2020-06-05
Rated

5

out of

5
by
Luckey
from
Sleek & Sexy Art TV
[This review was collected as part of a promotion.] This TV is a work of art...Frame inspires...Frame creates...Frame sets the mood for the room. With options to select famous works of art in museums across the globe to displaying your personal works of art. Use the sleek controller to then move seamlessly into broadcasting movies, concerts, and sporting events. The picture is museum quality and friends and family will enjoy sitting back relaxing or cheering on their favorite team! Hanging it was fairly simple and to create the no cords you will need to put a box in the wall to hold the components. Great addition to my space!
Date published: 2020-11-03
Rated

5

out of

5
by
Mikeflan
from
Beautiful piece... and function!
[This review was collected as part of a promotion.] My experience with art mode, general viewing, and accessing non-built in media with this product has been phenomenal. I couldn't be happier with the ease of execution for installation, and the picture quality, built in sound, and additional features have all been superb. I was happy to see all of the Samsung tv channels that come out of the box... a happy alternative to cable for someone who's cut the chord. My two critiques would be the lack of menu button on the remote (must jump through menus to get to adjusting picture, for example) and the red IR light that is on when the tv is off.
Date published: 2020-10-28
Rated

5

out of

5
by
DimDroogie
from
Best looking television to hang on a wall.
[This review was collected as part of a promotion.] We have the 43" inch model hanging in our bedroom and it is just beautiful. It mounts flush to the wall, and I was amazed how easy it was to install. The art function is spectacular, and after our trial subscription ended I gladly renewed it. I often spend more time browsing the art than actually watching TV. Samsung offers so many free channels and streaming apps using a wifi connection that you don't even need a cable or satellite provider to enjoy endless hours of programming. Highly impressed!
Date published: 2020-10-26
Support
Find answers to the questions you have about our products
ie
QE43LS03TAUXXU
{"reviewsEnabled":true,"reevooEnabled":false,"bazaarVoiceEnabled":false,"priceDisplayEnabled":false,"wtbCtaBtnEnabled":false,"offerCheckEnabled":false,"calculateFinancingEnabled":false,"twoCtaBtnEnabled":false,"pfPdUrlAnchorCheckEnabled":false,"isEnableSite":true,"isShopOfferUseSite":false,"isHybrisSite":true,"isHybrisIntegrationSite":false,"isHybrisNewSite":false,"isGpv2site":false,"isShopSite":true,"isTaskOnlySite":false,"siteCode":"ie","shopIntegrationFlag":"Hybris","searchPlaceholder":"Galaxy S21 Ultra 5G","searchPlaceholderEpp":"Galaxy Note10","hreflang":"en-IE","languageCode":"en","jcrLanguage":"en_IE","countryCode":"IE","countryLocalName":"Ireland","titleOption":"A","facebookYn":"Y","googleYn":"N","twitterYn":"Y","timeformat":"MMM dd. yyyy","priceCurrency":"EUR","timeZoneCheck":"Y","cookieManageCtaYn":"Y"}
QE32LS03TCUXXU,QE75LS03AAUXXU,QE32LS03TBKXXU,QE65LS03RAUXXU,UE65LS003AUXXU
/ie/common/review/
true
{{family.currentModel.displayName}}
{{family.currentModel.modelCode}}
Current Price :
{{model.prices.currentPriceDisplay}}
Current Price :
From {{model.prices.monthlyPrice}}/mo for {{model.prices.months}} mos
Monthly Price :
or
{{model.prices.currentPriceDisplay}}
Original Price :

{{model.prices.priceDisplay}}
{{model.prices.savePrice}}
{{summary.title}}

{{summary.title}}
Compare the models
Compare with similar items
Recently Viewed
Current Price:

From

$159.00
/mo
Discount Price:

or

$125,900.500
Original Price:

$1,000.00
Save $1,000.00