A-Series with Digital Inverter Technology, 520 L
RSA1RTMG1/XEU
Sorry! This product is no longer available
All-Around Cooling
Cooling Type
5 EA
Number of Shelf (Total)
Multiple Fridge & Freezer Drawers
Big drawers in Freezer and Fridge permit You to easily take out foods and to even store large sized items. The separation into 2 drawers In fridge as well as freezer compartment help to separate different kinds of foods and especially avoid mixing of small items.
529 Litre Capacity
Enjoy enough space to store foods,like meats, frozen delights, fruits and vegetables for your whole family or party guest.
Big Top Guard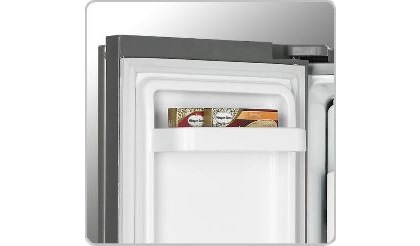 The Big Top Guard allows you the bit of extra space in the upper part of the freezer compartment.
Non-plumbed water dispenser
Benefit from having the convenience of regular chilled water through the door with the RSA1 fridge freezer. This convenient feature means the whole family can enjoy fresh, cold water at the press of a button and without the need for any extra plumbing.
Dairy Compartment
If you enjoy precious delights in tiny packages that might get easily lost or need an extra touch of temperature, the Deli Box will the be the right place to store them.
No-Frost Technology

Stays in Right Condition. Doesn't Stick Together. Making it Easier to Recognise. No Ice Build Up.
Ultimate Usage
Feel the difference with technical features
Smooth Look without Hinge
A neat square frontal view with covered hinges provides a seamless appearance and creates a neat kitchen environment with a refined look and feel.
Multi Flow
Cooling air flows out through multiple outlets on every shelf, providing even cooling throughout the freezer. By keeping the temperature steady, your food is kept safely chilled and better preserved.
520 

Net Total(Litre)

543 

Gross Total(Litre)

All-Around Cooling

Cooling Type

5 EA

Number of Shelf (Total)

912 

Net Width(mm)

734 

Net Depth with Door Handle(mm)
How It Stacks Up
Net Total(Litre)

520 

Gross Total(Litre)

543 

Cooling Type

All-Around Cooling

Number of Shelf (Total)

5 EA
Twin Cooling Plus™

Gross Total(Litre)

655 ℓ

Net Total(Litre)

604 ℓ

Net Width(mm)

912 mm
Features and specifications are subject to change without prior notification.