Stunning Performance
With almost the same power, speed and usability of a computer, Samsung's GALAXY FAME is equipped to do more with ease and finesse. Boasting state-of-the-art technology that has become synonymous with Samsung, the GALAXY FAME impresses with advanced performance that users will be in awe of.
Change Display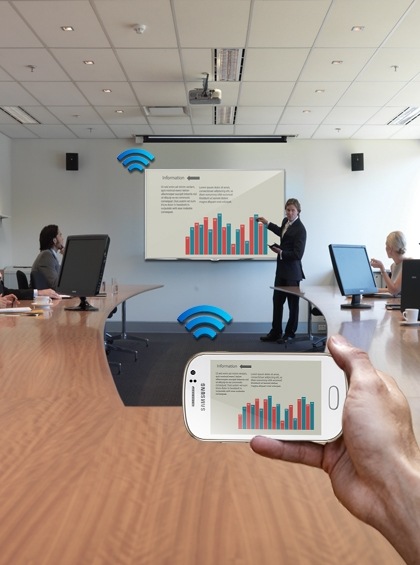 Change Display lets you share the display via Wi-Fi, supporting the video player, gallery and music player
Motion UI
Motion UI uses simple intuitive motions to do common tasks
S-Beam
lets you share contents and transfer files to other NFC-enabled mobile phones
Game Hub Lite
Easy access to premium games that take advantage of Samsung's state-of-the-art technology
ChatON
Connect all mobile phones through one messenger for texting with buddies as well as sharing videos, images and voice
Cloud Service
Syncs your photos, documents, contacts, and more to all your devices, storing everything in a cloud to be accessed from anywhere over the web
* User memory is less than the total memory due to storage of the operating system and software used to operate the phones features. Actual user memory will vary depending on the mobile phone operator and may change after software upgrades are performed.

** External Memory may be used to store media (photos, video, and music files) but not applications.

Notice to our customers - safe battery use

If your mobile phone battery is damaged, for example if it is dented, we recommend that you stop using it immediately and replace it with a Samsung genuine battery. If a damaged battery is used, this may affect performance of the battery and in some cases cause damage or injury through overheating, fire or explosion. Examples of situations in which a battery may become damaged are: use in an excessively hot environment, dropping the battery, external pressure on the battery, pet-biting, etc. We recommend that spare batteries are kept in a hard-shell case when not in use.

You should use only Samsung genuine or approved batteries that have been specifically designed for use in Samsung products. The use of incompatible batteries, cables and chargers may not be safe to use and could cause damage to the device or external damage. Please purchase Samsung-branded batteries from reputable and approved sellers to ensure the batteries are not counterfeit.