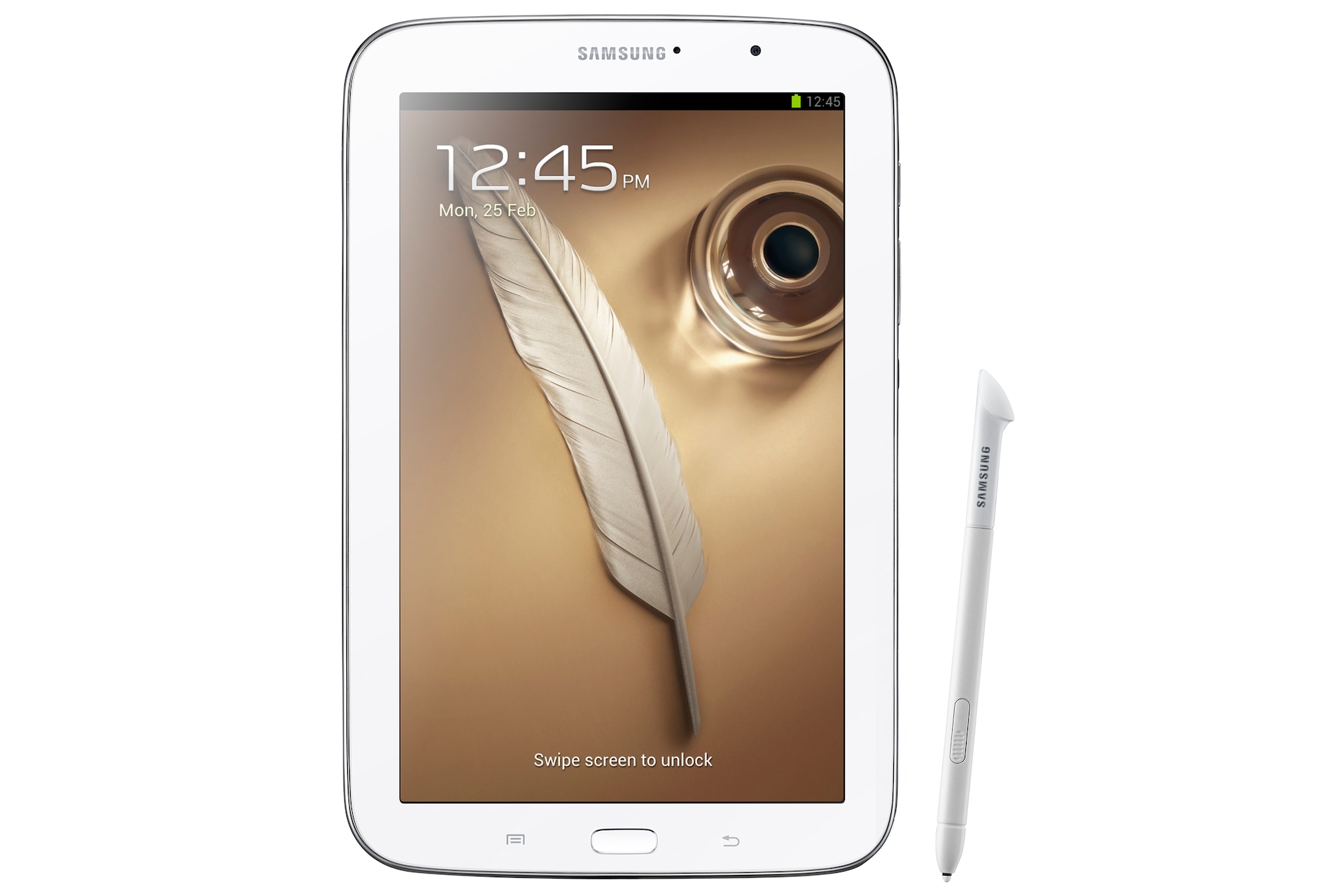 Galaxy Note (8.0, Wi-Fi)
GT-N5110ZWABTU
Sorry! This product is no longer available
Perfect Size for on the go
Designed for wherever inspiration strikes. Introducing the new Note 8.0, made for the thinkers, the dreamers, the movers and shakers. Scribble a thought, sketch out a concept, organise your ideas and express your creativity wherever inspiration may strike. It feels just right in your hand reading on the subway, giving a presentation, or enjoying a movie in bed.
Reading Mode with S Pen
Your books will never know.
Indulge yourself with a good book in any environment with Reading Mode that reads just like paper. By optimising the gorgeous screen to provide perfect illumination and tone, it delivers a comfortable reading experience in all lighting conditions. And with the ability to annotate directly with the S pen, all on a size made easy to hold, reading has never been more enjoyable, even on the go.
Multi Window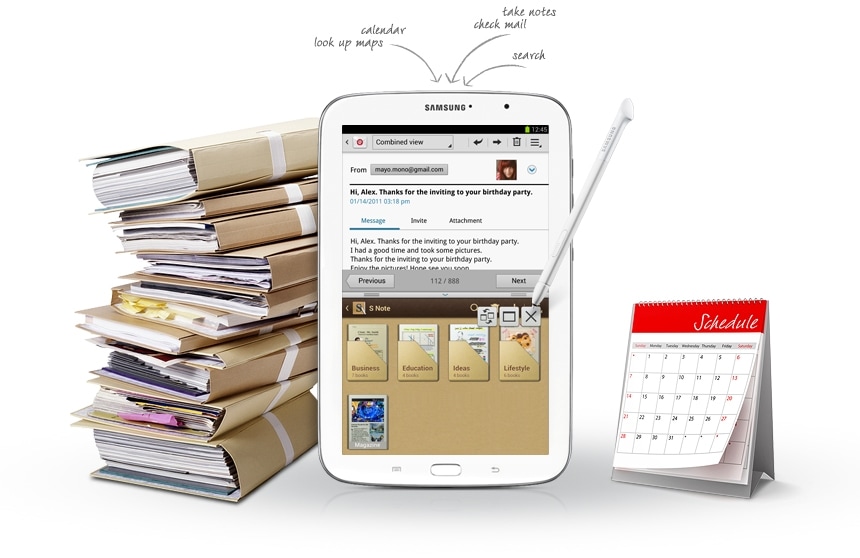 Multitasking done right. For tasks that require multiple apps open at once. Multi Window makes it easy. Notes, email, maps, search, messenger - do all the things you need at once, all without switching apps. Move, expand or close any windo with a tap of the S Pen for truly smart multitasking.
S Pen / Air View, Easy Clip, Capture, Quick Command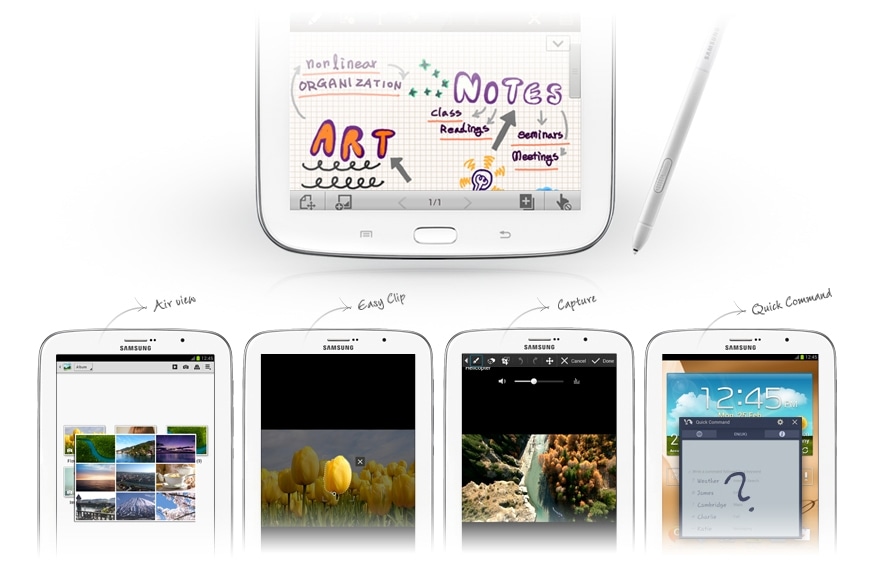 Make your ideas come to life. One stroke at a time. The S Pen is no ordinary tool. Use it to tap the hard keys for an even more extensive navigation than before. Air View lets you to take a peek at any file just by hovering over it. Clipping gets done swiftly with an expert's precision, and Quick Command helps you easily find what you're looking for. Frankly, you'll be left wondering how you lived without it.
S Planner / Various Sticker, Handwriting, Memo, Search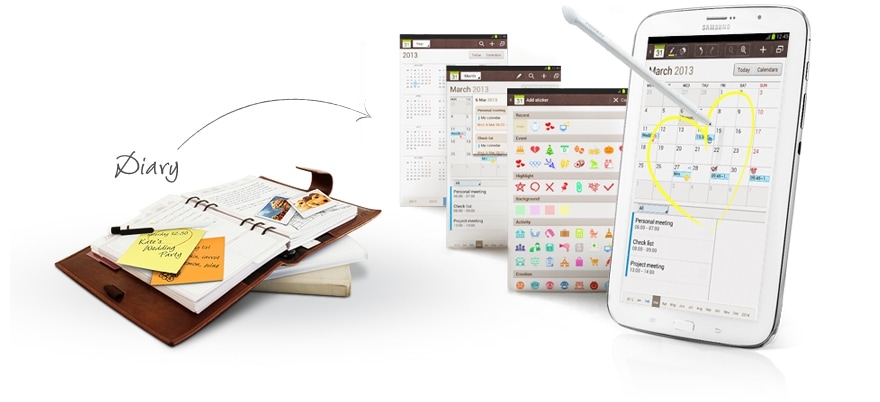 Your calendar, notes, and diary. All in one place. Life is full of important events and memorable moments – capture them all effortlessly with S Planner. Handwrite events and notes directly in your calendar, or scribble your thoughts down with the natural feel of a pen. You can even decorate handwritten messages and share them with friends and family.
S Note / 10 Templates + 3 New Templates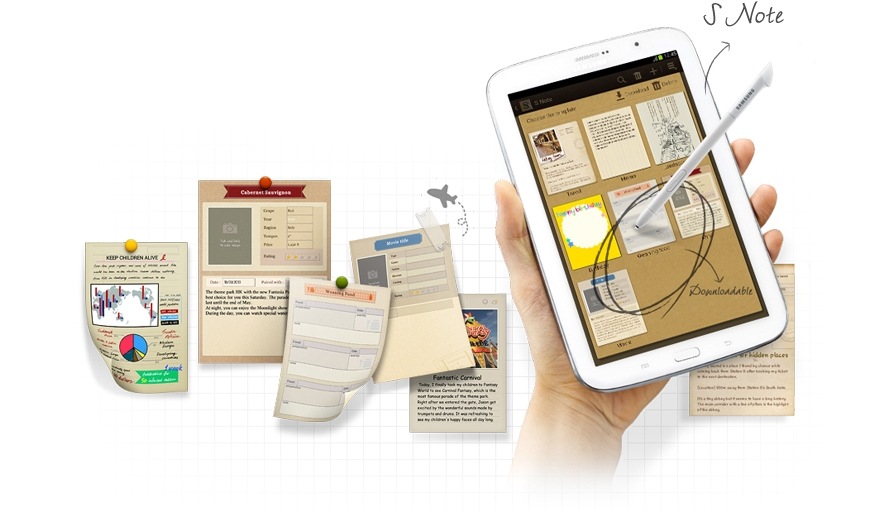 Take notes in style for all your idea inspirations. You're full of great ideas – S Note transforms them, beautifully refined. Easily create stunning presentations with template enhancements that help your ideas stand out from the rest.
Tools of Expression / Paper Artist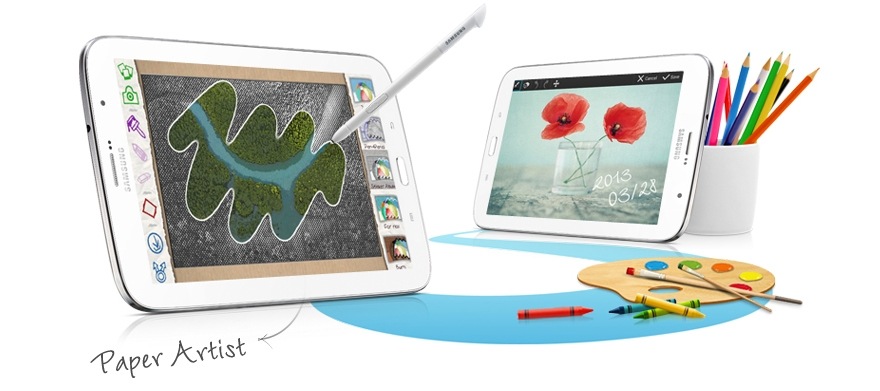 Made for all your artistic inspirations.
Get your creative juices flowing with the perfect tools for the modern artist. With Paper Artist, reach a whole new level of artistic expression with beautiful brushes to create stunning drawings, paintings, and illustrations. With Photo Note, scribble memories on the back of your digital photos with S Pen, for that personalised touch of old photographs. And with easy sharing capabilities built-in, your friends and family can enjoy your latest creations instantly.
Powerful Performance
Blazing performance that keeps up with you. No matter your demands, the Note is up to the task. Equipped with a powerful quad core processor and 2GB of RAM, all your multitasking, searching, streaming, and gaming just works without a hitch.
Fast Connectivity
Whenever. Wherever. Faster than ever. Don't get bogged down by slow connections. Stay in the loop with the latest versions of WiFi Channel Bonding / GPS + Glonass.
4600mAh Battery
Performance that doesn't quit. Whether you're at the office, at home, or out on the town, you need a mobile device that's always ready. Do more longer with an efficient battery that lasts all day and into the night. Using the S Pen means even more time (up to 14 hours) to do what you want wherever you are.
How It Stacks Up
Rugged Design

IP68

S Pen with IP68

Samsung DeX
* User memory is less than the total memory due to storage of the operating system and software used to operate the phones features. Actual user memory will vary depending on the mobile phone operator and may change after software upgrades are performed.

** External Memory may be used to store media (photos, video, and music files) but not applications.

Notice to our customers - safe battery use

If your mobile phone battery is damaged, for example if it is dented, we recommend that you stop using it immediately and replace it with a Samsung genuine battery. If a damaged battery is used, this may affect performance of the battery and in some cases cause damage or injury through overheating, fire or explosion. Examples of situations in which a battery may become damaged are: use in an excessively hot environment, dropping the battery, external pressure on the battery, pet-biting, etc. We recommend that spare batteries are kept in a hard-shell case when not in use.

You should use only Samsung genuine or approved batteries that have been specifically designed for use in Samsung products. The use of incompatible batteries, cables and chargers may not be safe to use and could cause damage to the device or external damage. Please purchase Samsung-branded batteries from reputable and approved sellers to ensure the batteries are not counterfeit.

Battery time is based on our own laboratory measurements, and may vary depending on factors such as device settings, usage patterns and operating conditions.