See the picture, not the TV
Only Samsung offers a screen that is more than just a TV. We removed the spaghetti of messy cables and replaced them with one Near-Invisible Cable. We even replaced the black screen with images and content to enhance your living space.

One Cable to rule them all
One Near-Invisible cable
One Near-Invisible connection is all you need. The TV blends perfectly with your space with all those messy cables now merged into one. Best of all, it allows you to place your TV wherever you desire and design your room the way you want.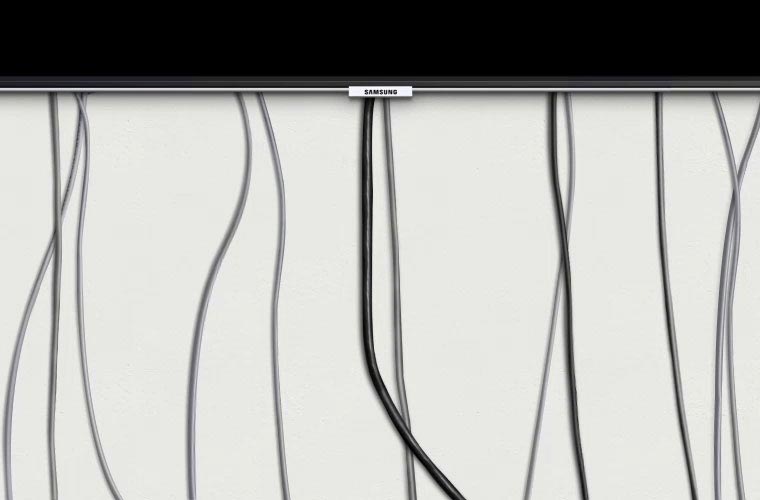 Declutter your room
One Connect
The One Connect Box gathers all your connections, and only the One Near-Invisible cable needs to return to the TV. Now you can declutter your living room, with all your boxes and devices hidden from sight.
Signal
Receiver
Infographics for Integrated and Signal Receiver feature of One Invisible Cable.
No more blank screen
Ambient Mode
With our new Ambient Mode, you can elevate your living room with decorative content, useful information, and your own photos. You won't notice the TV on the wall as it blends perfectly with your decor, and it can even play a bit of light background music.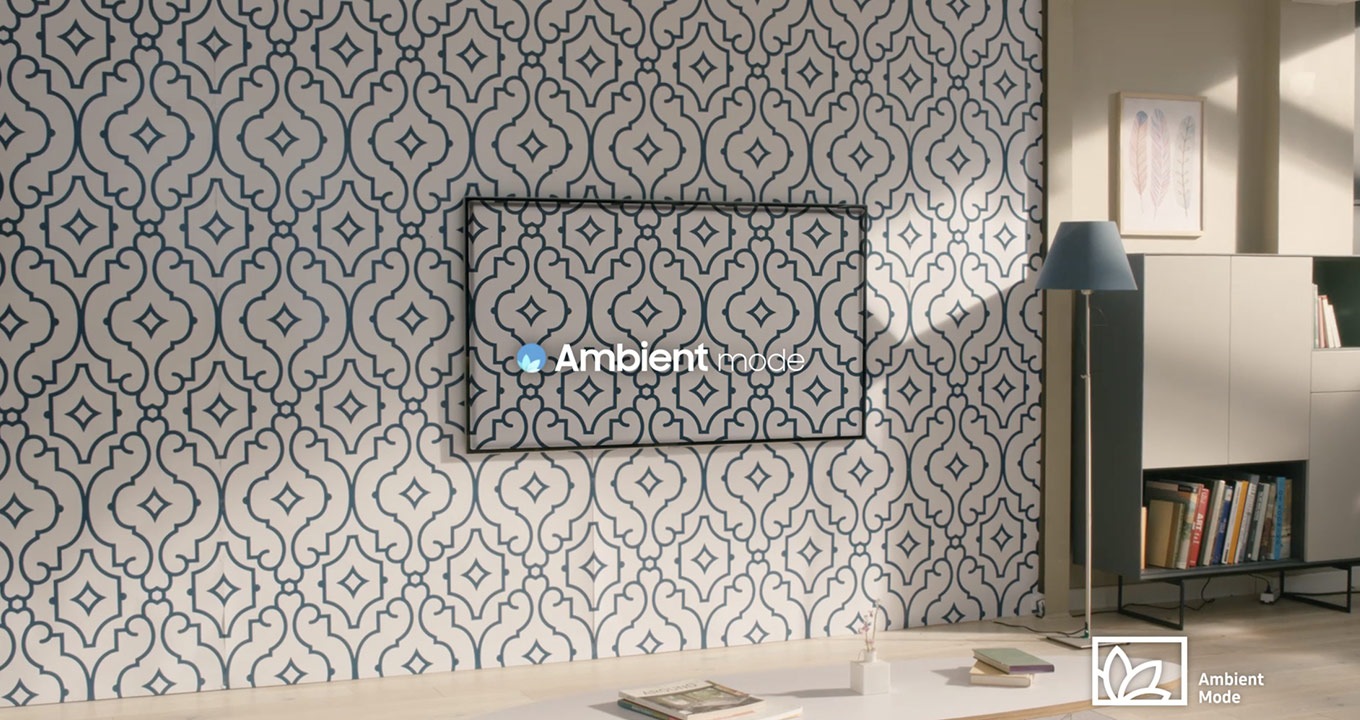 How your TV blends into your home
Blend your TV right into your space. Harmonise your TV to your wall color, pattern, and even tiles. With three different but easy-to-use Ambient Mode features, your TV will adapt to blend into your space seamlessly.
Signature Background
Match your TV background colour with your wall. Select from various Wall Samples and adjust the color tone and brightness to get the closest match.
* The results may vary depending on certain wall types. This may include unique wall designs, patterns, and/or colors.
* The images are for illustrative purposes only and are intended to provide better understanding.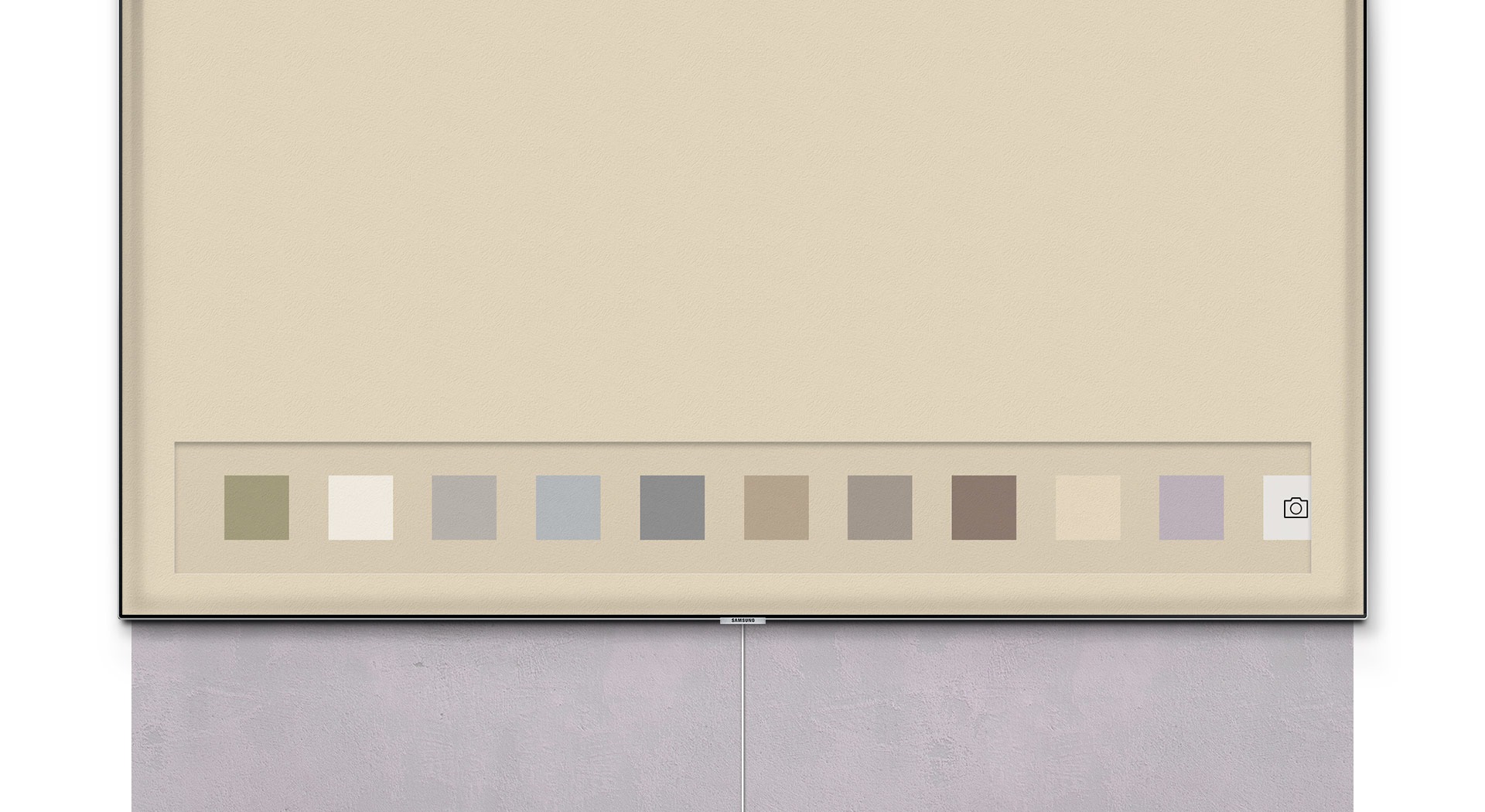 Close is never enough
No-Gap Wall Mount
Only Samsung QLED TVs blend effortlessly into their environment, sitting flush to the wall in no time at all. It ensures you achieve the stylish living room you have always dreamed of.

Nothing in the way
Boundless 360º Design
With 360° minimalist design, only QLED TVs provide beautiful design wherever you look. The bezeless display draws you into an immersive cinematic experience with nothing in the way.

See every aspect of design
Design for your space
With the One Mount Solution, you can choose from Wall Mounting, the Tower Stand and the Studio Stand.
No-Gap
Wall Mount
With our specially designed Wall Mount, your QLED TV blends into your room design and leaves nothing between the wall and your TV.
Tower Stand
The sleek design of the Tower Stand does more than just support your TV. It provides a bold and beautiful statement to the space.
Studio Stand
No longer restricted by power outlets and messy cables, you can put your TV anywhere you like. The Studio Stand transforms your TV into a piece of art, wherever you place it.
* The 'One Invisible Connection' refers to a single, transparent optical cable connected to the One Connect Box integrating external device cables, but it does not refer to the power cable of the TV or cables connected to other devices such as a sound bar.
* Devices must be connected to One Connect via HDMI cable.
* No-Gap Wall Mount : Measured from rear end of the TV, the gap may differ based on the installation and wall type.
* No-Gap Wall Mount, Studio and Gravity stands sold separately.
* Studio and Gravity stand are compatible with 55"/65" QLED TVs.
* Images are simulated and for illustration purposes only. The appearance and design specifications which do not affect product performance are subject to change without notice.
* Please refer to the product detail page for each model.