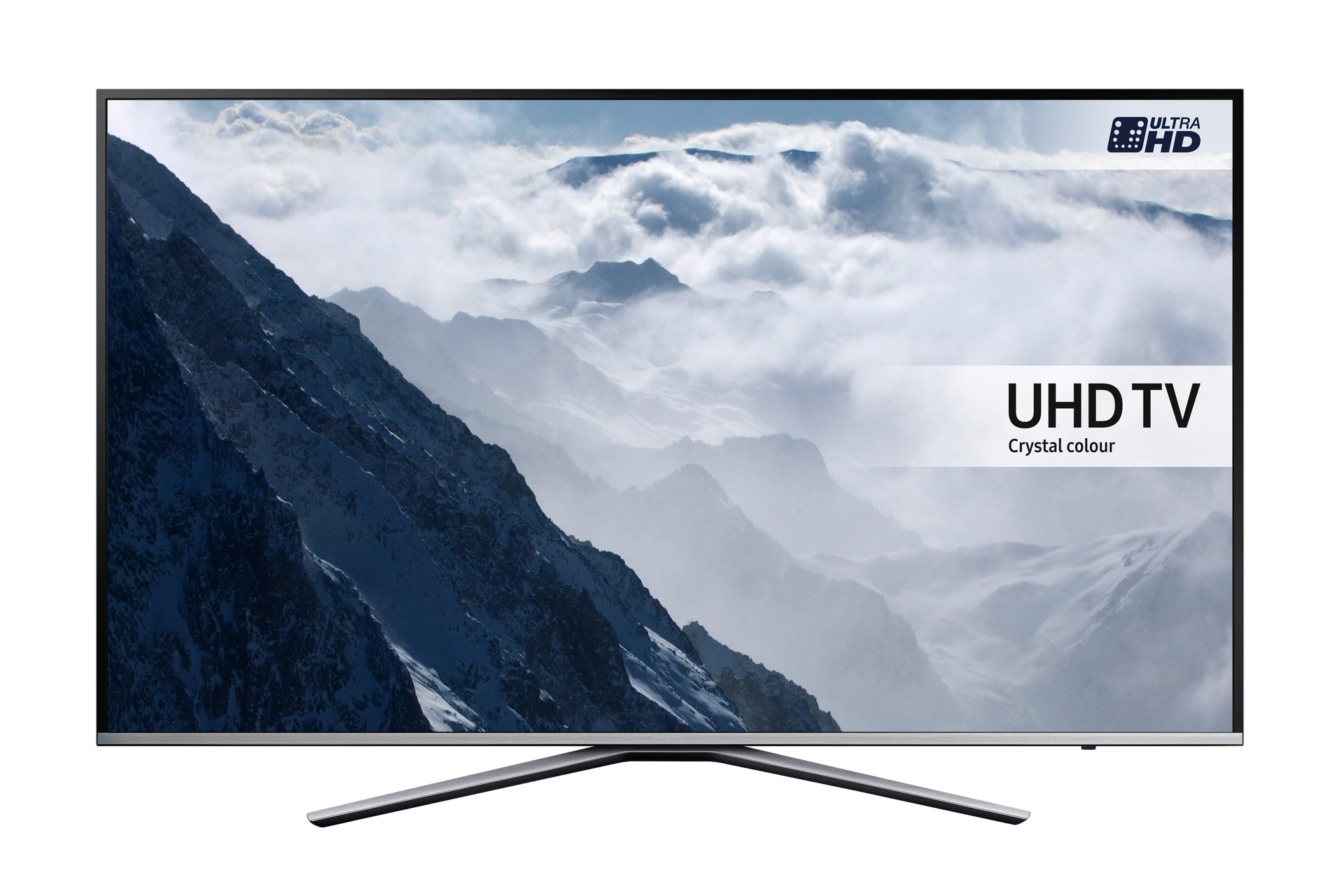 40" KU6400 6 Series Flat UHD 4K Smart TV Crystal Colour
UE40KU6400UXXU
Sorry! This product is no longer available
Screen Type
Colour
SMART TV Feature
Connections
UHD Crystal Colour
See stunningly natural and lifelike pictures through Samsung's UHD Crystal Colour technology meeting Digital Europe and CEA UHD picture quality standards. This latest screen technology delivers enhanced pixels and chip set for a superior picture quality experience with stunning contrast and over 17 million true to life colours with intense shades in a colour space 20% wider than conventional UHD.
HDR
The latest standard for UHD content is High Dynamic Range. UHD TVs that are HDR compliant can all display the content but not all HDR TVs are equal. HDR combined with Crystal Colour provides a superior High Dynamic Range experience delivering stunning brightness, enhanced shadow detail and naturally accurate colour.
Smart Hub
Seamlessly access all your entertainment sources through the Smartest TV on the Planet. Watch your most loved TV shows using the TV guide, switch to binge on UHD box sets through Netflix, Amazon Instant Video1 or catch up with shows you have missed through our variety Catch Up content partners2 – all of this is doable without interrupting what you are currently watching and all from the Smart Hub home screen.3 Just 3 clicks to your favourite content.
Cloud Gaming
Does your TV open up the world of console-less video gaming? Who needs a games console when you can access a wealth of video games from the cloud straight to your TV. Access a huge array of games without the need to invest in a console, play alongside your favourite stars and race against the best racing drivers directly through your TV.
UHD Upscaling
Samsung's unique 4 step UHD Up-Scaling process converts live TV, your movies and gaming to the highest resolution possible, transforming what you watch to premium picture quality. The technology identifies the specific process required to the input signal, noise reduction and up-scaling to convert the source material into the UHD resolution of the TV. The last step dedicates resources of the processor to specific areas of the picture requiring detail enhancement. Samsung UHD up-scaling engine raises all conventional content to more impressive quality and with fast and powerful processors it delivers the very best in UHD picture quality. That's why Samsung are the most awarded UHD picture quality brand 2015*.
*Source Gorkana within a set of TV/AV media titles
UHD Dimming
UHD Dimming technology divides the TV screen into hundreds of small zones, analysing each one independently to adjust colour, brightness and sharpness so you can experience better shadow detail and accurate colour when watching your favourite video content. The software driven technology improves picture contrast by producing the best black level in one part of the screen without compromising the overall brightness of the rest of the scene.
Ultra Clean View
Ultra Clean View analyses the input signal and removes detected noise from the feed. No matter what quality the signal Ultra Clean View improves what you see.
Easily share your content to TV
Take pictures, videos and music from your mobile and PC to your Smart TV using the Samsung Smart View app. It gives you amazing convergence and easy connectivity, with majority of personal devices .
*Setup requires your TV and mobile device to be on the same network (AP) *Supported feature may vary by OS and devices. *For more information on supported devices, please go to www.samsung.com/smartview
*Setup requires your TV and mobile device to be on the same network (AP) *Supported feature may vary by OS and devices. *For more information on supported devices, please go to www.samsung.com/smartview
Quad Core Processor
Enjoy a fast and fluid content browsing experience with Quad Core Processor. Seamlessly switch between apps, stream content and multi-task faster.
Accelerate your Smart TV with Tizen
Tizen takes Smart TV performance to another level with faster boot times and quick access to Live TV and all your apps. It even provides support for popular local VOD apps for optimized TV viewing.
Dive into your video content
Auto Motion Plus works together to provide enhanced motion with the key motion technologies, image processing speed, backlight technology and frame refresh rate. The end result is impressive clarity for action scenes and sport.
Simple and fast wireless connection
The built-in Wireless Lan lets you connect your Smart TV to the internet without the tangle of cables. With the streamlined connections, now you can really enjoy your TV's outstanding design.
Plug your entertainment into the TV
Using ConnectShare, you can watch a variety of content in one simple step. Just plug your USB or HDD into the TV and enjoy your movies, music, and pictures on the big screen.
*Supported formats include AVI, ASF, MP3, JPEG and others. See manual for full list of formats supported
*Supported formats include AVI, ASF, MP3, JPEG and others. See manual for full list of formats supported
Create your own entertainment space
Samsung TVs support HDMI inputs, which lets you create a multimedia entertainment centre in your own living room. Connect HDMI straight into your TV to view various contents from multiple devices.
3,840 × 2,160

Resolution

6

Series

Active Crystal Color

Active Crystal Color

3

HDMI
How It Stacks Up
Screen Type

Colour

SMART TV Feature

Connections
UHD Processor

HDR

Slim Design

Universal Guide
*Terms and conditions apply.
Certain features with the Smart Hub may not be available without expressed consent regarding the collection and use of personal information. Content available through Smart Hub may vary among product categories, models and territories. Certain applications must be purchased and may not be available in all regions.
* Paid for subscriptions to app services shown may be required * Apps shown may not be available on all Samsung Smart TV products. The Samsung Smart TV platform is used by Content Providers to make apps available. Content Providers may remove apps from the Smart TV platform or stop supporting them at any time. When new Samsung Smart TV products are launched, there may be a delay before the apps shown become available on those products.