How to use Samsung Software Launcher?
Last Update date :
Oct 26. 2020
STEP 1. STARTING WITH SOFTWARE LAUNCHER
Click here to know what is Software Launcher.
a). Samsung Software Launcher comes pre-installed in Notebooks. Running Samsung software Launcher from Windows taskbar.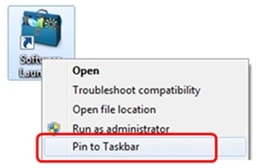 (Pin it to Taskbar for quick access)
b). We recommend you to keep most frequently used apps in Software launcher to access the apps quickly and easily.
Default view of Software Launcher
c). Drag and Drop icons to customize Software launcher :

representation of software launcher when custom icons are added\
STEP 2. FEATURES OF THE LAUNCHER
d). Salient Features of Software Launcher :
1. Recommended Software Launchers - Click an icon to see a list of available programs in that category. Select a program to launch.
2. Custom Software Launchers - Add the icon of a program that you want to launch via Software Launcher. You can run the program with a single click thereafter.
3. Settings - Use the Settings menu to auto-run Software Launcher, change its location, or edit the recommended software list.
e). Samsung's recommended categories are placed on the left side as shown below :

f). Clicking an icon displays the second level menu containing a row of installed programs in that category as shown below after clicking on windows icon :

STEP 3. SETTINGS OF SOFTWARE LAUNCHER
g). Settings in Samsung Software Luncher is divided in two sections : General and Category Management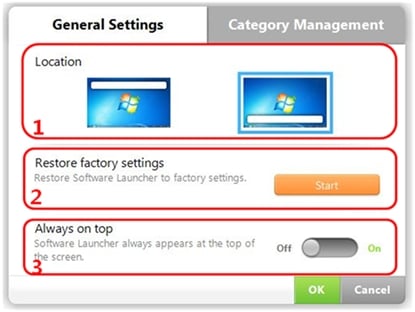 (Representation of General settings)
1. Location - Pin Software Launcher to the top or bottom of the Windows desktop.
2. Restore Factory Settings - Press and then OK to reset Software Launcher to the
factory default settings.
3. Always on Top - Keep Software Launcher always on top of your screen.
(Representation of Category management settings)
h). Uncheck a checkbox to remove the category icon from the Recommended Software list.
In case you have any further queries, please refer to the inbuilt Help File of Launcher.