Galaxy S10: Gestures and Navigation Controls in One UI
Last Update date :
Oct 29. 2020
Maximise the screen real estate on your Samsung Galaxy device with the introduction of Gesture Controls in Samsungs One UI. Your device needs to run Android OS 9 Pie to be able to switch and navigate the phone using gestures rather than a regular navigation bar. 
Using Gestures removes the Navigation Bar from the bottom of the screen of Samsung Galaxy devices and requires you to swipe up from the bottom of the screen to action the Recents, Home and Back buttons. It's a little tricky to get used to, but it means you get 100% of the Infinity display to use rather than having the bottom of the screen taken up by the Navigation Bar. It looks pretty amazing when you're watching videos or playing games; but it's also great for reading and using split screen to view two apps at once.
1
Open the Settings app and select the Display option
2
Scroll down and select Navigation Bar
3
Tap the radio button to switch to Gestures
4
Select whether or not you'd like to use Gesture Hints
They'll appear as lines at the bottom of the screen rather than full sized buttons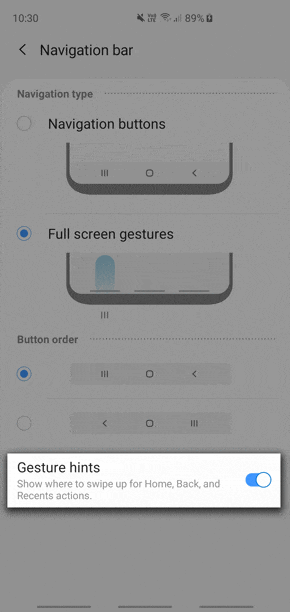 Please Note: If you use Samsung Pay, the Home button gesture will activate Samsung pay from the Home Screen if you have this option selected in the Samsung Pay app.