How can I use Dual audio to share media on multiple devices?
Last Update date :
May 13. 2021
You can share a video or music with a friend without having to physically share a pair of earbuds. This provides a great way to compromise between different needs using two headsets with two varied volume levels connected to a single Galaxy device. 
Before you try the recommendations below, be sure to check if your device's software and related apps are updated to the latest version. Please check the following steps for how to update your mobile device's software.  
Step 1. Go to Settings > Software update.
Step 2. Tap on Download and install.
Step 3. Follow the on-screen instructions.
Dual audio allows you to send your media audio to two different Bluetooth devices at once. This means that not only can you use two pairs of headphones at one time, but you can share between two different sets of Bluetooth speakers as well. After you pair both Bluetooth devices to your Samsung Galaxy phone, you just need to access your Media panel on your Quick panel. 
How to use Samsung Dual audio with two Bluetooth speakers
To enable Samsung's Dual audio feature on your device, you must first pair each device to the desired Samsung Galaxy device.
Step 1. Go to Settings > Connections.
Step 2. Tap Bluetooth and turn the switch On.
Step 3. Enter the Bluetooth pairing mode from your Bluetooth speakers. This often requires you to press and hold the Bluetooth speakers' power button until an LED light flashes. Ensure you have paired two Bluetooth speakers.
Step 4. Swipe down on your screen to access the Quick panel and tap on Media.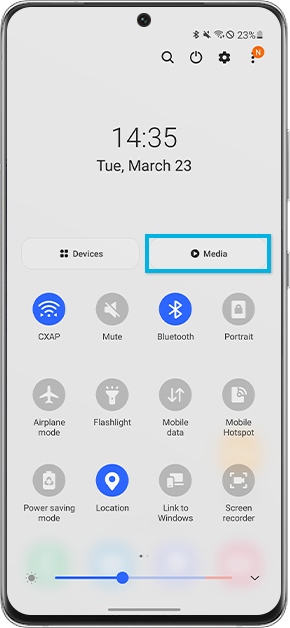 Step 5. Ensure you have selected both audio outputs to start playing music from both Bluetooth speakers.
Step 6. Once connected you will be able to play the same audio from both devices and adjust the volume with ease. 
How to enable Devices and Media buttons
If you are noticing that Media settings aren't available in your Quick panel, you may have disabled Show Devices and Media buttons. You can enable this setting by simply following the easy steps below.
Step 1. Swipe down to access the Quick panel and tap on More options (the three vertical lines).  
Step 2. Tap on Quick panel layout.
Step 3. Turn the Show Devices and Media buttons on.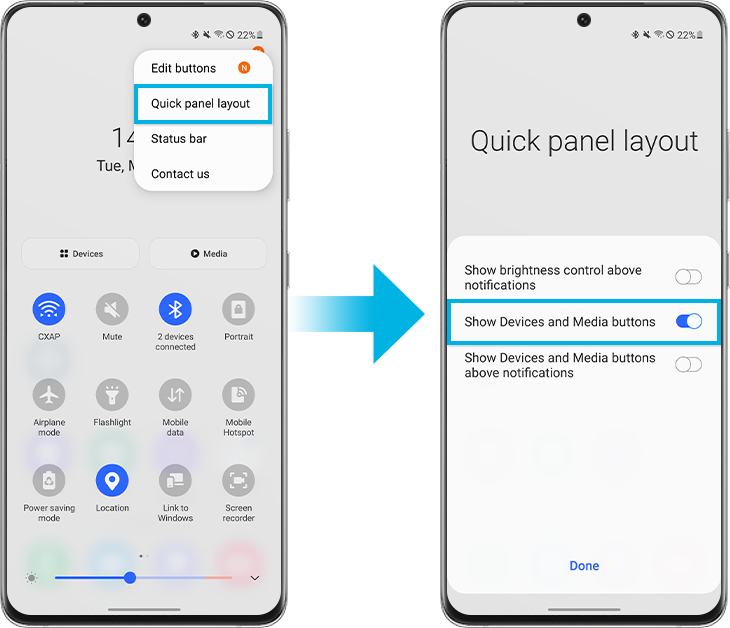 Step 4. Once enabled you will be able to view the Devices and Media buttons in your Quick panel.
You may also simply set up the Devices and Media panel on your Galaxy smartphone to conveniently manage your connected devices.
Note: 
The Dual Audio feature is limited to certain devices with Bluetooth 5.0
Device screenshots and menus may vary depending on the device model and software version.
If you're experiencing unusual behaviour (unusual battery drain or heating) on Samsung mobiles, tablets or wearables, you can send us an error report or ask us a question in the Samsung Members app.  
This allows us to take a closer look at what is happening. The data is anonymised and only held for the duration of the investigation. Find out more about sending an error report through the Samsung Members app.
Please click the submit button below to share your feedback with us. Thank you for your participation.
Please answer all questions.