How to ensure that my Samsung Mobile device is powered by safe batteries?
Last Update date :
Oct 27. 2020
If the battery in your Samsung mobile device is damaged, for example if it is dented, we recommend that you stop using it immediately and replace it with a Genuine Samsung Battery. If a damaged battery is used it could diminish the performance of the device and in some cases cause damage or injury through overheating, fire or explosion.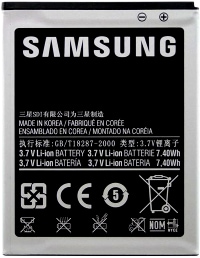 Examples of situations that could damage the battery include : 
● Taking your mobile device into an excessively hot environment.
● Dropping the battery.
● Dropping your mobile device while the battery is inside it.
● External pressure on the battery, such as through a pet biting it. 
IMPORTANT : We recommend that spare batteries are kept in a hard-shell case when not in use.
You should use only batteries manufactured by Samsung or batteries that have been otherwise approved by Samsung for use with Samsung products. 
The use of incompatible batteries, cables and chargers could damage your device and, by extension, cause injury. Replacement Samsung batteries, and other parts, can be purchased from www.samsung.com/in as well as other electronics retailers. 
Please click the submit button below to share your feedback with us. Thank you for your participation.
Please answer all questions.