How to prevent the overheating of your Galaxy device
Last Update date :
Aug 09. 2022
 Attention : If even after following the procedures below, your problem is not resolved, please contact us via 
  WhatsApp so that we can quickly diagnose your device and help you in the best possible way.
Whether you're using a phone, tablet, smartwatch, or earbuds, all Galaxy devices have a set temperature range where they operate at their best. While they may feel warm under certain conditions, like charging, this does not affect the devices' lifespan or performance. However, these devices may temporarily generate heat on various occasions. Thus, we suggest taking precautions to avoid placing your device under these circumstances.
The following factors may affect the temperature of your Galaxy devices:
Using your devices in an environment outside of normal operating conditions
Placing your devices on/near a heat source, such as leaving them in a parked car on a hot day or continuously having them exposed to direct sunlight.
Running multiple apps for an extended period of time.
Using an incompatible, defective, or non-Samsung certified charger and / USB cable.
Initial setup and data transfer from the previous devices.
Sofware version should be updated
As your device generates heat, you may see warning messages. Please be aware that access to certain features/functions may temporarily freeze as a mean to protect the device.
Here are some solutions for what to do if your Galaxy devices generate heat.
Step 1
Turn off the Wi-Fi, GPS, and Bluetooth functions when not in use.
In addition, reduce the screen brightness of your device.
Step 2
Optimized the phone using Device care feature
Step 3
Close unused background running apps
Note:
Update the apps regularly.
 Images and menu options may vary depending on your model and software version.
TIPS

What does
'Power saving' do?
- Turns off 'Always on Display'
- Decreases brightness by 10%
- Limits CPU speed to 70%
- Turns off 5G
- Limits app use and Home screen
Both the device and the charger can generate heat while charging. The temperature may even feel warmer when charging with 'Super Fast Chargers' or wireless chargers.
Take the following actions if your device generates heat while charging.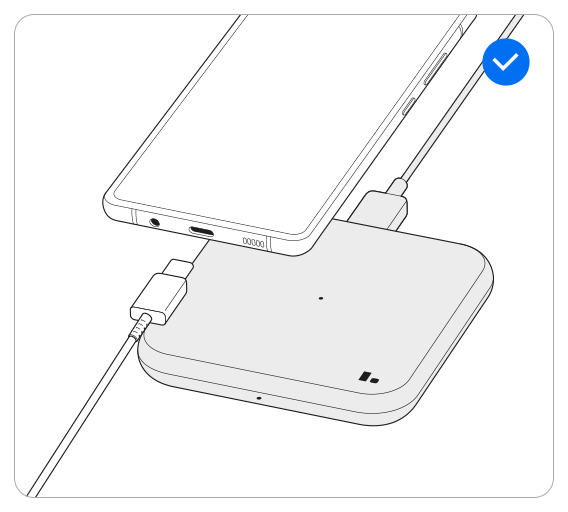 Note:
The warranty for the smartphone battery is a year. If a manufacturing issue is identified by the Samsung Service Center within the warranty period, it will be repaired or replaced free of cost. If the issue is identified as caused by the user, even within the warranty period, or any issue is discovered after the warranty ends, there may be a charge to you for the repair.
When using a wireless charger, make sure there are no metal substances, magnets, or credit/transit cards between the device and the charger.
Please click the submit button below to share your feedback with us. Thank you for your participation.
Please answer all questions.