How to upgrade firmware of Samsung SMART TV through USB Drive?
Last Update date :
Oct 26. 2020
STEP 1. DOWNLOADING FIRMWARE FROM WEBSITE
The firmware updates are required to enhance the efficiency and use of the Smart TV's as it adds variety of features and options to the TV.
a). On your computer log on to Samsung Download Website and scroll down to select the Type / Subtype & Model no. of your Samsung TV and click the button Manuals & Downloads at the bottom.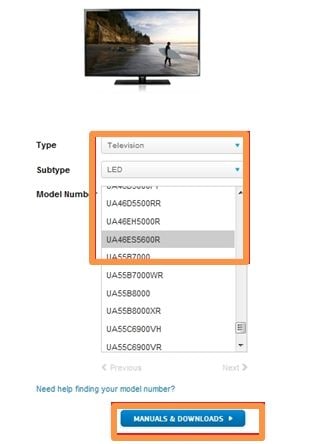 b). Click on Manuals & Downloads, it will take us to the Download page, locate Firmware from the options on the left hand side and click it.
c). On the firmware download page, choose the latest release date and click on the file symbol
, and it will start the download of the upgrade file. Choose the location where you would like to save the file on your computer.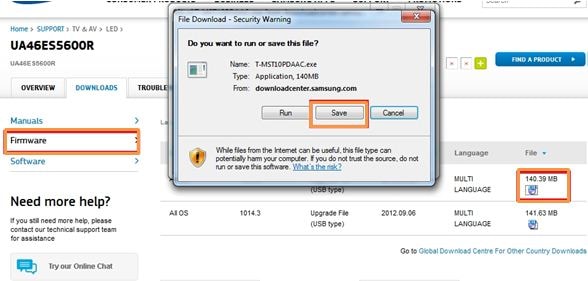 d). Once the files are saved , extract the zip file to a separate folder and then copy the extracted folder to the USB Drive.( Do not copy the compressed file, as the TV might not be able to recognize the format)
e). Once you have completed copying the files to the USB drive, connect the USB drive to the USB jack in the TV. Make sure that the TV is switched off when you connect the USB drive and then Power On.
STEP 2. UPDATING LATEST FIRMWARE
NOTE : Make sure that the TV is not switched off or the USB drive plugged out while you follow the below steps.
f). Press Menu on the remote control and scroll down to Support option on the menu page and press OK / Enter.
Note: For Old series: Start > Menu > Support option>press OK
For New series (K &M series): Home > Settings > Support option>press OK
g). Scroll to right and choose Software Update and press OK / Enter.
h). Make sure that the USB drive which contains the firmware update file is connected and detected. On the screen choose By USB and press OK / Enter.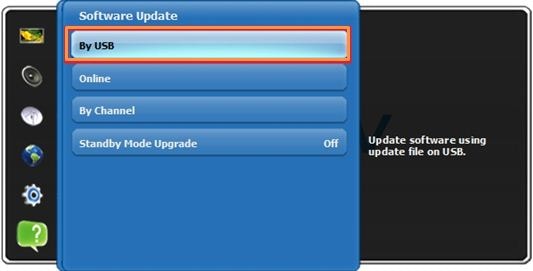 i). Once you press OK / Enter, the setup will automatically detect the setup file on the USB drive and start the installation.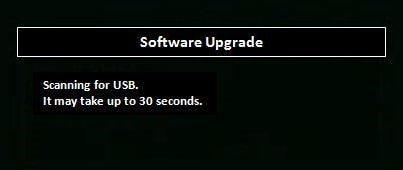 j). Once the setup has detected the firmware on the USB drive it will prompt to choose OK / Cancel. Highlight the OK button and press OK / Enter.

k). The setup will start and the TV will reboot on its own.
Once the setup is completed and the TV is turned on automatically, the update will be completed and you can sit back and enjoy the latest features on your TV.
To know how to directly update firmware by connecting the TV to internet please CLICK HERE