What eARC is and how to set on Samsung Smart TV
Last Update date :
Sep 05. 2023
eARC enables sending audio to a TV that originates from cable, satellite, streaming or source devices to be sent to an AVR or sound bar through a single HDMI cable. This ensures the simplicity of the connectivity and that the original audio can be experienced.

HDMI ARC and eARC differences
Most TVs compress audio signals in advance before going through HDMI cables. The eARC (Enhanced Audio Return Channel) enables you to transmit the original full resolution audio signal through an HDMI cable and reproduce the best sound without compromise. The eARC is a feature implemented in the latest HDMI 2.1 specification, the biggest advantage is that it exceedingly improves bandwidth and speed. This allows you to transmit high quality audio from your TV to your Soundbar or AV receiver and is compatible with the high bitrate formats Dolby Atmos and DTS.
eARC is also popularly referred to as the next-gen ARC. It proves support for larger bandwidth and supports faster speeds. Therefore, you are able to deliver higher quality audio from your HDTV to your sound bar or audio receiver.
Difference ARC and eARC

Function

HDMI ARC

HDMI eARC

Compressed 5.1

Yes

Yes

Uncompressed 5.1


No

Yes

Uncompressed 7.1


No

Yes


High Bitrate and object based up to 192kHz, 23-bit

(e.g. Dolby Atmos, DTS:X)

No

Yes

Supported models for eARC
TV: UHD TU7000 and above models.
Soundbar: Q70T and above models.
Audio format: The latest high bitrate audio formats are supported including DTS Master, DTS:X, Dolby TrueHD, Dolby Atmos and more.
Note: 
You must use an eARC supported HDMI cable. (HEAC or HEC)

Anynet + (HDMI-CEC) function must be enabled on the smart TV.
If using an unauthorized cable, an error may occur.
Settings for HDMI-eARC Mode
For the devices supporting eARC, you can consider the HDMI eARC Mode. Muting occurs temporarily during device connection.
Follow the steps below to set up the TV's input audio.

Step 1. Press the HOME button on your Samsung remote control, and then select Settings.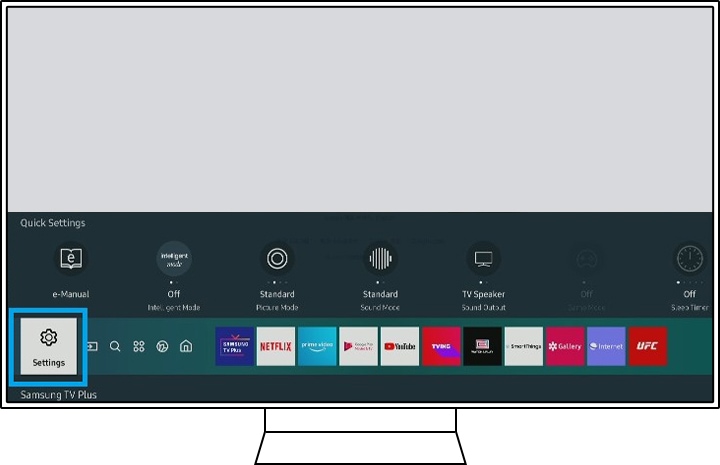 Step 2. Select the Sound Menu, and then choose Expert Settings.
Step3. Navigate the HDMI e-ARC Mode and press the enter button on your remote to turn on.
Note:
Default setting for eARC Mode is off. (Connect to ARC automatically)
eARC is only activated when HDMI-eARC Mode is turned on.
Check the Anynet+(HDMI-CEC)activated
You will need to enable HDMI-CEC protocols in the Settings Menu on your TV. Samsung TVs call the HDMI-CEC protocol Anynet+. 
Step 1. Press the HOME button on your Samsung remote control and then select Settings.
Step 2. On the Settings screen, choose the General Menu and External Device Manager.
Step 3. Navigate Anynet+ (HDMI-CEC) in the External Device Manager menu and press enter on your remote to turn Anynet+ on.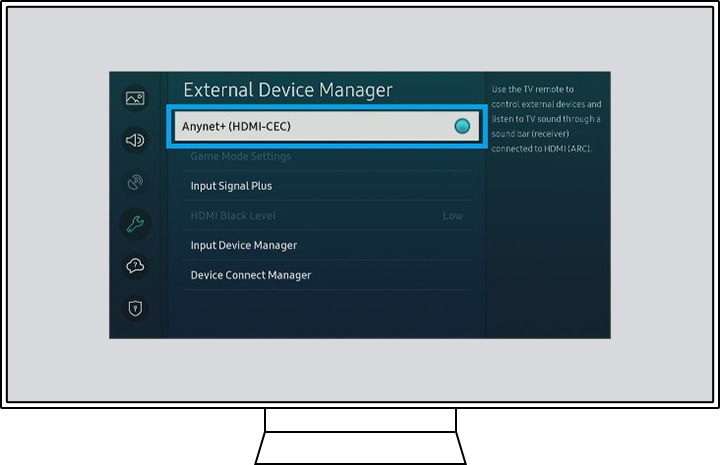 Note:
HDMI port will be labeled ARC on the back of the TV or One Connect Box.
Most One Connect Boxes have an HDMI-ARC port (it is usually the third HDMI port).
When eARC is not connected
If there is a problem with the ARC/eARC operation, first remove all external devices (STB,OTT devices, etc.) connected to the TV, then try playing again. Some external devices may not properly comply with HDMI connection specifications, which may cause problems.
You need to check the follwing matters to connect eARC to a TV. 
Check the eARC port (the same port as ARC) is connected.
Check the connected AV device is an eARC-enabled device.
Check the HDMI cable is HEAC or HEC supported.
Reconnect HDMI cable, and then reset HDMI-eARC Mode to Auto.
When eARC is connected,but no sound
If you having problem with poor sound output, even when eARC is connected properly, you need to check Digital Output Audio Format.
(Menu > Sound > Expert Settings > Digital Output Audio Format)
To check if the AV device does not support the Audio Output Format, test the output sound by changing Digital Output Audio Format to PCM / Auto / Pass-Through once each.
Note: The device screenshots and menu are only samples in English - they are also available in the language of your country.
Please answer all questions.