What is SRS TruSurround HD in Samsung TV's?
Last Update date :
Oct 12. 2020
SRS (Sound Retrieval System) TruSurround XT is the compound technology of TruSurround, which not only enhances the resolution at high sound, but also provides rich amplification even at low sound. XT can be named for the state-of-the-art package which supports features such as FOCUS and TruBass.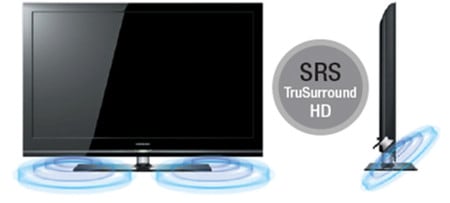 (TV showing down firing of sound from speaker to produce SRS TruSurround)
In Samsung TV's, TruSurround is the virtual sound effect which follows the 5.1 channel surround sound technology using two speakers.
(Downfiring sound coming out from speakers towards viewer after striking surface)
SRS TruSurround HD Features : 
● FOCUS enhances the clarity of sound.
● TruBass (Deep Bass) bolsters the low sound.
● Definition control for maximum high-frequency realism and clarity.
● Dialog enhancement to ensure clear and intelligible vocals.
CLICK HERE to know all about Picture Technologies and Advance Settings in Samsung TV.
Please answer all questions.