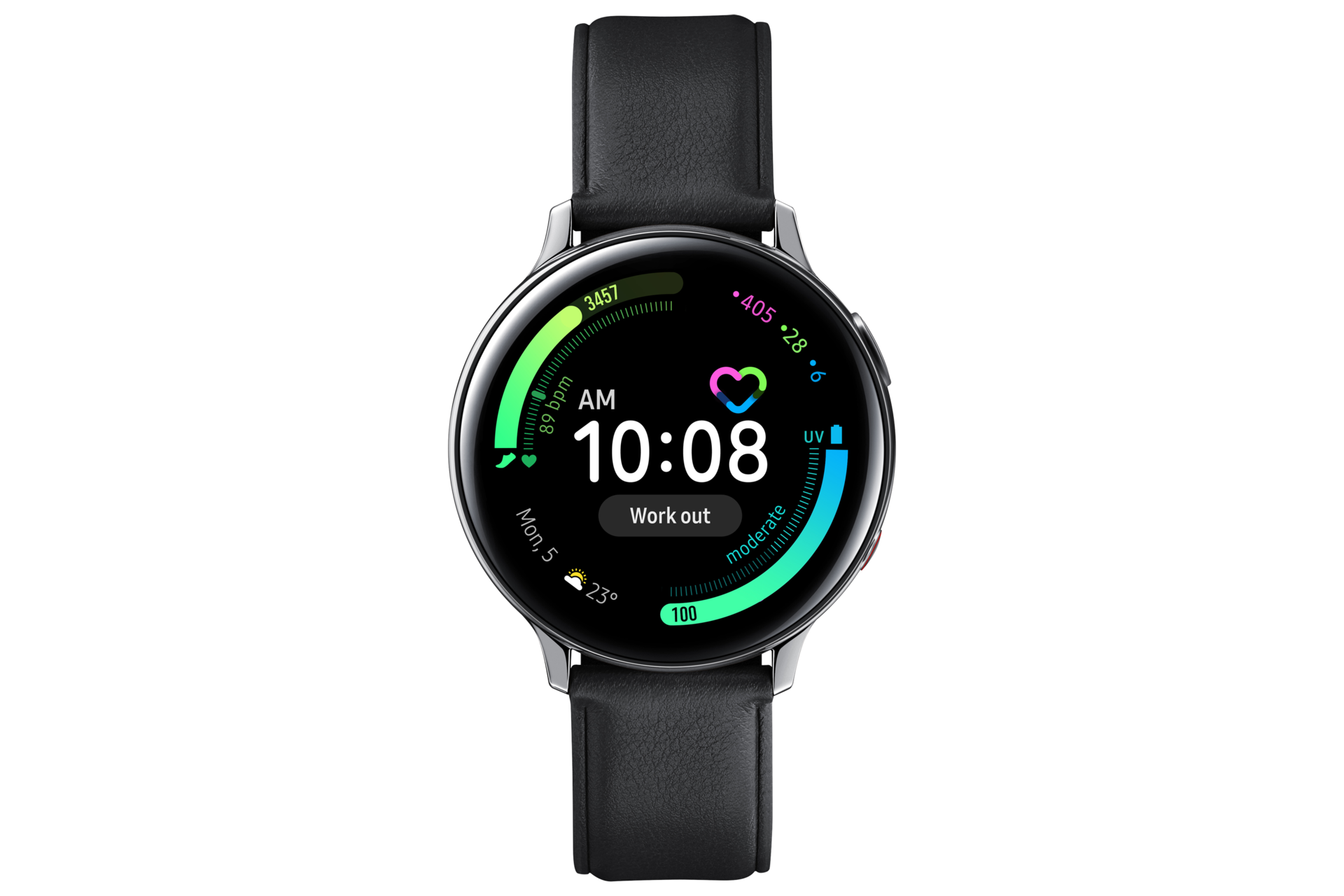 Galaxy Watch Active2
SM-R825FSSA
SM-R825FSSAINU
Galaxy Watch Active2 4G (Steel)
is rated out of
5
by
7
.
Make & receive calls even without your phone
Timeless design with digital touch bezel
Cutting edge activity tracker
Widen your Space
Heart rate tracking
Track your workout
Keeps up where you go
Stay connected without your phone
Take your contacts, messages and music with you on an LTE-powered life assistant that lets you leave your phone behind. Go on a run with the peace of mind of being connected and not weighed down. Keep your music streaming as you go or download ahead of time for areas with low connectivity.
Stay connected with a lifestyle and health partner on your wrist that gives you advice in the moment. Get more precise information on your health on a bigger screen with a watch that has your wellness in mind. Galaxy Watch Active2 tells you what you need to know when you need it.
Custom comfort on your wrist
The Galaxy Watch Active2 is super customizable from day one.
Choose from 3 eye-catching finishes in tough stainless steel, and personalize
with a wide assortment of straps, to get a look that's just perfect.1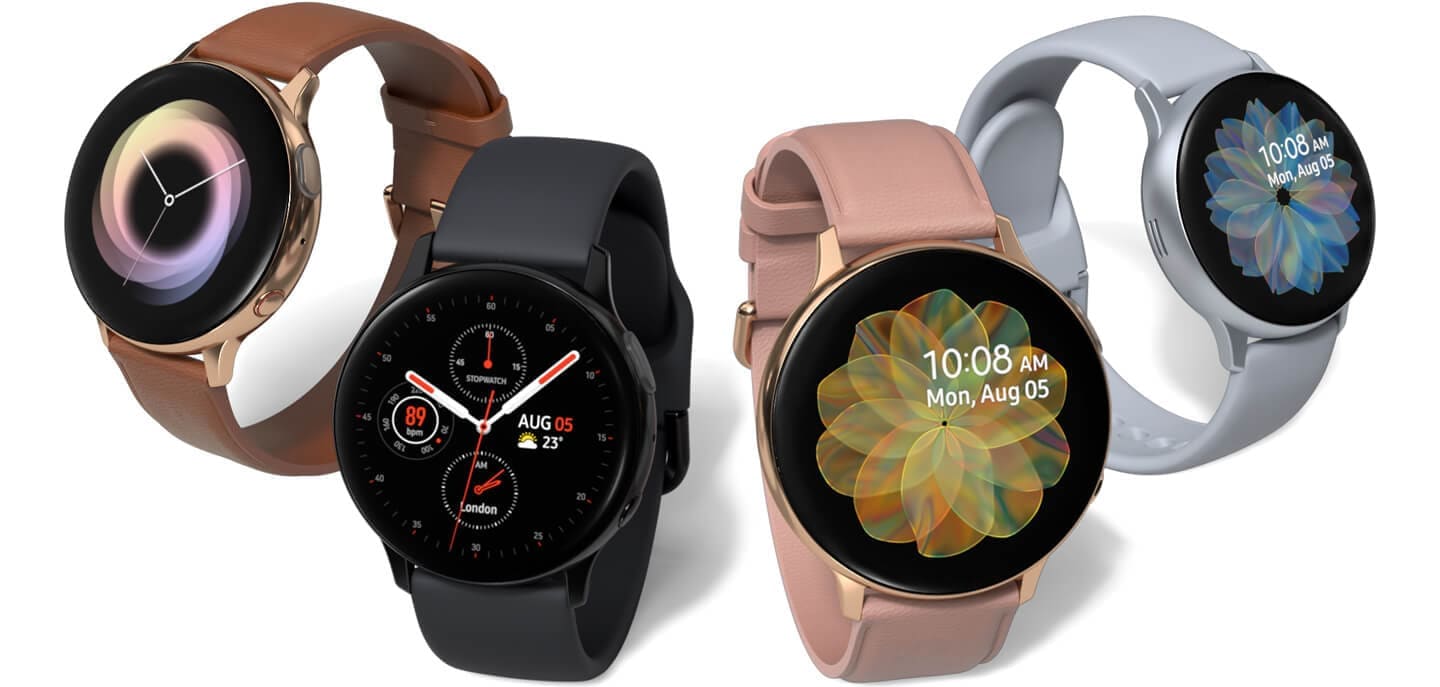 Widen your space
Maximize your screen space with an uninterrupted view on a sleek body fitted with a touch bezel for quick control.
Galaxy Watch Active2 features an enlarged display with a pure black screen and a border
that's hardly there for more space to get the insight you need.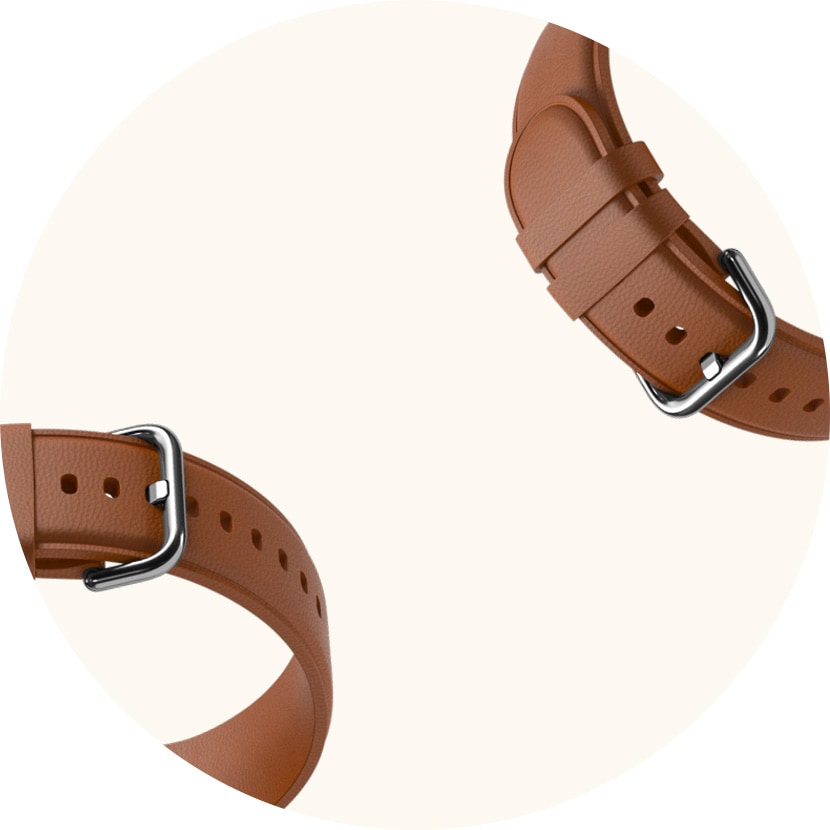 Get the look
that matches
your look
#withGalaxy
Snap your outfit
and
grab your look
Express yourself with a watch face that fits your look and mood. When you snap a picture of your outfit for the day Galaxy Watch Active2 will put together a watch face to match.
Match your strap
in a flash
Complement your style with a watch face that matches the color and material of your strap. When you buy a watch strap and scan the QR code on the package you'll get a link to Galaxy Store to download a watch face that fits it. 2,3,4
* Multi-colored straps sold separately.
* QR Code is a trademark of Denso Wave Inc.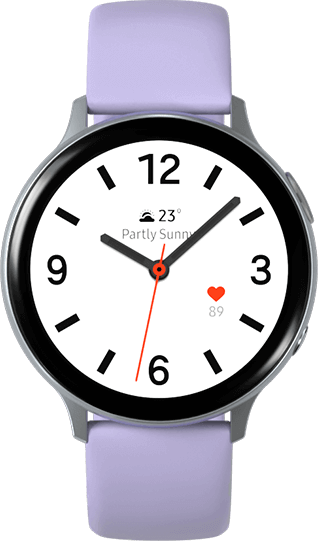 A watch to make your own
Mix and match for a watch design that fits your look. Choose from the wide selection of straps and put together
your own custom Galaxy Watch Active2.
Experience
Track your
workout on
your wrist
Galaxy Watch Active2 tracks your movements so you can just slip it on and get working out. With swimming added to automatic tracking you now get seven exercises, while manual tracking works for all activities for dozens you can track. Running coach function gives you actionable advice in real time. 5,6
Walking

Running

Cycling

Rowing

Elliptical
trainer

Others
Workout

Swimming
Heart
rate
tracking
for peace
of mind
Performance
Keeps up
where
you go
Take your watch along on the road less traveled. Galaxy Watch Active2 goes where you go with an IP68 and 5ATM water and dust rating plus military grade durability to handle a range of conditions, so you can keep it on to go farther and experience more. 16,17
Apps to push you further
Bring enhancement to your life with apps ranging from the Galaxy lineup to a large variety of downloadable 3rd party apps.
Download apps to create your own personal lineup for smart advice on the fly that you can pull up without leaving your wrist.18
Get connected
to your device
Wide Bluetooth compatibility with both Galaxy and
non-Galaxy smartphones (LTE function compatibility only for
Samsung smartphones). Get started by seeing which devices are compatible with Galaxy Watch Active2.
* Android : Android 5.0 (L OS) or higher, RAM 1.5GB above (Samsung/Non Samsung)
* iOS : iPhone 5 and above, iOS 9.0 or above.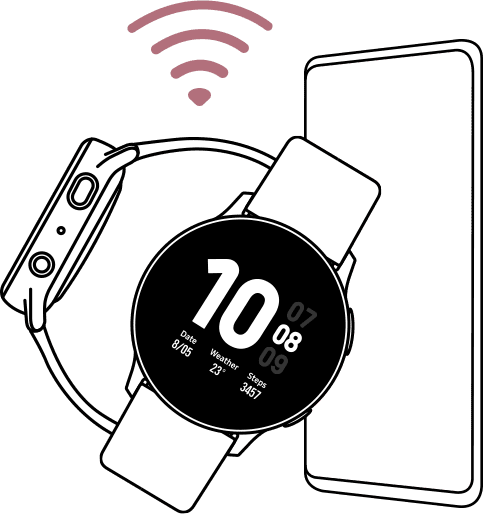 Find your
carrier
Get your Galaxy Watch Active2 with LTE set up with the
mobile carrier that fits you in your country or region.
1.Availability of models may vary by country and carrier
2.Available strap models may vary country.
3.Image simulated for illustrative purpose.
4.My Style works with android smartphones paired with Samsung Galaxy Watch Active2. QR code watch face and strap matching works with smartphones paired with Samsung Galaxy Watch Active2.
5.Intended for general wellness and fitness purposes only.
6.Fitness tracking on the watch can be used as standalone, but data stored in the watch may only be partially displayed after a certain period of time. Smartphone pairing is recommended in order to keep all data stored.
7.Stress feature available in all countries except Angola, Cyprus, Algeria, Canada, and Thailand.
8.Sleep / stress management function on the watch can be used as standalone, but data stored in the watch may only be partially displayed after a certain period of time. Smartphone pairing is recommended in order to keep all data stored.
9.HR monitoring function on the watch can be used as standalone, but data stored in the watch may only be partially displayed after a certain period of time. Smartphone pairing is recommended in order to keep all data stored.
10.Camera Controller function is compatible with Samsung Galaxy S10, S10+, S10e, S10 5G, Note10, Note10+, Note10 5G, Note10+ 5G, Fold and Fold 5G models.
11.Apps available for usage may vary depending on country, region, and connection type (LTE / Bluetooth).
12.UI is subject to change.
13.SNS Viewer, Translator and camera controller app require separate download before use.
14.Actual battery life varies by network environment, features and apps used, frequency of calls and messages, number of times charged, and many other factors.
15.As assessed by Samsung. Actual battery life may vary depending on network environment, usage patterns, and other factors.
16.Galaxy Watch Active2 has a water resistance rating of 50 meters under the ISO standard 22810:2010. It is not suitable for diving or high-pressure water activities. If the device or your hands are wet, they must be dried thoroughly prior to handling.
17.US Military Standard Compliant (MIL-STD-810G)
18.Availability of apps for Galaxy Watch Active2 may differ by carrier or country.
Bluetooth v5.0

Bluetooth Version

Tizen

OS

3.45cm (1.4")

Size (Main Display)

1.15GHz

Processor
Rated

5

out of

5
by
Ashu016
from
Awesome,,
I am writing this review after using galaxy watch active2 4G,,for one week ,,I was not big fan of these smart watches ,couple of my friends were using apple watch 5 GPS+LTE ,they talk a lot about their benefits but I sticked with my tissot mechanical watch,but when I purchased note 10 plus ,i got an offer and purchased watch active for 5000 only ,,I used that for 15 days ,,than given to my younger brother, I was completely satisfied with watch active ,but missed calling facility, after doing some research I purchased watch active2 4G, its boom ,,everything is perfect,,even it looks better than apple watch because of circular design, strap is also made of real leather ,which makes it better than apple watch, though square design give you more space to play with,,overall its good purchase ,,voice level of loudspeaker should be more ,battery backup is good for 2 days ,touch response is awesome,,
Date published: 2020-01-26
Rated

1

out of

5
by
Phantom
from
BEWARE
I got fooled. Hence if it is useful for anyone. 4G version only works if you have Samsung phone and does not work with any other android phone. Please be aware before opting to 4G version. Better buy cheaper Bluetooth version. Giving 1 star since Samsung hid this info from it's customers. And Samsung customer care sucks.
Date published: 2020-02-07
Rated

4

out of

5
by
nssehgal
from
GR8 Product
I got this product a week back n i must say i m really happy to have this.I have the stainless steel (Silver)44mm Lte version with me i m always connected. It has a gr8 finish n very light weight with all the best of the features and really helps e with my workout activities.The heart rate sensor has improved and is more accurate now n even auto detects my workouts. I m really happy with the product...... cheers !!!!!!
Date published: 2020-01-10
Rated

3

out of

5
by
MrPK17
from
Why the price is high in India
Active 2 4G in India Rs.36,000 and in Singapore Rs.29,000. I see the difference of Rs.7000. So I can buy in Singapore and use it in India
Date published: 2020-01-24
Rated

4

out of

5
by
banda
from
Good Looks
Got this as a birthday gift from my wife a week back. Below are my comments after a week usage. Pro: 1. Looks and feels amazing on wrist. I was comfortable wearing it 24hrs, without showing any discomfort. 2. Unboxing and connectivity works like a charm. Connecting the device to my one plus mobile worked like a breeze. 3. Battery last around 26-30hours, with my usage. Kept the watch in optimized usage. 4. Touch was very good and even the rotary selector was handy. 5. Audio volume was OK, but do not expect to use in traffic. 6. Screen brightness was fine and can view it clearly in bright sunlight. Cons: 1. Bought an LTE version, but Airtel does not support eSIM facility for Samsung models. :( ! Working with customer care...but i feel should have gone with Bluetooth model. 2. Screen is very prone to scratches, Got few scratches just in 2 days of normal usage. But there is a help here with some good screen guards in market. 3. Samsung has in house development of many useful apps. But i miss support of many android Apps such as Google Maps, Google Calendar, etc. 4. Bixby is very novice, and don't expect much from it. Miss Google Assistant on the device. Bixby cant make a call with my contacts nicknames :( ! 5. No Charger in the BoX [x-(] . Samsung is expecting us to buy a charger after paying 35K for watch. And the charger input specifications are 5V-1A. My one plus charger output is 5V-4A, So could not use it, had to buy a new one :'(.
Date published: 2020-02-09
Rated

5

out of

5
by
AjjuSmiles
from
Style and Substance for Android
I have been using it for quite sometime now and absolutely loving this companion on daily basis. Great style (the classic kinda), features, finish and amazing battery life (easily running into 4th day on bluetooth mode ). Trying to learn all the features in detail before starting to use it with standalone e-sim mode.
Date published: 2020-02-06
Rated

5

out of

5
by
DURGASHANKAR
from
Very nice
Good watch best products and very nice this watch realy nice watch
Date published: 2020-01-30
User manual & Downloads
Live Chat
How It Stacks Up
No Cost EMI starts from ₹ 2,999.16/ month.
Standard EMI starts from ₹ 1,694.17/ month.

Buy with Bajaj Finserv at No Cost EMI