Cauliflower Steaks with Romesco
Thick cauliflower steaks smothered in romesco, a Catalonian red pepper sauce with a nutty texture.
Although almonds are the traditional ingredient used in romesco sauce, pine nuts, hazelnuts or cashews work well too. Steaming the cauliflower before roasting it gives you tender stems but nutty, golden florets.
Ingredients
· 1 medium cauliflower
· 2 tbsp olive oil

For the romesco sauce
· 2 red peppers
· 50g whole blanched almonds
· 3 tbsp olive oil
· 1 tbsp sherry vinegar
· 1 red chilli, deseeded and finely chopped
· ¼ tsp smoked paprika
· 1 garlic clove, crushed
· ½ small bunch of parsley, finely chopped
Nutrition Information of Cauliflower Steaks with Romesco

| Kcal | Fat | Saturates | Carb | Sugars | Fibres | Protein | Salt |
| --- | --- | --- | --- | --- | --- | --- | --- |
| 507 | 43g | 5g | 14g | 11g | 7g | 11g | 0.05g |
Bold nutty romesco over golden cauliflower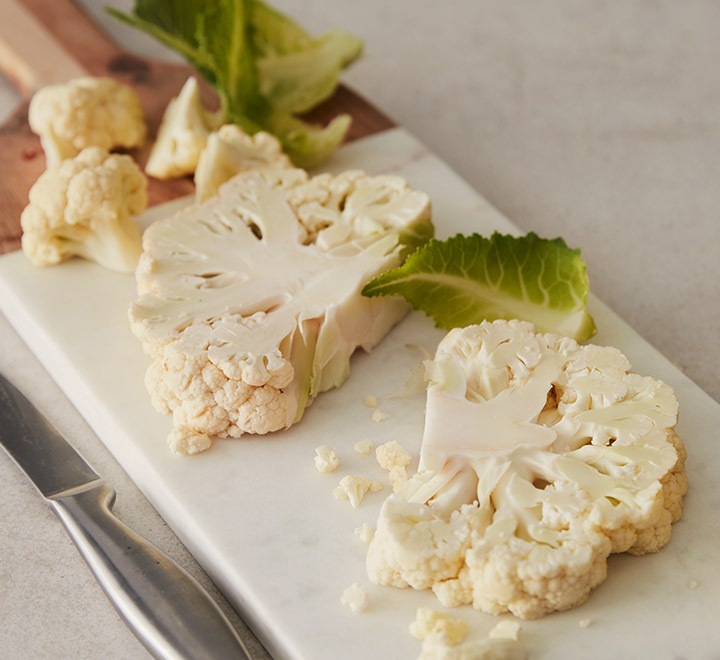 Step 1. Prepare the cauliflower
Separate the leaves from the cauliflower. Save the thin-stemmed, smaller leaves for later and discard the thick-stemmed, damaged ones. Cut cauliflower in half along the centre of its stalk. Cut a 1 cm thick cross section from each half to get two 'steaks' from the middle, attached by the cross section of the stalk. Break the remaining cauliflower into florets.
Step 2. Steam and set aside

Fill the water reservoir in the oven to max. Transfer the cauliflower steaks to the steam tray and put in the oven. Steam for 20 mins, then add the florets and cook for another 5 mins until tender and a sharp knife passes easily through the stem. Remove the lid from the steamer and set the cauliflower aside.
Step 3. Heat peppers and almonds
Heat the oven to 240°C Top Heat + Convection. Cook the peppers for 20 mins, turning halfway through, until softened and the skins have blackened. Remove from the oven and leave to cool, tip the almonds onto another tray and cook for 1-2 mins, shaking the tin every 30 secs until toasted and golden. Remove to a plate and leave to cool.
Step 4. Roast cauliflower steaks
Oil the cauliflower steaks and add to the tray used for the almonds. Add the florets and drizzle with more oil. Season well. Roast for 20 mins, adding the reserved leaves halfway through, until golden and lightly charred.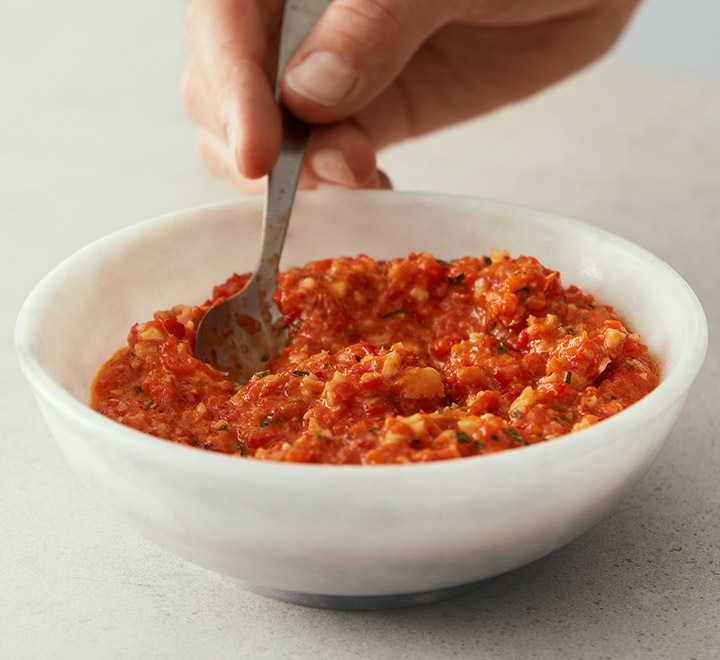 Step 5. Make romesco sauce
Gently peel the cooled peppers. Halve, deseed, chop, then blend to a paste in a food processor with the toasted nuts and remaining romesco ingredients. Save some nuts and parsley to garnish.
Season sauce with salt, pepper, vinegar or paprika, then spoon onto cauliflower. Garnish with nuts and parsley. Leftover sauce lasts 5 days in the fridge and pairs well with bread or pasta.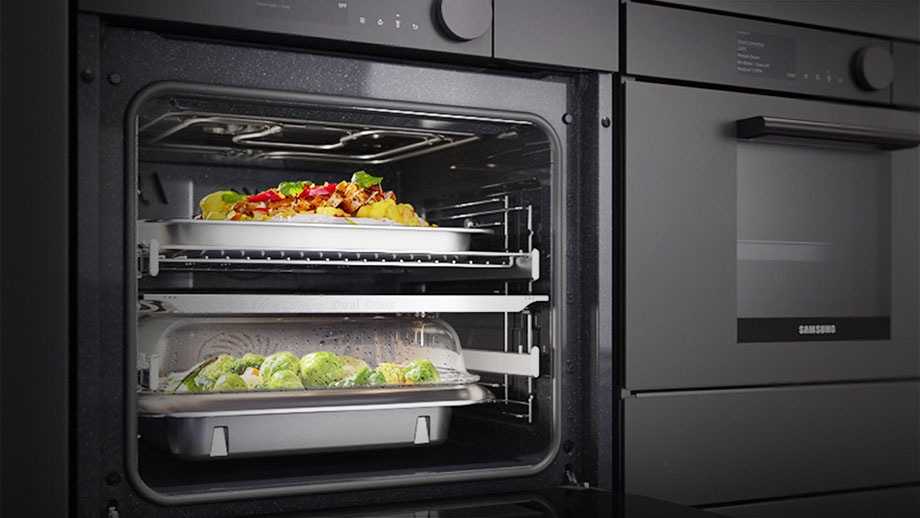 Dual Cook Steam™
Enjoy more flexibility to prepare dishes together and save time and energy.
*Product availability and specifications may vary by country.