Galaxy S5 - How to turn Off Apps
Last Update date :
Nov 23. 2020
You can turn off or disable certain preloaded (or system) applications on your device. Once turned off, the application will be hidden and will no longer be accessible until it is turned on.
From the Home screen, touch Apps
> More options
> Uninstall/disable apps. Touch
next to the application you would like to turn off, then touch Turn off.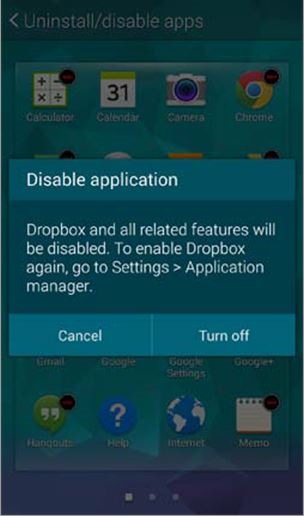 A message will warn you about turning off built-in applications; touch OK to proceed. Before the application can be turned off, any updates will be uninstalled and replaced with the factory default version; touch OK to proceed.

Please click the submit button below to apply your feedback. If above content is not helping you to solve your issues, you can write down your comment and feedback to us to improve the content. Thank you for your participation.
Please answer all questions.