How does the Scene Optimiser improve photos?
Last Update date :
Oct 02. 2020
The Scene Optimiser goes a step further to automatically enhance the effect and quality of your images.

Using automatic scene optimisation
When the camera recognises a subject or scene, an icon will appear on the screen and the optimised colour will be applied automatically.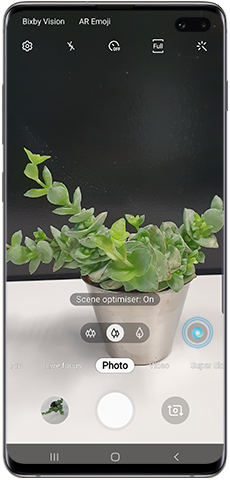 Please note: The screenshot above shows the position of the icon using Android version 9.0. If you are using earlier version then the icon will be in the middle, rather than on the right.
What are the different scenes?
The rear camera is able to choose between twenty different modes and apply the one that suits every situation best.
Food
Portraits
Flowers
Indoor scenes
Animals
Landscapes
Landscapes
Trees
Sky
Mountains
Beaches
Sunrises and sunsets
Watersides
Street scenes
Night scenes
Waterfalls
Snow
Birds
Backlit
Text
On the S10 phones, ten more scenes are also available:
Clothing
Vehicle
Face
Drink
People
Cat
Shoe
Dog
Stage
Baby
Please note: Accuracy of Scene Optimiser may differ depending on shooting conditions including multiple subjects, being out of focus, or moving subjects.
Removing automatic scene optimisation
You can switch off this feature by simply tapping the moving icon on the screen. The icon will change to a grey colour when Scene Optimiser has been deactivated.

Please note: The screenshot above shows the correct steps for Android version 9.0. If you are using an earlier version you will need to deactivate by taping the settings icon on the camera preview page, then slide the "Scene optimiser" switch.
Please click the submit button below to apply your feedback. If above content is not helping you to solve your issues, you can write down your comment and feedback to us to improve the content. Thank you for your participation.
Please answer all questions.