Saving Energy Tips for my Samsung Android mobile
Last Update date :
Oct 01. 2020
Samsung Android Smartphone/Tablet battery consumption rate is always higher compare with non-Smartphone. A normal battery consumption rate is as it depends enormously on how the device is used: from which apps are used and for how long to how much memory is available and what environmental temperatures the device is exposed to.
There are many means to extend the life of your battery by re-configuring certain functions and features to curb their power consumption rates, and the steps on how to do so are presented below. If you are sure, however, that the fast rate at which your battery drains is due to a fault then please skip to the sections on updating your device's software.
Note: the below steps apply broadly to recent Samsung Android devices. The exact steps required for your specific Samsung device may vary slightly from these
Adjust Power Saving Mode
The Power saving mode lets you set your device to conserve battery power.
4
Touch Power saving mode to adjust the following power saving settings.
5
Touch the slider to turn Power saving on.
- CPU power saving: Limit the maximum performance of the CPU to conserve battery power.
- Screen power saving: Use a low power level for your device's screen to conserve battery power.
- Turn off haptic feedback: Turn the haptic feedback option off to conserve battery power.
Adjust your display settings
1
From the Home screen touch Apps.
2
Touch Settings (you may need to swipe left or right to locate it first).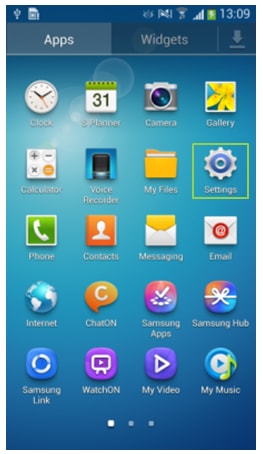 3
Touch Display (if you're using a Galaxy S4 you will need to touch the My Device tab first).
4
Touch Screen Timeout.
5
Touch the radio button next to either 15 seconds or 30 seconds (the shorter the length of time before your screen goes dark, the longer your battery will last).
7
Touch the check box next to Automatic brightness to mark it with a tick and allow your device to set the brightness by itself at all times, taking into account the current battery level. If you're particularly concerned about battery longevity slide the point on the slider to the left to permanently set the brightness of your screen at a lower level. The lower the level, the lesser the battery consumption.
Quit active applications that you aren't using
1
Press and hold down the Home key until the Recent Apps screen appears.
2
Touch the Task Manager icon at the bottom-left of the screen.
3
Touch End next to any applications that you don't need running, prioritising those taking up the largest percentage of the CPU.
Restrict mobile data use to areas in which you have a strong signal
Mobile data connections in areas of low signal strength use a lot of power so it's recommended you use your mobile data connection only when in areas of strong signal strength, which you can easily determine by checking the signal strength bars in the Notification Panel.
Turn off Wi-Fi, Bluetooth and GPS connections when you don't need them
Wi-Fi, Bluetooth and GPS all have high power consumption rates so it's best to leave them off when you're not using them. It's fast and easy to toggle these connections on and off through the Quick Panel menu.
1
From the Home screen touch the Notification Panel and slide it down to reveal the Quick Panel menu.
2
Touch the Wi-Fi, Bluetooth or GPS icon to toggle the corresponding connection on and off.
Perform a Software Update
If you suspect a software bug is causing your battery to drain unusually quickly we recommend checking for a new software update for your device (the updates can include fixes for such bugs).
1
From the Home screen touch Apps.
2
Touch Settings (you may need to swipe left or right to locate it first).
Perform a Factory Reset
Please note you need only perform a factory reset if you suspect the rapid rate at which your device's battery drains to be due to a fault, and not simply heavy use coupled with inefficient power management settings. Please make sure you have tried fixing the problem with a software update first.
1
Back up all the media, text messages, etc that you wish to save. This can be done through Kies on your PC. A factory reset will wipe your phone clean, restoring the software to how it was when the device left the factory.
2
From the Home screen touch Settings.
3
Touch Back up and reset.
4
Touch Factory data reset.
If your battery still drains abnormally quickly after the factory reset there may be a fault with the battery or your device's hardware. Please click here to find the contact details of your nearest Samsung service centre to arrange for an engineer to inspect your device.
Please click the submit button below to apply your feedback. If above content is not helping you to solve your issues, you can write down your comment and feedback to us to improve the content. Thank you for your participation.
Please answer all questions.