How to clean and maintain the Galaxy Watch?
Last Update date :
Nov 16. 2021
Please Note: The information on this page is for New Zealand products only. Sequences or settings will vary depending on location and/or where the product had been purchased. To be redirected to your local support page please click here.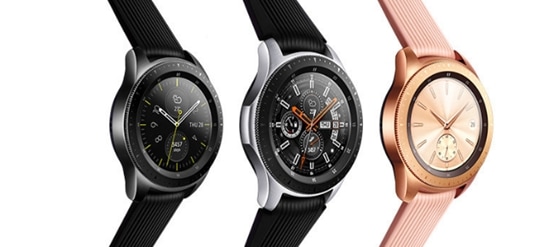 If you experience some discomfort or skin irritation when you wear your Samsung smart watch, it means it's probably time to clean it. Some residue or foreign material probably built up on the watch and is aggravating your skin. It's also possible that you aren't wearing the watch correctly. Make sure to clean and adjust your watch for a more comfortable fit.
Caution: If you experience extreme skin irritation while wearing the watch, stop wearing it and wait two to three days for symptoms to ease. If symptoms persist or worsen, consult a physician.
To ensure your Galaxy Watch functions correctly and maintains its appearance please follow the advice below. Failure to do so may damage the Galaxy Watch and could cause skin irritation.
Clean your watch dry
Clean your wrist and band after exercising or sweating. Clean the Galaxy Watch with freshwater, wipe it with a little rubbing alcohol and dry your Galaxy Watch thoroughly.
When you remove sun block, lotion, or oil, use a soap-free detergent, then rinse and dry your Galaxy Watch thoroughly.

If the Galaxy Watch gets stained or contains any materials, wipe it with a moistened soft bristle toothbrush.

Do not use soap, cleaning agents, abrasive materials and compressed air when cleaning your Galaxy Watch and do not clean it with the external heat sources. Doing so may damage the Galaxy Watch. Skin irritation may be caused by soap, detergents hand sanitizers, or cleaning agents left on the Galaxy Watch.

Prevent the device from being exposed to salt water, chemical products such as cosmetics, antibacterial spray, hand cleaner, detergent, and insecticides. The Galaxy Watch's exterior and interior parts may be damaged or it could result in poor performance. If your Galaxy Watch is exposed to any of the previously mentioned substances, use a lint-free, soft cloth to clean it.

Please Note: Moisture or the buildup of any substance on the back-charging surface of your watch can cause it to charge more slowly or not at all, and can cause irritation when you wear your watch.
Please note: Do not insert sharp objects into the atmospheric pressure sensor, the pressure vent, speaker, or the microphone. Inner components of the Galaxy Watch may be damaged along with the water-resistance feature. If the device is exposed to salt water ensure this is rinsed in fresh water.
Keep your watch dry
To help it run its best and also prevent skin irritation, you'll need to keep your watch nice and dry. Whenever it does get wet, dry it thoroughly with a clean, soft cloth. You should also dry the charging surface on the back side of your watch before attaching it to a charger or before wearing it.
Please also keep in mind:
Do not expose your watch to water at high pressure.
The touchscreen and other features may not work properly if your watch is used in water or in other liquids.
If your watch is exposed to any liquid other than fresh water (like salt water), rinse it with fresh water immediately and dry it thoroughly with a clean, soft cloth.
Do not expose your watch to ionized water.
Your watch is not impervious to water damage in any situation.
Failure to rinse your watch in fresh water and dry it as instructed may cause it to suffer from operability, cosmetic, and charging issues. For example, it may charge more slowly or overheat.
You can download the user manual from our Manuals & Downloads page. For all other queries or further technical assistance, please call Samsung Customer Care on 0800 726 786 or Live Chat with our Technical Team online, services are open 24 hours, 7 days.
Please answer all questions.