How do I set the My Interests Wallpaper on Lock screen?
Last Update date :
Nov 23. 2020
* Please note, this section is designed to give you basic product troubleshooting information, also refer to your user manual for more information.
Samsung Galaxy Note 4 comes with Dynamic Lock screen service composed of My Interests. You can set your device to show high quality images based on your interests on the lock screen. Here's how:
Step 1: Pinch the Home screen with two fingers. (Alternatively, tap and hold on the Home screen)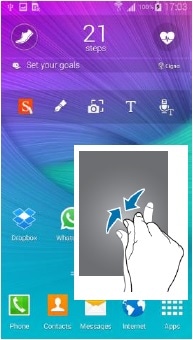 Step 2: Tap on 'Wallpapers' icon.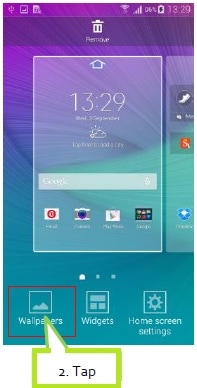 Step 3: Wallpaper setting page for Home screen, Lock screen, Home and lock screen will display. Tap Lock screen.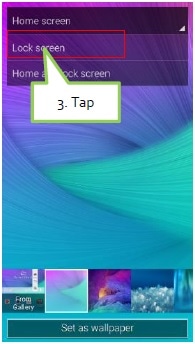 Step 4: Tap the 'My Interests' menu.
Step 5: There are various 7 categories most users prefer. They are: Drawings, Travel, Nature, Landscape, Night sky, Pets, Food. Select your preferred category. New wallpaper images will be downloaded for the category you just selected. Receiving new wallpaper images via mobile networks may result in additional charges. We recommend using Wi-Fi networks instead.

Step 6: You can make the image interactive through Settings. Tap the Settings.

Step 7: Tap the checkbox next to Dynamic effect to add dynamic effects to lock screen wallpapers, such as zooming in and moving. Enabling Dynamic effect will disable any unlock effects currently enabled. If you want to see a common images, then un-check Dynamic effect.

Step 8: And, you can set your time interval of changing wallpapers. Tap Transition interval. There are 4 options: Every 1 HR, 3HR, 6HR, 12HR. Select the time interval you want.
Step 9: To receive a better quality service with less duplication, based on your preferences, tap the Enhanced service. To provide you with a more enhanced experience, My interest service seeks access to your device identifier and what type of categories selected or image rendered.

Step 10: If you complete to select settings, return to back screen and Tab 'Set as wallpaper'. Return to the Home screen. Turn off the LCD and turn on the LCD again. You can see colorful and brilliant images on the Lock screen.

Step 11: On the wallpaper, you can move to Content Provider mobile web page or App service through tapping on the Logo. Just tap the Logo on the bottom area.
Step 12: Swipe the screen. Then you are able to move to mobile web site in which real image files are uploaded.
** "To aid us in creating better support content for you, kindly complete the survey below if your query was resolved. Your rating and comments should only be based on the above content.

For all other queries or further technical assistance, please call Samsung Customer Care on 0800 726 786 or Live Chat with our Technical Team online, services are open 24 hours, 7 days."
Please click the submit button below to share your feedback with us. Thank you for your participation.
Please answer all questions.