What to do when your Galaxy device is unable to make or receive calls
Last Update date :
Dec 22. 2021
If you're unable to make a call from your Galaxy device, it may be due to a faulty SIM card, an issue with your account or carrier, or a device setting. Check the guide below to find a solution.
Before you try the recommendations below, be sure to check if your device's software and related apps are updated to the latest version. To update your mobile device's software, follow these steps:
Step 1. Go to Settings > Software update.
Step 2. Tap on Download and install.
Step 3. Follow the on-screen instructions.
Check your cell coverage and service status
You may experience call issues if you're in an area with poor cell reception or if there is an issue with your account or carrier.
If you have poor cell reception, there will be a few to no network bars on the upper right corner of your screen. If that's the case, move to a spot with stronger signal.
With weak signal, there's only a few, if not any, network bars
Verify that your account is in good standing.
Your device may be experiencing temporary issues with receiving signals from a cell tower. Try rebooting your device.
Check your device settings
Device settings may be hindering your ability to make or receive calls. Check if Airplane mode is enabled or if your device is blocking calls from unknown or private numbers.
Step 1. Open Settings and tap Connections.
Step 2. If Airplane mode is on, turn it off and check if your connection stabilizes.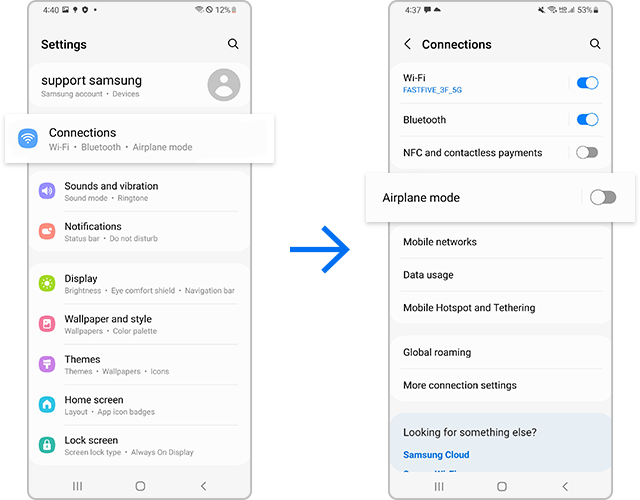 Check if your device is blocking any unknown or private numbers
Verify and inspect the SIM card
The quality of your call may be affected by a faulty SIM card. Check whether your SIM card is damaged or improperly installed.
Note:
The SIM card tray position may differ depending on device model.
To test your SIM card, contact your mobile carrier. If there's another device using the same carrier nearby, you can test your SIM card with that device.
If the issue persists after reinstalling a valid SIM card, try rebooting your device. You may have to reboot more than once.
Contact your carrier
If you recently changed carriers but kept the same phone, you may need to contact the current carrier to reprogram your device. Contact your service provider for assistance.
Note:
After each step, try making a call to see if your issue is resolved.
Warranty may not cover physical damage, but you can still make an appointment for repairs. Please check the Support Centre for more information.
Device screenshots and menus may vary depending on the device model and software version.
Please answer all questions.