Spotlight Your Achievements With
a Virtual Graduation Photoshoot
Make your milestone memorable through creative graduation photos captured #withGalaxy.
Get ready to toss your caps and term papers—the moment you've been working toward is finally here. While it might not be quite the graduation you pictured, it's a moment that deserves to be celebrated, captured and shared. To get you inspired, we've called on influencer and recent grad Jessica Carrie Lee (@jessicacarrielee) to show us how it's done with the Galaxy S21 Ultra 5G.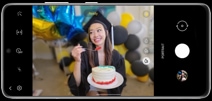 Perfect Your Portrait
Add studio lighting and adjust background blur in real time for the ultimate bokeh effect.
Design your own portrait backdrop
Planning your photoshoot at home? Nowadays, there are all kinds of DIY backdrop ideas you can throw together using everyday household items and a bit of imagination. "I wanted to emphasise the joy of graduation despite celebrating in my little dorm room," Lee says. If you have a small space to work with, try repurposing your home decor as scenery. "I used my curtains as a fabric backdrop and used my wall art to supplement my portraits." A flattering background could even set the stage for a grand entrance to your virtual graduation ceremony.

Hint: If there's too much going on in the background, hit the 'Blur' icon on the lower right-hand corner of the viewfinder in Portrait mode. Then, adjust your blur to see the effect in real time. You can also do this after you've taken the photo by clicking 'Change background effect' to adjust the blur, then 'Apply' to pop against your surroundings. "You can click on specific areas to refocus after shooting, which is a feature I look for on DSLRs," Lee explains. "I'd never imagined a phone camera doing it in post-process."
"I wanted to emphasise the joy of graduation despite celebrating in my little dorm room."
Take Your Graduation Outside
Got a virtual graduation ceremony? Stream from wherever you are, thanks to HyperFast 5G speeds on the Galaxy Tab S7+.
Choose an outdoor setting with significance
If you decide to venture out for your shoot, consider a location that reminds you of your university years—quite possibly some of the best years of your life. Just make sure it's a well-lit, clean and clear space. For Lee, that was on campus at her dorm complex and in front of a tower that wasn't in use: "In cities like Los Angeles, it can be hard to keep cars and people from entering the shot, so shooting from an empty rooftop or tower is my go-to." For a more panoramic view of the location, switch to the Wide lens on your Galaxy S21 Ultra 5G—perfect for shooting the whole scene without compromising the quality of the shot.
TIP
For standout portraits, wear brighter colours that contrast with your dark cap and gown.
Capture the excitement of the day
The trick to making your fun graduation pictures come alive? Movement. Whether it's lighting sparklers or tossing your cap to the camera, creating motion within your shots can evoke energy and help others feel like they're there with you (even if they can't be there physically). For Lee, "it was really important to capture the action of celebration with flowing robes, floating confetti and cake cutting." Her advice? Remember to have fun: "A lot of my favourite shots end up being candid shots of laughter and authentic moments, because they're natural and uplifting."
*Image simulated for illustrative purposes.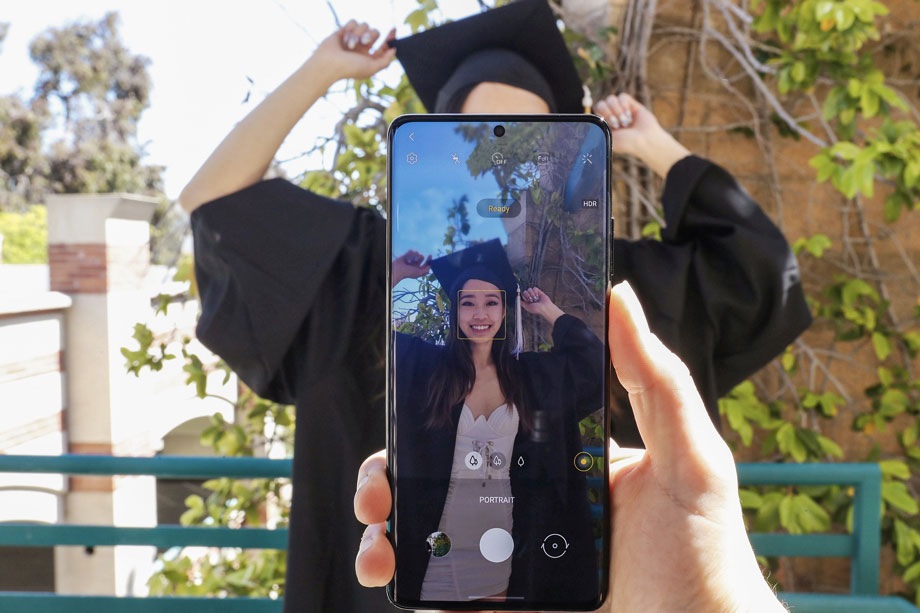 Capture the Best of the Best
Pull a variety of shots from just seconds of footage with Single Take—perfect for those can't-miss action shots.
Get your college roomie or a family member involved
Because who better to capture this monumental moment than the people you'd want to share it with? To get your shot looking the way you want it, set up the photo with your desired camera settings so all they have to do is click and shoot. "I captured a combination of selfies, self-timers and portraits with the help of my boyfriend, Skyler, to capture the event from all angles," Lee says. When they're done shooting you solo, set your phone up on a tripod and invite them to join in on the action.
For all the pomp and circumstance
Memorialise your big day your way with pro-grade camera features
on the Galaxy S21 Ultra 5G.
Galaxy Tab S8 | S8+ | S8 Ultra