Always-on care, for your device
Last Update Date :
Apr 02. 2019
This content is developed based on Galaxy S10, please note that some features may not be available on certain models 
Get always-on support at Samsung Members
For a device that is always there for you, support is always here. Samsung offers seamless, trouble-free service for Galaxy customers with always-on support through the Samsung Members app and our 24/7 helpline.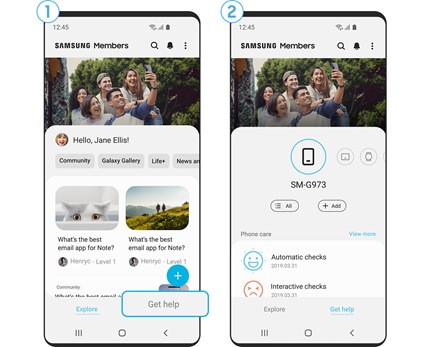 Support at your fingertips - How to Get Help
Find out how to access Get Help and various support features provided for you. 
1
Open Samsung Members then tap Get Help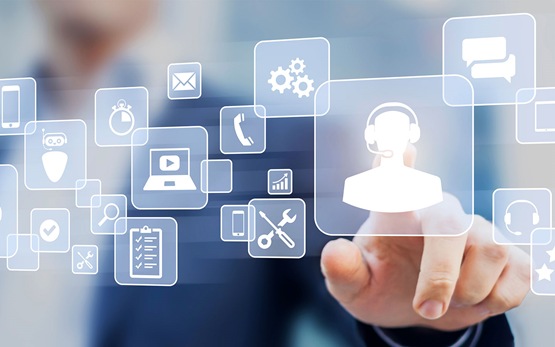 How to Get Help #1 - Phone Care
Before using our 24/7 service, diagnose your own Galaxy and optimize performance.
• Learn how to keep the device healthy with Automatic checks
• Test hardware performance, such as camera and microphone 
• Delete unnecessary data and optimizing memory performance
• Reduce battery consumption and speeding up your phone
How to Get Help #2 - Live Chat
Having trouble finding time to contact our Helpline?
Try using our Live Chat service for real-time chat support to accommodate your needs!
• When you prefer to chat because it is difficult to make a call 
• When you require tech support while device is in use
• When you try to solve a problem while receiving Live chat support simultaneously
How to Get Help #3 - Remote Support
If Call Helpline and Live Chat Service didn't solve your problem, try using our Remote Support with tech experts on standby to solve your problems through your own devices.
• When you need to check for device settings and various status during support
• When you seek professional help to access your device through Remote Support
How to Get Help #4 - Send Feedback
Feel free to send us any additional questions or feedback. Be sure to be specific and provide details and you will receive our response with a push-notification.
• When you unable to use real-time support, such as Helpline and Live Chat Service
• When you find a software malfunction yet have no time to visit the service center for the check up
How to Get Help #5 - Call customer service
If there is a problem with your Galaxy, you can always contact our 24/7 Customer Service Helpline , available from anywhere at any time.
• When you need immediate assistance with device-related inquiries.
You always have your phone, so we always have your back. 
Samsung Members 'Get Help'! 
Select your method and enjoy the seamless trouble-free service, now available 24/7! 
Need help? Contact Us for Support.
Phone Support
Call
Please get ready with model code, serial number and date of purchase. Call conversation is recorded for quality monitoring and/or training purposes for our continuous quality improvement.
For Mobile Devices
#GALAXY [dial #425299]
[Free access for all Networks]
(02) 8-422-2177 [Standard Landline]
Available 24/7
*For Toll Free numbers , just directly dial 1-800 followed by the network number.
** Standard Landline numbers have been updated to comply with the NTC ruling effective October 6, 2019
Face to Face Support
* For any printer related enquiries please visit HP website .
Contact Us