How to clear the app cache and data on your Galaxy phone
Last Update date :
Nov 05. 2021
While using your phone, apps will continuously store temporary data. If too much unnecessary data is saved, the storage space of the device may become insufficient. When your phone is running out of storage or running slowly, cleaning out the app cache and data can help. Follow the guide below to clean out the app's cache and data.
Before you try the recommendations below, be sure to check if your device's software and related apps are updated to the latest version. To update your mobile device's software, follow these steps:
Step 1. Go to Settings > Software update.
Step 2. Tap on Download and install.
Step 3. Follow the on-screen instructions.
Use the Device care to clear out the app's cache at once.
Device care allows you to delete unnecessary data in the cache from your phone at once. These features will keep your phone from slowing down while improving its overall performance. Follow the steps below to clean cache data using device care.
Step 1. Launch the Settings app, and then select Battery and device care.
Step 2. Tap Optimize now. Device care automatically optimizes your phone and clears the app's cache.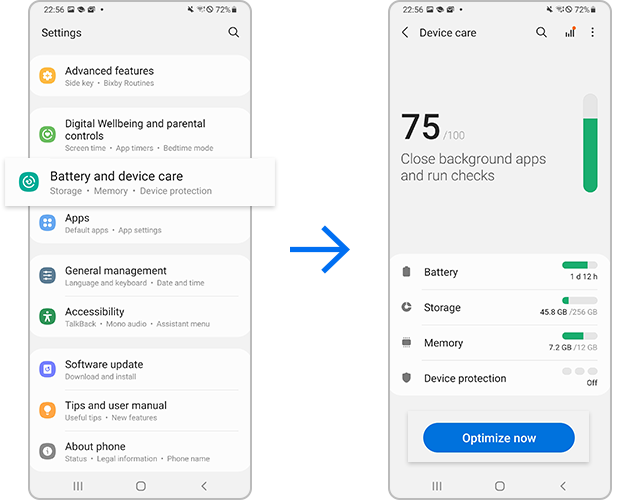 The Device care's optimization feature improves device performance through the following actions.
Closes apps running in the background.
Manages abnormal battery usage.
Scans for crashed apps and malware.
If you want to set the device to perform auto optimization when your device is not in use, tap More options > Automation > Auto optimize daily and tap the switch to activate it.
How to clear an app's cache
If a specific app you are using is slowing down, try clearing that app's cache first. You can delete all problematic files or bugs from the app. Follow the steps below to clear the cache of a single app.
How to clear an app's data
When clearing data, all of the selected application's data will be deleted permanently. This includes all files, settings, accounts, databases, etc. Follow the steps below to delete data for a single app.
Note: Device screenshots and menu may vary depending on the device model and software version.
Please answer all questions.