What is Always On Display (AOD) and how to use it
Last Update date :
Jul 26. 2022
Always On Display or AOD is a feature available on certain Samsung smartphones. The AOD feature on your Galaxy phone lets you view the time, date, notifications, missed calls, and more when the screen is turned off. With the One UI interface, you can do even more with AOD.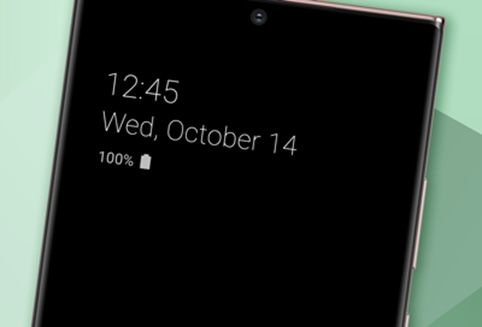 Note: Available screens and settings may vary depending on the software version, and phone model.
AOD Features

AOD Features 

Description 

General AOD uses

The AOD provides a variety of clock designs and information



• Clock: Digital clock, analogue clock, world clock, and Edge clock (You can choose colours and wallpapers)

• Calendar

• Image: Select an image from Gallery or Smart Select and set it as wallpaper for the AOD screen

• Provides custom text, date, battery level, app notifications, and song information

FaceWidgets

• Experience different widgets on the AOD screen by double-tapping the clock area

• You can easily play music on the turned off screen or check your schedule and alarm

• FaceWidgets configuration path: Settings > Lock screen and Security > Information and FaceWidgets > FaceWidgets

Active clock

• Provides Active clock that has a running second hand

Pin to AOD

• Pin text and images you wish to remember to the AOD screen. The pinned memo can be easily viewed and deleted

• You can pin memo to the AOD screen by double-tapping the pin icon. You can also store the memos in the Samsung Notes app directly from the Always On Display screen.
Turn Always On Display on or off
Always On Display is very handy, but maybe you want to save some battery power. No worries, you can turn your AOD on or off whenever you want.
There are two quick ways to access AOD settings:
via Quick Settings
Step 1. Swipe down on your screen to access your Quick Panel. 
Step 2. Tap Always On Display to activate or deactivate.
Step 3. Tap and hold Always on Display, to open the Lock screen menu, then tap Always on Display to check the settings.
via Settings menu
Step 1. From Settings, search for and select Always On Display.
Step 2. Tap Always On Display, and then tap the switch to turn it on or off.
Step 3. From this screen, you can also adjust the AOD's settings.
Adjust your AOD's display options and settings
Open the Always-on Display menu either via quick settings or via the Settings menu. Then, choose your preferred Always on Display settings.

Tap to show for 10 seconds: This is the default setting. When it's activated, you must tap the screen to make your AOD appear for 10 seconds.

Show always: This setting will display AOD continuously whenever your phone screen is off. 

Show as scheduled: This setting shows your AOD based on a set schedule. Use this setting if you want AOD to display at certain times.

Clock style: You can customize the clock type and color. You can even upload your own images or GIFs. Tap Done to save.

Show music information: Show music information when the FaceWidgets music controller is in use.


Rotate screen to: Choose between Portrait mode and Landscape mode.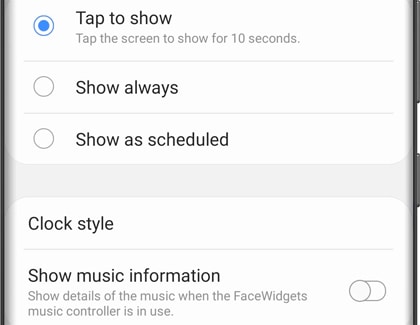 Note: AOD is turned on by default, but if it has been disabled, you will need to turn it on to access its settings. AOD is not available when a Power saving mode is turned on.
What is animated AOD and how to enable it
Animated AOD acts like on-screen wallpapers with animations.
To enable animated AOD, you can choose either a preloaded GIF or from your Gallery. If the selected GIF's play duration is less than 5 seconds, it will be played twice automatically. If it is more than 5 seconds, it will be played only once.
Step 1. From Settings, search for and select Always On Display.
Step 2. Tap Always On Display again, and then tap Clock style. From here, you can choose your desired clock style.
Step 3. You can also change the clock's color. Tap Color, and then select your desired color. When you are finished, tap Done.
Note: The fingerprint icon on AOD screen is always shown like a clock or notification if you set AOD as "Shown always". It makes you easily find the position of the fingerprint sensor on the AOD screen without turning the screen on.
If you don't want this concept, we recommend setting the AOD mode to "Tab to show" or "Show as scheduled".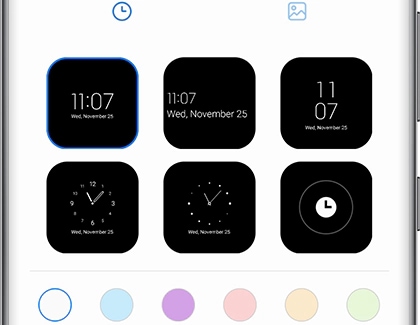 Step 4. If you want to use a preloaded GIF, tap Add GIF and select the file. If you want to use a GIF that is already in the mobile Gallery, tap +.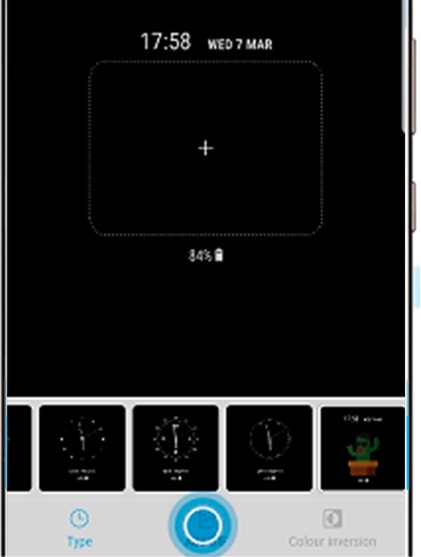 Step 5. Select the GIF in Gallery.
Step 6. Tap Done.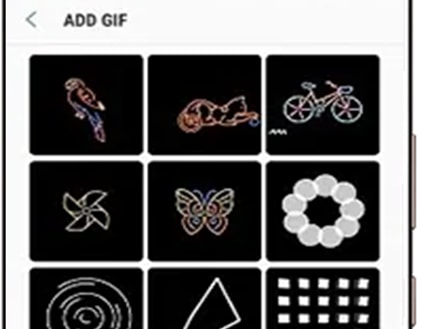 We would love to know your feedback to help us improve. Please click the submit button to tell us what you think.
Please answer all questions.