Identify the correct charger for your Galaxy phone
Last Update date :
May 04. 2023
Samsung chargers are no longer included in the box when you purchase a new phone. This is an initiative designed to reduce waste and encourage reuse. Instead, you can continue to use a Samsung charger purchased with a recent Samsung phone model. You should only use original Samsung travel adapters and USB cables with your phone or tablet. If you need a new charger, adapter or cable, they are available on our website.
USB connection types
Devices that use USB Type C
The design helps prevent damage from occurring inside the USB port because it doesn't matter which way you insert it into the device.
Galaxy S phones: Galaxy S23, S23+, S23 Ultra, S22, S22+,  S22 Ultra, S21 5G, S21+ 5G, S21 Ultra 5G, S20 5G, S20+ 5G, S20 Ultra 5G, S10e, S10, S10+, S10 5G,  S8, S8+, S9, S9+.
Galaxy Fold phones: Z Fold, Z Fold2, Z Fold3, Z Fold4, Z Flip, Z Flip 5G, Z Flip3 5G, and Z Flip4.
Galaxy Note phones: Note8, Note9, Note10, Note10+, Note10+ 5G, Note 20 5G, and Note20 Ultra 5G.
Galaxy A phones: A03s, A10e, A20, A50, A02, A12, A13, A14 5G, A23 5G, A32 5G, A42 5G, A71, A51, A21, A11, A01, A13 5G, A52 5G, A53 5G,  and A54 5G.
Devices that use Micro USB Type B
Make sure to insert it into your phone's or tablet's USB port the correct way or it could damage the inside of your device.
Galaxy S phones: S5, S6, S6 edge, S7, and S7 edge
Galaxy Note phones: Note5
Galaxy A phones: A6
Galaxy J phones:

 J3 and J7
What kind of charger should you use?
Your phone or tablet is powered by a standard rechargeable Li-ion battery. To get the most out of your device, use the Adaptive Fast Charger and USB-C cable that came in the box. This charger has a power supply of 5.0V/2.0A and has SAMSUNG printed on it.

You should also make sure that your charger is an authentic Samsung charger. All genuine Samsung chargers will have the following:
The Samsung logo
The words "TRAVEL ADAPTER"
A serial number
A model code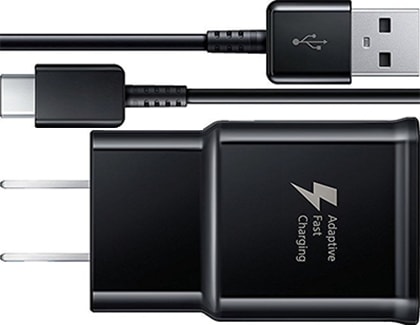 Samsung does not recommend using any chargers other than Samsung chargers, especially chargers that are uncertified or counterfeit. These can hinder the charging of your device and may cause battery issues if used long-term. Always make sure your charger is an authentic Samsung charger, cable, and adapter.

Best practices for charging
When using wireless charging accessories, please be aware that any metal or magnetic materials (e.g., coins, magnetic cards) placed between the device and the wireless charger may decrease charging efficiency or cause damage to the phone or tablet and charger.
Charging may take longer when using adapters, charging wirelessly, or charging the phone or tablet through another device.
When using wired charging accessories, always check whether any foreign objects are in the connector or plug, as they may prevent charging or cause the charging accessories to overheat.
Make sure your phone or tablet doesn't overheat. Keep it in a cool location, especially while charging.
Don't let your battery completely drain. With new lithium-ion batteries being used, it is better to keep the battery partially charged, instead of letting it die. When possible, charge your device in small amounts to keep the battery from depleting. If the power has been depleted, the battery charging indicator may take up to 10 minutes to appear on the phone or tablet's screen while charging.
Use a genuine Samsung fast charger for the quickest charge. You can't use the fast charging feature if you're using a standard charger.
If your phone is not charging, there are a couple of things that could be causing the problem. However, if your charger doesn't work at all, it should be replaced.
Please answer all questions.