Irregular charging detected is displayed during charging
Last Update date :
Jul 25. 2022

Damaged data cable or un-authorized fast wireless charger may cause unstable charging and Irregular charging detected notification pop-up. 
Please check the following:
Check the data cable. Use another data cable to check if the issue still persists
Check the Wireless Charger. Use Samsung authorized wireless charger only.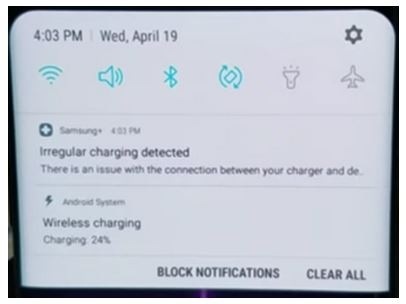 Samsung authorized vs un-authorized wireless charger
The font of  S/N is bold and darker than other text.
Not inclined text.
The cooling fan operates during fast charging.
 The Airhole pattern is not matched with the fan vent.
The font of  S/N is the same as other text.
Inclined text.
There is no cooling fan.
 The air hole pattern is matched with the fan vent.
CE is printed.
Air holes are not blocked.
Samsung authorized PBA .

CE0678 is printed.
Some air holes are blocked.
PBA is different.
If you're experiencing unusual behavior on Samsung mobiles, tablets, or wearables, you can send us an error report or ask us a question in the Samsung Members app. This allows us to take a closer look at what is happening. The data is anonymized and only held for the duration of the investigation. Find out more about how to send an error report here: How to use the Samsung Members app 
We would love to know your feedback to help us improve. Please click the submit button to tell us what you think.
Please answer all questions.