Is Samsung Galaxy Note9 waterproof?
Last Update date :
Sep 21. 2020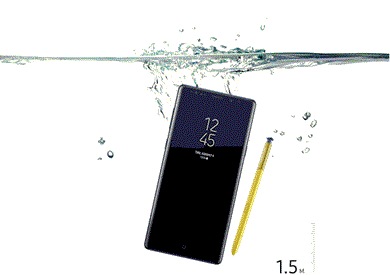 The Galaxy Note9  has an IP68 rating, meaning you don't have to stop texting or taking photos on account of rain.
The IP (Ingress Protection) rating is an international standard that shows you the level of ingress protection of your device. With IP68, the S9/S9+ are resistant in fresh water to a maximum of depth of 1.5 metres for up to 30 minutes and are protected from dust--all without the need for extra cases or covers.
Note: Phone may not perform in all extreme conditions. The touchscreen and other features may not work properly while the device is in water.
Tips to maintain Water and Dust resistance of Galaxy Note9
Follow these tips carefully to prevent damage to your device and to help maintain their water and dust-resistant performance:  
• Do not immerse the device in water deeper than 1.5 metres for more than 30 minutes.
• Do not expose the device to water moving with force, such as water running from a tap, ocean waves or waterfalls.
• If the device is exposed to any liquid other than freshwater (salt water, ionised water etc), gently rinse it with still fresh water immediately and dry it thoroughly with a clean soft cloth. Otherwise, salt may accumulate and block primary earpiece and external
speaker when it dries.
• When drying off your device, be sure to pat the earpiece (top front of the phone), primary microphone (bottom), external speaker (back) and the power/accessory (USB) interface connector with a clean, soft cloth to remove as much water as possible.
• After drying off your phone, allow it to air-dry before making a call. Calling while the phone is wet or microphone has water in it may lower the volume that the other person will hear.
• If the device is dropped or receives an impact, the water and dust-resistant features may be damaged. Physical damage to your phone, such as chips and cracks can significantly reduce its ability to resist dust and water. 

Samsung Warranty
The Samsung Galaxy Note9, original charger and other accessories packaged with the product come with warranty. The warranty period commences upon the date of purchase by the original purchaser and continues for the following specified period of time after that date.
Warranty Period
Galaxy Note9 Phone - 12 months   
Original charger and other accessories - 6 months 
• Warranty does not include consumables items such as batteries, bulbs and ink cartridges unless listed above under 'general information'.
• The liability of Samsung Electronics (or its appointed maintenance agent) is limited to the cost of repair and/or replacement of the product under warranty.
• The warranty is invalidated if the defect is caused (howsoever) by misuse, neglect and tampering or incorrect adjustment. It is invalidated if unauthorised persons carry out any alterations and/or repairs. 
Also, the warranty is invalidated in the following cases:
• For the repair of a domestic product used in a commercial environment
• For repair due to incorrect installation in your home
• For repair of any product where the serial number has been removed
• Where any ancillary equipment not furnished or recommended by Samsung causes problems or damage that is attached to or used in connection with the product.
How to Register Your Mobile Warranty
1
Register online via CyberService
2
Go to any Samsung Service Centre . Please bring your proof of purchase (if any)
3
Mail the Certificate of Warranty to us. Find the address on the Certificate of Warranty
We would love to know your feedback to help us improve. Please click the submit button to tell us what you think.
Please answer all questions.