Navigation Bar Settings on Galaxy device
Last Update date :
Oct 12. 2021
When you turn on the screen, the soft buttons will appear on the navigation bar at the bottom of the screen. The Navigation bar helps you to navigate your Galaxy device, whether you prefer the classic style or customize the layout and button order, or even make it disappear entirely and use gestures to navigate your phone instead.
Be sure to check if your device's software and related apps are updated with the latest version. Please check how to update your mobile device's software in the following order. 
Step 1. Go to Settings > Software update.
Step 2. Tap on Download and install.
Step 3. Follow the on-screen instructions. 
Note: Device screenshots and menus may vary depending on the device model and software version.
Change the Navigation bar type
The Navigation bar is there to help you navigate your phone. The traditional navigation buttons are the default layout and appear at the bottom of the screen.
Step 1: From Settings, tap Display.
Step 2: Scroll down and select Navigation Bar.
Step 3: Choose your preferred Navigation Type. You can either allow the Navigation buttons to be permanently displayed on the screen or hide them by selecting Full-Screen Gestures.
Step 4. If you have selected Full screen gestures and would like to further customize your navigation bar, select More options.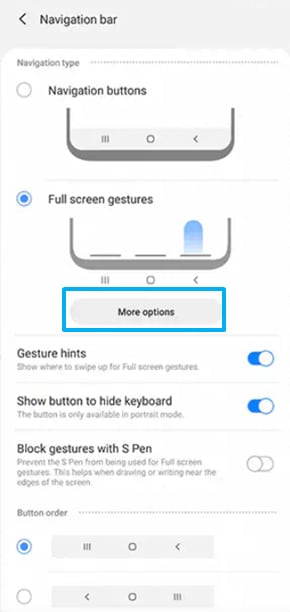 Step 5. Choose between Swipe from bottom or Swipe from sides and bottom and customize your back gesture sensitivity.
Navigation bar Button order
You can customize the order of the buttons on the Navigation bar.
Step 1: From Settings, tap Display.
Step 2: Scroll down and tap the Navigation bar.
Step 3: Choose your desired setup under Button order. The changes will be applied instantly.  
Note: This option will also affect the location you swipe when using Swipe gestures.
Here are what the three buttons do:
1
Recents - Tap to open the list of recent apps.
2
Home - Tap to return to the Home screen. Tap and hold to launch the Google Assistant app.
3
Back - Tap to return to the previous screen.
We would love to know your feedback to help us improve. Please click the submit button to tell us what you think.
Please answer all questions.