New design features of Galaxy A9?
Last Update Date :
Dec 17. 2018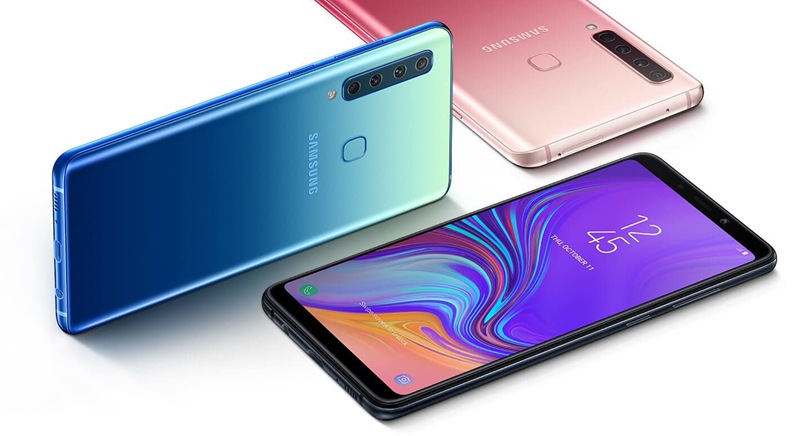 Galaxy A9 features the world's first quad smartphone camera to capture life the way it was meant to be seen. Its intelligent camera system gives you four times the functionality for whatever the occasion. Now you can capture with confidence when inspiration strikes. 
Capture more with the power of four
The world's first quad camera smartphone
We developed the world's first quad rear smartphone camera because we understand how important it is for your perspectives to be captured just the way you choose, and for us to support your need for adventure, fun, challenge and individuality.
With an intelligent camera system which gives you four times the freedom to share your take on life with the world, you'll be more empowered than ever to express yourself in any environment.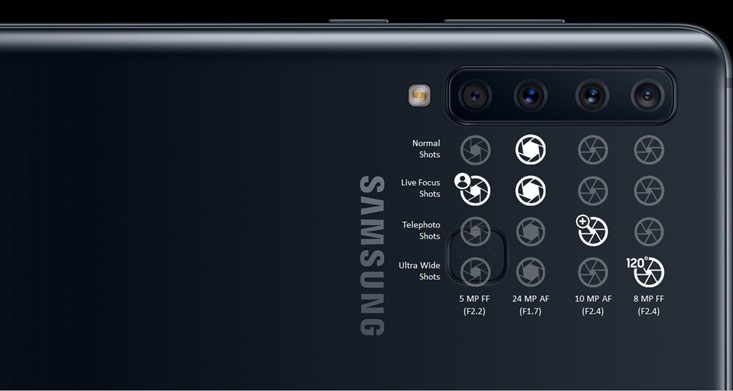 Less in your hands, same great quality 
High-quality photos usually mean you have to carry around a big bag filled with a bulky DSLR camera and professional lenses that can cost thousands of dollars. With the Galaxy A9's four rear cameras, all that gear just fits in your pocket.
Take amazing, high-quality pictures with a lot less hassle and have more fun taking pictures. Its four cameras with their different lenses offer you more options than any smartphone on the market.
The 24 MP main camera makes pictures look bright and colorful regardless of where you are or what time of day it is. With its additional cameras, you can capture scenes in a variety of different ways.
• A 24 MP (F1.7) main camera for clear, bright photos
•Get different views of the same scene with four rear cameras 

Focus on what matters : Live Focus 
Live Focus lets you adjust depth of field in one step, either as you're taking the shot or after you've taken it.
Also, you can upgrade your Live Focus images by adding soft lights in different shapes. You don't need to understand complicated lens settings to take stunning portraits and give them an artful touch.
• Adjust depth of field to highlight your subject
Push the boundaries of your memory
The Galaxy A9's Ultra Wide Angle camera allows you to capture not only your subject, but the whole scene. With a wider field of view, you can take more expansive pictures that look just like what you see with your own eyes. Save the scene as you see it and remember the places you visited.
• A true-to-life view with Ultra Wide Angle Camera
• Wider and easier panorama shots
Bring out the details in the distance 
The Galaxy A9 also has a camera with a 2x optical zoom function for taking crisp, detailed shots, even from a distance. At 10 MP, pictures taken with the zoom lens still look clear and sharp with an extreme level of detail. Save memorable moments as vividly as possible, even from a distance.
• 2x Optical zoom with a 10 MP camera
• Get close-up shots with high level of detail from far away 
Scene optimizer
The Galaxy A9 automatically recognizes 19 kinds of scenes and optimizes color settings to suit the content—whether it's a nightscape, a field of flowers, or a plate of food. Don't worry about tedious details like color saturation, white balance, and brightness. Enjoy the scenery, and let the Galaxy A9 do the hard work.
• Color tone optimization after automatic scene recognition


Catch That Picture-Perfect Moment
The Galaxy A9 can detect three common glitches―closed eyes, blurring, and excessive backlighting―and offers solutions. If you take a photo and miss the right moment, you'll get an alert so you can reshoot. Take two, and get the perfect shot this time.
• Get alerted to three common problems after a missed shot this time
Make every selfie special (Be a portrait pro)
Make your selfies even more special. The Pro Lighting feature puts studio-quality lighting effects at your fingertips to let you turn your regular snapshots into stunning portraits. You can be a portrait pro with just your smartphone.
• Pro Lighting for studio-quality pictures
Look as beautiful as you feel inside
Activate Smart Beauty* to capture phenomenal selfies with the front camera while highlighting your best features at the same time. It uses face recognition technology to optimize the retouching process,  so you'll get amazing pictures that you can't take your eyes off of.
• Smart Beauty highlights your best features
Infinite viewing pleasure
Be a part of what you see. Galaxy A9 features a brilliant 6.3" FHD+ Super AMOLED Infinity Display that produces sharper contrast and more dynamic color for a much more immersive viewing experience. The world through your screen is now as vivid as can be.
Charges fast, lasts longer
Galaxy A9 comes with a fast-charging 3,800 mAh (typical) battery, so you can enjoy longer hours of enjoyment and power up quick when it becomes drained. And thanks to its convenient USB Type-C compatibility, you can plug it in either way for added convenience.
Need help? Contact Us for Support.
Phone Support
Call
Please get ready with model code, serial number and date of purchase. Call conversation is recorded for quality monitoring and/or training purposes for our continuous quality improvement.
For Mobile Devices
#GALAXY [dial #425299]
[Free access for all Networks]
(02) 8-422-2177 [Standard Landline]
Available 24/7
*For Toll Free numbers , just directly dial 1-800 followed by the network number.
** Standard Landline numbers have been updated to comply with the NTC ruling effective October 6, 2019
Face to Face Support
* For any printer related enquiries please visit HP website .
Contact Us