What is Air command and how to use it
Last Update date :
Jul 25. 2022
Air command is a menu that provides S Pen features and quick access to frequently used apps. You can also edit and adjust what apps or features show in the Air command menu for faster access.
Before you try the recommendations below, be sure to check if your device's software and related apps are updated to the latest version. To update your mobile device's software, follow these steps: 
Step 1. Go to Settings > Software update.
Step 2. Tap on Download and install.
Step 3. Follow the on-screen instructions.
To open the Air command panel, hover the S Pen over the screen and press the S Pen button. Alternatively, hover the S Pen over the screen and tap the Air command icon with the S Pen.
If the Air command icon does not appear after you hover the S Pen over the screen, launch the Settings app, tap Advanced features > S Pen, and then tap the Show air command icon or Show floating icon switch to activate it. Drag upwards or downwards on the Air command panel and select a function or app you want. 
Create note: Open Samsung Notes to jot down a quick note with the S Pen.

Smart select: Use the S Pen to select an area and perform actions, such as sharing or saving.
Screen write:  Capture screenshots to write or draw on them or crop an area from the captured image. You can also capture the current content and the hidden content on an elongated page, such as a webpage.
Live message:  Instead of text message, create and send a unique message by recording your actions while handwriting or drawing a live message and saving it as an animated file.
Translate: Hover the S Pen over a word to translate it.
Bixby Vision: Identify landmarks, translate foreign languages, and shop for products online. The option will vary depending on the image.
PENUP: Let your creativity run wild. Draw, color, and much more..
Setting icon: Change the Air command settings.
Add shortcuts: Add shortcuts for your frequently used apps to the Air command panel.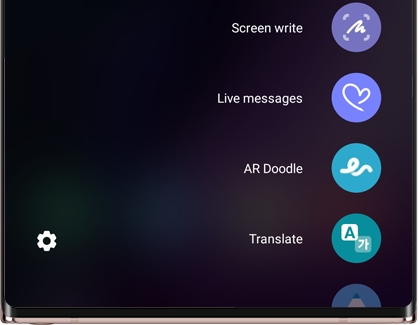 Note: Device screenshots and menus may vary depending on the device model and software version.
We would love to know your feedback to help us improve. Please click the submit button to tell us what you think.
Please answer all questions.