What's Dolby Atmos and how to use it on Galaxy phone?
Last Update date :
Jul 25. 2022
Your Galaxy phone is like your very own mini-theater or concert hall. Dolby Atmos(Surround sound) feature provides a high-quality 3D spacious sound experience and a richer surround audio experience for your movie, music, and other entertainment by making to amplify small sound that is hard to hear of content.
The Galaxy S22, S9, S10, S20, S21 Note9, Note10, Note20, Fold, and Flip all have Dolby Atmos, which gives them cinema-quality surround sound. You can adjust the settings for Dolby Atmos and other audio options on your phone.
Before you try the recommendations below, be sure to check if your device's software and related apps are updated to the latest version. To update your mobile device's software, follow these steps: 
Step 1. Go to Settings > Software update.
Step 2. Tap on Download and install.
Step 3. Follow the on-screen instructions.
Note: Available screens and settings may vary on the device model and software version.
Activate Dolby Atmos from Settings
Step 1. Tap Settings and open Sounds and vibration.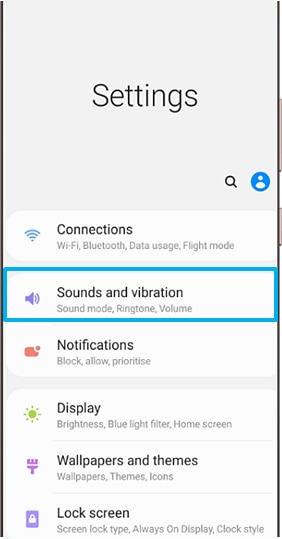 Step 2. Tap Advanced sound settings. 
Step 3. Select  Sound quality and effects.
Step 4. Slide the Dolby Atmos switch to activate it.
There are 4 different filters to choose from:
Auto - Optimise sound automatically for whatever you're listening to.

Movie - Deliver the best possible audio for films, shows, and videos.

Music - Make all your music sound richer, fuller, and more balanced.

Voice - Make voices loud and clear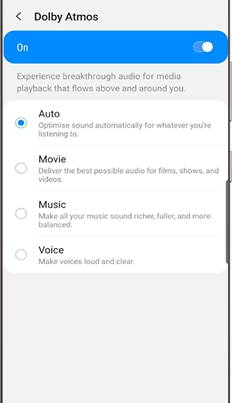 Activate Dolby Atmos from notification panel
Using two fingers, swipe down from the top of the screen to open the Quick Settings panel. Swipe to and tap Dolby Atmos to turn it on or off.
To access more advanced settings for Dolby Atmos, touch and hold the icon. Then, select your desired setting for the type of entertainment you're enjoying.
Note: You may need to add Dolby Atmos to your quick settings if it doesn't appear.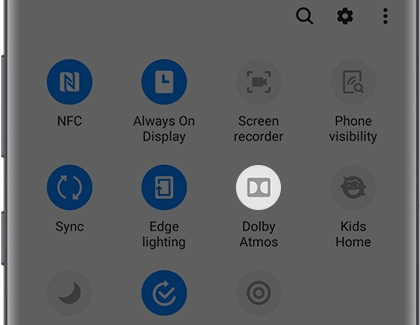 Note: 
Sometimes white noise can be heard loudly when playing captured audio or video files with the Dolby Atmos feature activated. If this occurs, it is recommended to deactivate this function.
You may feel stronger vibration(shaking) while certain music sources are played above a certain level of volume. This is not a device defect but a normal vibration phenomenon caused by the output of sound. We recommend adjusting the proper volume while playing the music or video.
Please answer all questions.