Where can I find downloaded files on my Samsung Galaxy smartphone?
Last Update Date :
Aug 24. 2020
The location of your downloaded files will depend on what you downloaded and the app that you used to download it. Most of your files are organised within the My Files app, however some files will not appear here. Some apps, such as Netflix, store their downloads securely on your phone and are only available through the app itself.

You can find almost all of the files on your smartphone in the My Files app. By default this will appear in the folder named Samsung.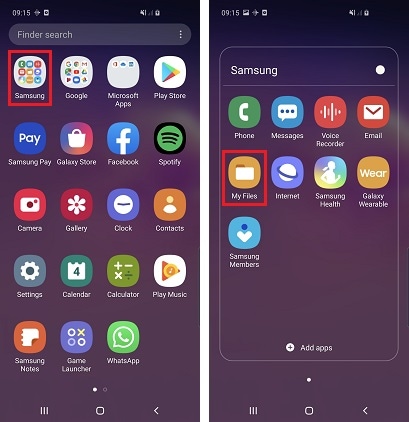 If you are having trouble finding the My Files apps, try using the search bar at the top of the screen.
The My Files app automatically organizes your files into categories, making your documents easy to find. You can also look through your recent used files, search for a file by name or browse all the files you have saved.
Note: Not all downloaded content will be available in My Files. Content that has been downloaded within a streaming app that allows listening or viewing offline will normally be available only within that app itself. This is most commonly due to copyright restrictions. 
1
Search - tap this icon to search for a file by name. You can also tap a File type to see all files of that type.
2
Recent files - all of your most recently used files are displayed here. Tap the last file in this section to see all of your recently used files in order of use.
3
Categories - all of the files saved on your phone have been organised into categories based on the type of file they are. For example, if you have downloaded a file from the internet it will appear under Downloads.
4
Storage locations - depending on how you use your device, your files could be stored in different locations. For example, if you have an SD card you can set your device to download files straight to the SD card. Tap one of the storage options to see all of the files that are saved to it.
Where does the Google app save downloaded images?
If you can't locate your images that you download from the Google app, check to make sure that your app storage permissions are enabled on your device.
1
Go to Settings , then tap Apps .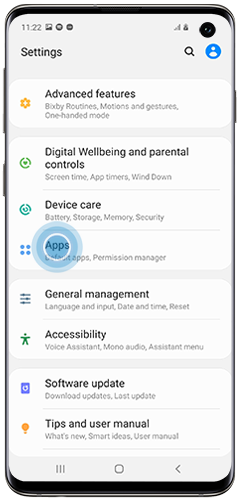 2
Tap Google to check the Google app. You may also check other apps including Gallery and Chrome.
3
Tap Permissions .
4
Tap Storage .
5
Tap Allow
You can also tap ee all apps with this permission. Here you can check the list of apps that have storage permissions allowed and denied. Check to see if there is an app in the denied list that is blocked.
If you're experiencing unusual behaviour on Samsung mobiles, tablets or wearables, you can send us an error
report or ask us a question in the Samsung Members app.  Find out more about Sending error report via Samsung Members App
Need help? Contact Us for Support.
Phone Support
Before calling us , there are some information we need to obtain from you. Please get ready with model code, serial number and date of purchase.
Note: Call conversation is recorded for quality monitoring and/or training purposes for our continuous quality improvement.
For Mobile Devices
#GALAXY [dial #425299]
[Free access for all Networks]
(02) 8-422-2177 [Standard Landline]
Available 24/7
*For Toll Free numbers , just directly dial 1-800 followed by the network number.
** Standard Landline numbers have been updated to comply with the NTC ruling effective October 6, 2019
Face to Face Support
* For any printer related enquiries please visit HP website .
Contact Us