Diagnose picture issues using the Picture Test
Last Update date :
Feb 28. 2021
In the Self Diagnosis menu, you can test the various conditions of your TV directly to determine if there is an abnormality. Use the Picture Test to determine if picture problems are being caused by the TV itself or something else. The Picture Test displays a high definition photo that you can examine for flaws or faults. 
Note: The methods provided below are the most common. For model-specific information, check your TV's user manual. 
When the TV has trouble with the picture, these steps may help resolve the problem.
1
Open Settings, and select Support.
2
Select Device Care, and then select Self Diagnosis. Note: On some models, select Support and then select Self Diagnosis.
3
Select Start Picture Test. You will now be taken through a series of picture tests.
4
Confirm Yes or No to confirm whether the problem is visible and to continue to the next test. Look at the screen for any problems, and use the on-screen instructions to complete the picture test.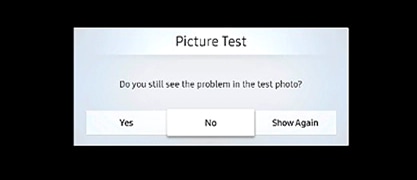 If the test photo is displayed properly, there may be a problem with an external connected device. Check the connections, the signal strength, or refer to the external device's user manual.
Note: If the picture test does not appear or you see an issue with the photo, the TV may have a problem. Contact Samsung Support for assistance.
We would love to know your feedback to help us improve. Please click the submit button to tell us what you think.
Please answer all questions.