How to connect Xbox One X and Series X to your Samsung TV
Last Update date :
Jun 04. 2021
You can have a more exciting experience by using the right settings to enhance the picture, color, and sound quality on your Samsung TV and your new games. Follow the steps below to connect and set up your Xbox and Samsung TV.
Connect the Xbox to your TV
Step 1. Connect the power cable into the power cable port on the console (marked by a single raised dot) and then plug the power cable into a power outlet.
Step 2. Connect the HDMI cable into the HDMI OUT port on the console (marked by a single raised dash) and then connect the other end of the HDMI cable into any HDMI IN port on your Samsung TV. You can experience the best 4K 120 Hz gaming performance when the HDMI cable is connected to the HDMI IN 4 port with a Game icon. 
Note: Support for 4K 120 Hz may vary depending on the model.
Step 3. Turn on your TV and Xbox. Press the Home button on your TV's remote, and then and select your Xbox (Game Console) on the Source menu.
Note: Some models may have different connection methods between the game console and TV.
Turn on the HDR settings on your Xbox
When your TV is 4K UHD, the Xbox One X should detect it automatically and will ask if you want to turn on 4K. However, if you initially missed or skipped this popup, you can activate 4K manually.
Step 1. Press the Xbox button on the controller to open the Xbox guide. Navigate to the Settings tab, and then select Display & sound.
Step 2. Select Video output, and then select Video fidelity & overscan. Confirm that Auto-detect is selected. If not, select it.
Step 3. Choose Video modes in the Display & sound tab.
Step 4. To enable HDR, check the boxes for Allow 4K and Allow HDR.
Check that Input Signal Plus settings is on
If your TV does not activate the Input Signal Plus settings automatically when connected to game console, you can turn the settings on manually by way of the following steps.
Step 1. Navigate to Settings on your TV.
Step 2. Select General and then select External Device Manager.
Step 3. Select the Input Signal Plus.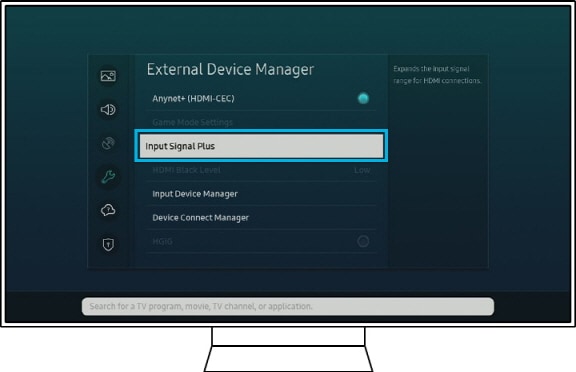 Step 4. Select the HDMI port that your Xbox is connected to.
Note: For models before 2018, HDMI UHD Color means Input Signal Plus setting.
Note:
Make sure HDMI UHD Color is enabled on your TV; otherwise, your Xbox One X will not recognize the 4K functionality.
The device screenshots and menu are only a sample in English. They are also available in the language of your country.
We would love to know your feedback to help us improve. Please click the submit button to tell us what you think.
Please answer all questions.