How to use Anynet+ on your Samsung TV
Last Update date :
Mar 31. 2022
Anynet+ is a Samsung trading name for a feature of HDMI called Consumer Electronics Control (CEC) referred to as HDMI-CEC. It's designed to allow users to command and control devices attached by HDMI with a single remote control. This means you can use the remote of a TV to control a Soundbar or Blu-ray player attached to the TV.
Tips before connecting an Anynet+ (HDMI-CEC) device
Anynet+ cannot be used to control external devices that do not support HDMI-CEC.
Anynet+ (HDMI-CEC) enabled devices must be connected to the TV with an HDMI cable. Some HDMI cables may not support Anynet+ (HDMI-CEC).
If the TV remote does not work, set up the device as an Anynet+ (HDMI-CEC) enabled device again.
If an external device has been set up for both Anynet+ and universal remote control, the device can only be controlled with the universal remote control.
Enable Anynet+
Step 1. Press the Home button on your TV remote.
Step 2. Navigate to and select Settings > General.
Step 3. Select External Device Manager from the middle menu list.
Step 4. Select Anynet+ (HDMI-CEC) and press enter on your remote control to turn the feature On/Off.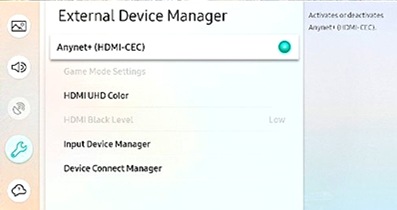 Add HDMI Device
Step 1. Set Anynet+ (HDMI-CEC) to On.
Step 2. Connect an HDMI-CEC-compliant device to the TV.
Step 3. Turn on the connected external device. The device will automatically connect to the TV. After a connection is finished, you can access the menu of the connected device on your TV screen using your TV remote and control the device.
Note: 
If you are having trouble with your Samsung Smart TV, you should always check to see if there are any software updates available as these may contain a fix for your problem.
Device screenshots and menus may vary depending on the device model and software version.
We would love to know your feedback to help us improve. Please click the submit button to tell us what you think.
Please answer all questions.