Treasure Ramadan Moments with Your Family
Discover a few ways to enjoy Ramadan with your loved ones.
Spending quality time with family has always been heart-warming, but nothing can outshine family gatherings during Ramadan. From making drool-worthy Iftar dishes to watching TV shows together, you'll never run out of Ramadan moments. Here are a few ways to celebrate Ramadan with your family.
Conquer the distance
Ramadan is the festive time to celebrate and connect with your far-flung loved ones. You can take on a brighter, fuller virtual Iftar with your dearest ones thanks to the edge-to-edge Super AMOLED screen on a Galaxy Tab S7+. With Active Noise Cancellation built-into the Galaxy Buds Pro, you can fend off any background noise and enjoy crystal-clear calls with your loved one. And if you want more family members to join the call, you can connect up to two pairs to one phone.
Create your Ramadan album
Any day during Ramadan is full of soulful and precious moments that we want to treasure forever. Make your special Ramadan album and fill it with heart-warming memories every day. Record one take of your family while cooking Iftar and Galaxy S21's Single Take will turn it into feed-worthy photos and videos you can pick and choose from. Capturing a family selfie around Iftar table with your Galaxy S21 Ultra is a cheerful way to treasure Ramadan nights. Also, with Food Mode on your Galaxy S21 Ultra, you can take epic shots of mouth-watering Iftar dishes that you'll be proud to post anywhere.
Energise your mind
If you find yourself feeling listless before Iftar, refresh your mind without ever leaving your couch. Snuggle up and enjoy sensational gaming with the Tab S7's dazzling graphics and immersive screen in the palm of your hands. On the other hand, if you're looking to release your inner artist, explore the PENUP app on your Galaxy Tab7 and join a flourishing community of digital artists. Create your Ramadan-inspired artwork with S Pen and share it with the world. Another way to bring the fun out of thin air is to put your Galaxy Buds Pro on and take on the latest TikTok challenges.
Start your home gym
There are many health benefits to fasting, but to make the best of them, we need to eat rationally and stay fit during Ramadan. Team up with your family members to start your workouts together and find a pace that works for all of you. Go to the Samsung Health app on your Galaxy device, select any workout, and then sync your phone with Samsung Smart TV to watch instructions on a bigger screen. Galaxy Watch3 will help you track every inch of your progress, even after a workout, and provide you with a detailed health report.
Put on a chef hat
Food and Ramadan are a match made in heaven. Take your Ramadan to the next level, by bonding with family while cooking Iftar dishes from scratch together. The freshness of the ingredients is a must to serve an exquisite Iftar meal. Thanks to FlexZone technology on Samsung refrigerators, you can store different foods and beverages at the optimal temperature, so they can stay fresh and tasty for longer. When it comes to cooking, Samsung Microwave Oven is your perfect sous-chef. With up to 16 recipes pre-programmed for your convenience, you can pretty much cook everything, and enjoy moist and flavourful food. You can also check the trendiest recipes on TikTok on your Galaxy S21 to add new flavours to your Iftar table.
While you are busy cooking, Samsung Kids app on Galaxy Tab7 will help entertain and encourage your little ones to learn, develop, and flourish through a variety of contents-themed fun.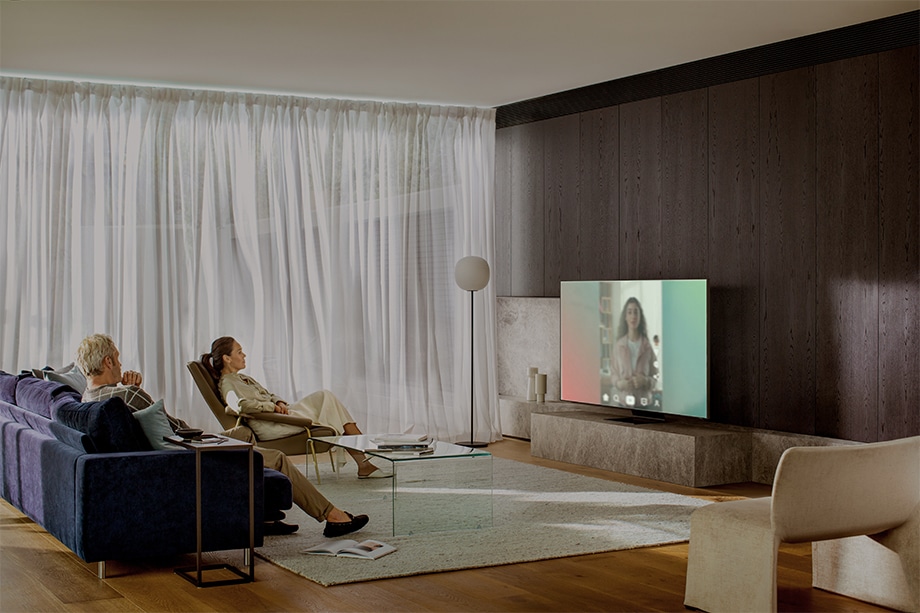 Bring the action to your living room
Once Ramadan kicks in, we all have our list of exciting content to watch. With various spectacular TV programs to choose from, it's hard to know where to start. Create a watchlist with your family so you can feel the thrill at home together. A QLED 8K TV will bring out every tiny detail on screen to life, with its stunning Real 8K resolution, and lifelike, three-dimensional sound. Just sit back, relax, and watch your favourite stars sparkle on a QLED screen with up to 98 inches of vivid visuals and crisp details.
Ramadan together
This Ramadan, cherish together with Samsung.