Embrace a bigger world on a bigger screen
See how Galaxy Z Fold3's big screen can expand your horizons.

A bigger smartphone screen means more space and more freedom to do more of what you love. Thanks to its massive, immersive screen, the all-new Galaxy Z Fold3 breaks all the boundaries, letting you work, watch, and play like never before.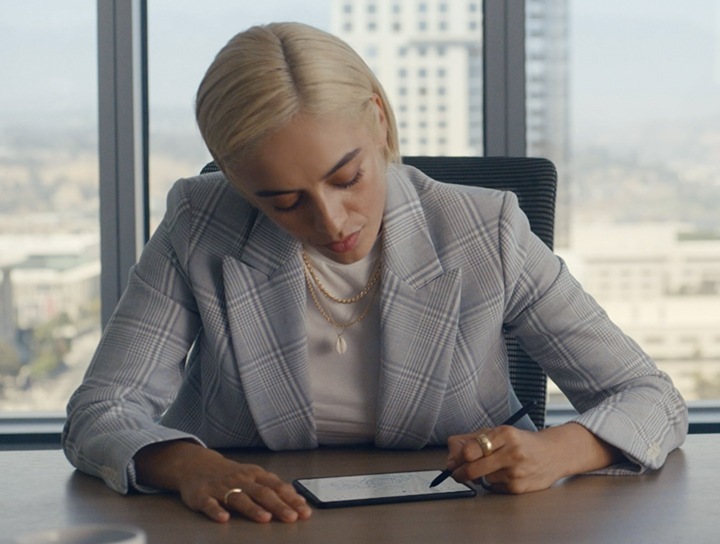 Socialise in style
After clearing your tasks, enjoy hand-free chatting with your loved ones thanks to Flex Mode.
Work like a genius
Gone are the days when you need your PC to get things done at work. Most of us rely on smartphones to get the job done from anywhere, but with the Galaxy Z Fold3, it's a work game-changer! With the combined awesomeness of the 7.6-inch AMOLED screen and S Pen, you're ready to conquer your to-do list. Thanks to Flex Mode, you can split the Galaxy Z Fold3's screen into two. Take a video call with your team members on the top half of the screen, while jotting down your notes on the lower half. And to make the most out of your big screen, Multi View enables you to split the large screen with 3 apps running at the same time. Watch a fashion show, browse for the latest trends, and sketch your dream design, all at once. See! It's a real PC experience, unfolding in your palm.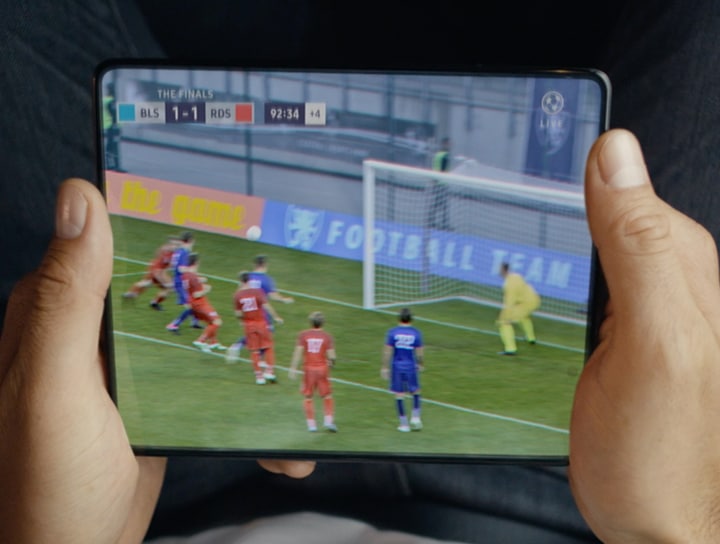 Feel like you're there
Pair your Galaxy Z Fold3 with Galaxy Buds2 for a truly immersive viewing experience.
Book a front-row seat
Whether you're curled up on the couch or traveling on the commute, it's always a good time to watch a movie on your smartphone. A smaller screen, hazy visuals, or a weak sound can fend you off from watching your favourite TV show. And if you are a true movie buff, you may go for a bigger screen, but the Galaxy Z Fold3 is built to give you a cinematic viewing experience. With a 7.6-inch AMOLED Infinity Flex Display, you are unfolding a theatre in the palm of your hands. Binge on that thrilling TV series or watch your favourite team playing, and enjoy stunning visuals with crisp details, down to the last second. On top of that, the revolutionary display is coupled with Dolby Atmos and stereo speakers to take your viewing experience to the next level.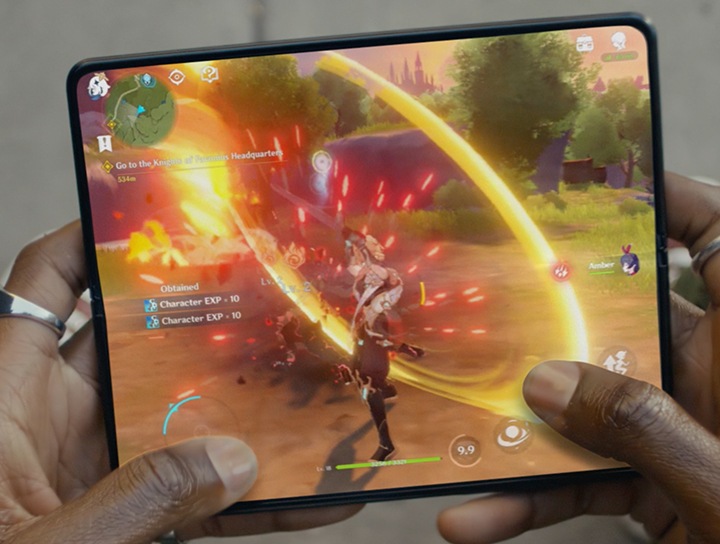 Water won't hold you back
The new Galaxy Z Fold3 is the world's first water resistant foldable smartphone with an IPX8 rating. So even if you're caught in the rain, you can still play your fav game.*
Conquer the scoreboard
We game to embrace action-filled moments. That's why mobile games deserve to be played on a big screen. Small phone screens can toss your game's progress out of the window and deprive you of victory, but the Galaxy Z Fold3 unfolds to give you a big game advantage – thanks to incredibly immersive 7.6-inch screen. It doesn't stop at the out-of-this-world visuals. The big screen features a 120Hz refresh rate that delivers a super-smooth gaming experience. Even fears of lag won't cross your mind while you're on the verge of defeating your best friends. Now it's time to play more and win more with the Galaxy Z Fold3.
Work. Watch. Play. Repeat.
Your view's always indulgent with the new Galaxy's Z Fold3's big screen.
*S Pen Fold Edition sold separately and is only compatible with Galaxy Z Fold3 5G.