What is Dolby Atmos and how to activate it?
Last Update date :
Oct 20. 2020

In this FAQ:
      
• What is Dolby Atmos?
• How to activate Dolby Atmos feature
Dolby Atmos is a surround sound technology that brings you 3D cinematic experience. This is a new level of audio experience on Samsung Galaxy S10 Series and S9/9+. It was first used in cinema and increasingly available on TVs and home entertainment devices.  Benefits are as follow:
      
• Immersive virtual surround sound effect
• Richer audio experience for movies, music and voice
• Supports both headphone and stereo speakers
How to activate Dolby Atmos?
1
Go to Settings > Tap Sounds and Vibration
2
For Galaxy S10 Series, tap Advanced sound settings > Sound quality and effects > Dolby Atoms
For other Galaxy Series, scroll down and look for Sound quality and effects > Tap on Dolby Atmos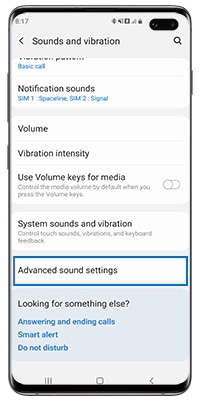 3
4 options are available: Auto, Movie, Music and Voice
4
Select your preferred option or keep default setting at Auto
You can also quickly activate Dolby Atmos from the notification panel:
1
Open the notification panel by dragging the status bar downwards > Scroll notification panel from right to left > Tap Dolby Atoms icon
2
If the Dolby Atoms icon is hidden, tap on the 3 vertical dots menu button on the top right > Tap Button order
3
Drag the Dolby Atmos icon into the quick settings panel and now you can easily activate or deactivate the Dolby Atmos feature