Tips for using Voice Note on Samsung PC (Hong-Kong version)
Last Update date :
Sep 25. 2020
With Voice Note, you can record important information from meetings or lectures before tests as voice notes using a far-field mike.
You can clearly record complicated discussions in meetings or a professor's distant voice, and you can bookmark or make memos for important information with the S Pen to easily find it later.
• Opening Voice Note
1
Click the Start button on the taskbar and find and open [Voice Note] in the [Samsung] folder.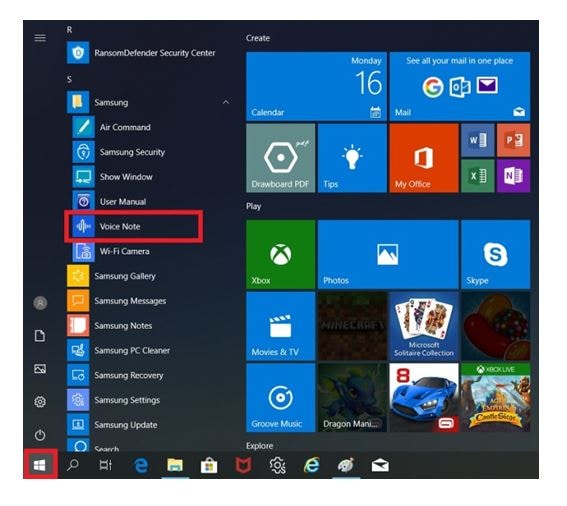 2
Use the recording feature to use Voice Note.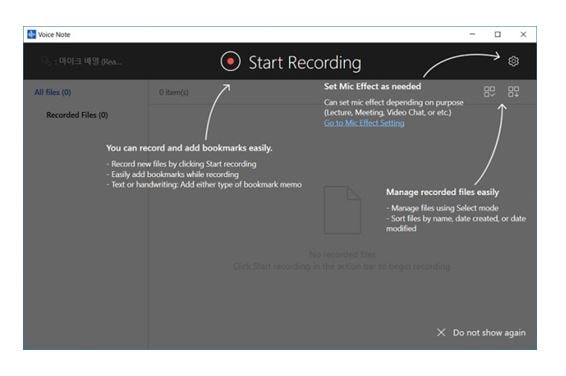 • Major features in Voice Note
⊙ Recording screen
You can record voice and add bookmarks.
1
Open the app, then click the [Start recording] button at the top to record.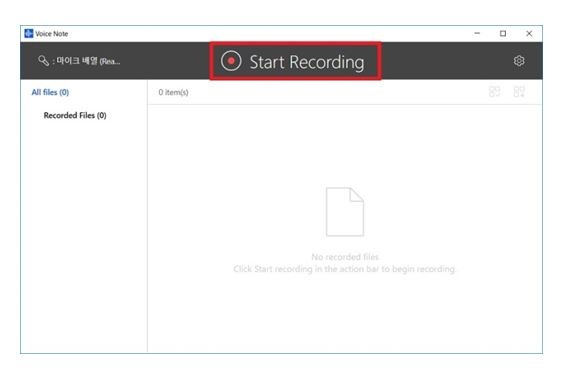 2
You can add bookmarks by choosing the bookmarks you want while recording.
- Text bookmarks: add a bookmark at the time you want and write a text memo.
- Drawing bookmarks: add a bookmark at the time you want and make a picture memo.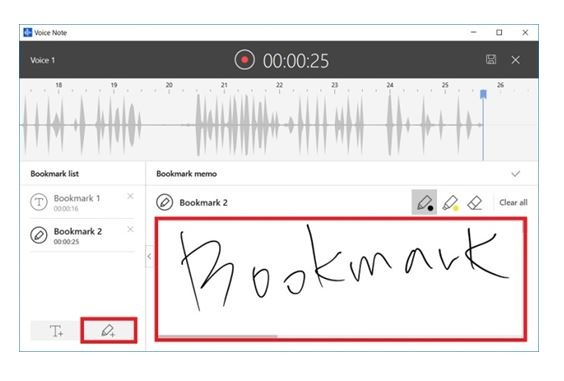 ⊙ Replaying
- When you choose a bookmark from the list, the recording will play starting at that bookmark and the bookmark memo will be displayed.
- If the recording plays past a bookmark, that bookmark's menu will be highlighted and displayed. (However, it will not be highlighted if you are editing a different bookmark at the time.)
- You can add, delete, or modify bookmarks, and you can move the time of a bookmark by dragging and dropping.
⊙ Editing
1
Cutting manually
You can use the time bar and choose the part you want to cut out and edit.
ㆍDeleting a selected part: you can delete a part you've selected.
ㆍDeleting a part you haven't selected: you can delete everything except the part you've selected.
2
Cutting a bookmarked part (you cannot cut bookmarked parts of less than 1 second.)
You can set and edit a part of the recording from the chosen bookmark to the next bookmark.
ㆍSaving as a single file: you can save several bookmarks into one file.
ㆍSaving as several files: you can save several bookmarks as individual files.
⊙ Settings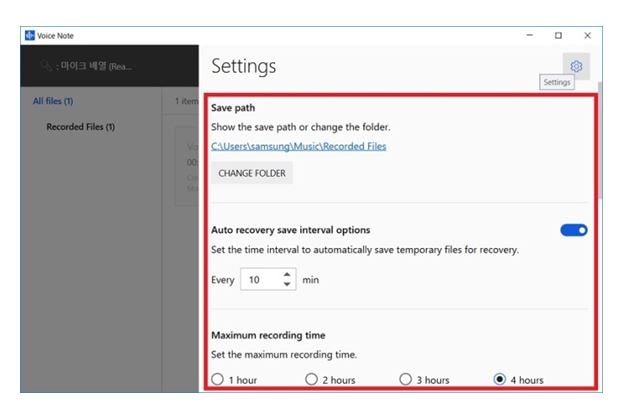 - Storage path: You can set a separate path to save recorded files.
- Automatic file saving interval: You can back up recorded file data at set intervals to automatically save it and can set the time between those intervals.
- Maximum recording time: You can set the maximum recording time.
- Moving the play time: You can move the play time to start playing.
- SoundAlive Auto Volume: You can change the recorded sound when replaying.
- The above product description is only applicable to the Windows 10 on Samsung computers (Hong-Kong version) in year 2018. The above product description was updated in July 2018 and for reference only.
- Windows is either registered trademark or trademark of Microsoft Corporation in the United States and/or other countries. All other products and services mentioned may belong to their respective trademark owners.
- Images are for reference only.
Please answer all questions.