How To Calibrate Your Battery?
Last Update date :
Nov 23. 2020
Smart Battery Calibration
When charging and discharging the battery repeatedly over a short time, the battery usage time may be reduced. To restore the actual battery charge and the remaining charge display you will need to discharge the battery completely using the Smart Battery Calibration function, and then charge it again.
IMPORTANT:
If your laptop does not power on unless it is plugged in, your battery is dead. The information below will not resolve the issue; you will need to replace your battery.
Performing a Battery Calibration
1. Save and Close
any applications/software
that you are currently using.
2. Disconnect the
AC Adapter
.
NOTE:
If the AC Adapter is connected, you will not be able to run the Smart Battery Calibration.
3. Restart your computer, and then press the
F2 key
when the SAMSUNG logo appears to start System Setup.
4. Using the left or right arrow key, select
Boot
.
5. On the Boot menu, press the
down arrow
to highlight Smart Battery Calibration, and then press
Enter
.
6. Highlight
Yes
in the Battery Calibration Confirmation window, and then press
Enter
.
7. The Battery Calibration function is activated and the battery is discharged by force.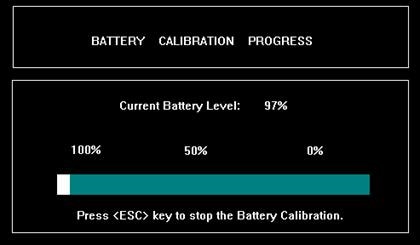 NOTE: This operation may require up to 5 hours, depending on the battery's capacity and remaining battery life. If you need to stop the operation, press the ESC key.

8. After the battery has been discharged and the computer shuts down, connect the AC Adapter to your computer and charge the battery fully. The battery is now calibrated.
Please click the submit button below to share your feedback with us. Thank you for your participation.
Please answer all questions.