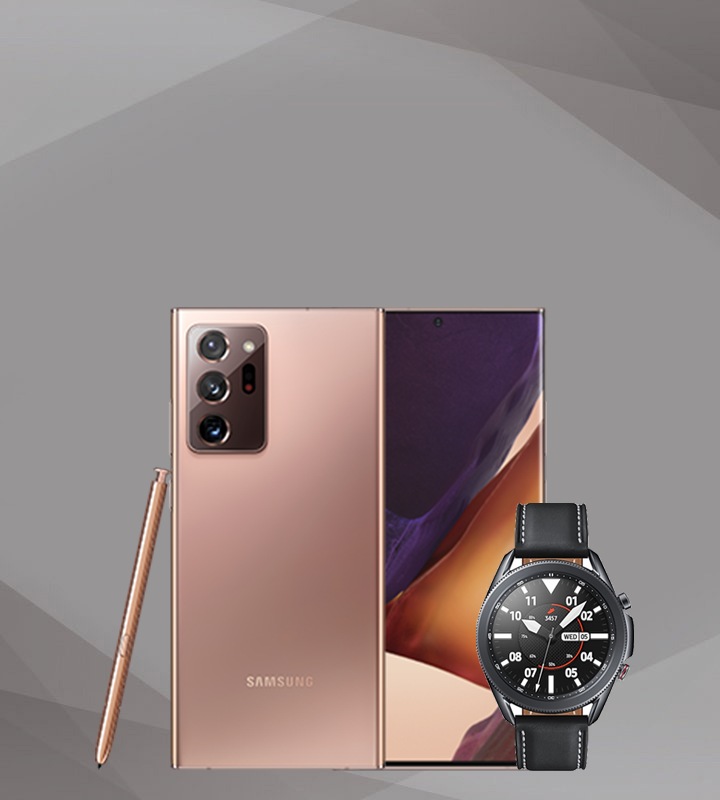 Watch Series Compatible List
Check for compatibility
Galaxy Watch
Galaxy Watch3
Galaxy Watch Active
Galaxy Watch Active2
Galaxy Fit
Galaxy Fitⓔ
Galaxy Z Series
Galaxy Z Fold2 5G

>

Galaxy Fold

Galaxy Z Flip

>
Galaxy S Series
Galaxy S8 (4G LTE)

Galaxy S8+ (4G LTE)

>

Galaxy S9 (4G LTE)

>

Galaxy S9+ (4G LTE)

Galaxy S10e (4G LTE)

Galaxy S10 (4G LTE)

Galaxy S10+ (4G LTE)

Galaxy S20

>

Galaxy S20+

>

Galaxy S20 Ultra

>
Galaxy Note Series
Galaxy Note8 (4G LTE)

Galaxy Note9 (4G LTE)

Galaxy Note10 (4G LTE)

Galaxy Note10+ (4G LTE)

Galaxy Note10 Lite (4G LTE)

Galaxy Note20 5G

>

Galaxy Note20 Ultra 5G

>
Galaxy A Series
| | | | |
| --- | --- | --- | --- |
| Galaxy A20 (4G LTE) | | | |
| Galaxy A60 (4G LTE) | | | |
| Galaxy A70 (4G LTE) | | | |
| Galaxy A80 (4G LTE) | | | |
| Galaxy A20s (4G LTE) | | | |
| Galaxy A40s (4G LTE) | | | |
| Galaxy A50s (4G LTE) | | | |
| Galaxy A51 (4G LTE) | | | |
| Galaxy A71 (4G LTE) | | | |
| Galaxy A21 (4G LTE) | | | |
| Galaxy A31 (4G LTE) | | | |
Other Smartphones
| | | | |
| --- | --- | --- | --- |
| Android phones running Android OS 5.0 or above with at least 1.5GB RAM | | | |
| iOS phones running iOS 9.0 or above (iPhone 5 or newer models) | | | |
| iOS phones running iOS 10.0 or above (iPhone 7 or newer models) | | | |
The following refers to restrictions that may occur with iPhones
Since Watch and iPhones are connected via BLE (Bluetooth Low Energy), data loading and app download speed on the Watch device may be slow.


In case of unstable connection to Watch with iPhone running iOS 10 and later, access the Bluetooth menu in Settings and unpair all connected Bluetooth devices but do not unpair the Watch LE connection. Then turn off Bluetooth and turn it back on.


Availability of features may change without prior notice when improvements are made to Watch and iPhone connection performance.


Restrictions may apply based on hardware, software and iOS versions, as well as iOS-based restrictions; see below for further details:

- Reply function unavailable (replying and message syncing for features such as text messaging, messenger app, emails).
- S Health features unavailable (Together, viewing map, social media sharing, workout of the day recommendations, etc.).
- Find my phone feature unavailable (Find my Wearable feature is available).
- Samsung device-only features unavailable (Samsung Pay, My BP Lab, etc.).
- Only free apps and Wearable-specific apps can be downloaded from the Galaxy app store.
- Availability of app download may also vary by app developer, OS, software version and service region.
* The above information is subject to change.
* Gear Watch is not compatible with tablet PCs.
* Compatible smartphones and available features may vary by region and device.
* Upgrade Galaxy Wearable to latest version to be compatible with Gear Wearable. OS of the mobile device must be upgraded to 5.0 or higher version.
* Some Samsung Health/Fitness applications and related services available for Samsung wearable devices may not be compatible with Samsung tablet devices. Applications and related services available for Samsung wearable devices may not be compatible with devices that do not support Samsung Galaxy Wearable application.#
#Android: Samsung Galaxy Wearable
iOS: Samsung Galaxy Watch