AM040FXMDEH/EU
DVM S Eco, Essential, Heat Pump, 4PH
The Samsung DVM Mini is an efficient outdoor air conditioning solution that is ideal for large residential environments and small to medium commercial spaces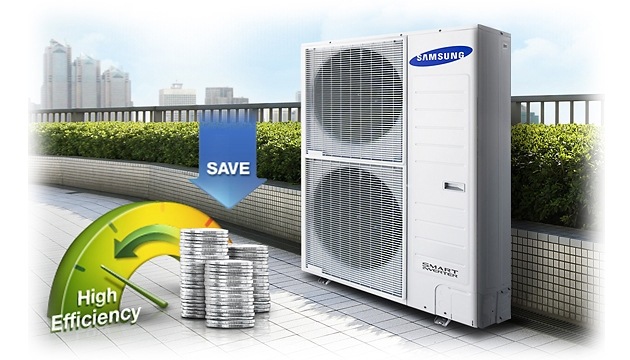 Top-class Energy Efficiency
We are committed to developing environmentally-friendly ways for businesses to reduce energy consumption. With its outstanding energy efficiency, this unit delivers the solution. It features an innovative BLCD Compressor, which provides a higher cooling and heating co-efficient of performance than that of our competitors. The result is one of the most efficient air conditioning systems available.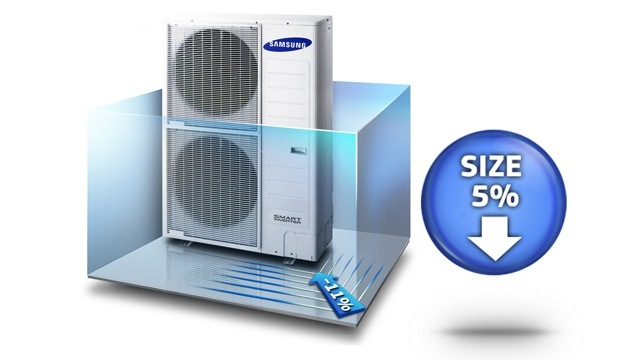 Small Footprint and Volume
Optimising space is always a key business consideration. The DVM S ECO has a small, compact design with a significantly reduced footprint, using up to 11 per cent less area. In addition, the overall volume of this unit is 5 per cent less than conventional models, making it even more of a convenient space-saving option in offices. This not only makes installation easier, but also frees up valuable room while continuing to produce superior quality heating and cooling performance.
Flexible Piping Design
Thanks to its extended piping length, the DVM S ECO offers maximum flexibility when it comes to deployment. It allows for a level difference of up to 50m between indoor and outdoor units, and a pipe length up to 150m. This generous variation lets businesses customise systems to operate efficiently in a wide range of situations.
Low Noise Level
By producing less noise than conventional models, the DVM S ECO imposes fewer distractions on your business's working environment. Its compact, unimposing design brings with it the benefit of sound reductions of up to 5 decibels.
Specification
Model Name
Power Supply (Φ, #, V, Hz)
Mode
Performance

HP

4

Capacity (Nominal)

Cooling (kW)

12.1

Cooling (Btu/h)

41300

Heating (kW)

13.51

Heating (Btu/h)

46100

Power

Power Input (Nominal)

Cooling (kW)

2.89

Heating (kW)

3.02

Current Input (Nominal)

Cooling (A)

14

Heating (A)

15.1

MCA

22 (MCA)

MFA

27.5

COP

Nominal Cooling

4.19

Nominal Heating

4.47

Compressor

Type

Twin BLDC Rotary x 1

Model Name

UG5T450FUEJXSG x 1

Oil

Type

POE

Initial Charge (cc)

1700

Fan

Type

Propeller / BLDC

Output x n

125 x 2

Piping Connections

Liquid Pipe (Φ, mm)

9.52

Liquid Pipe (Φ, inch)

3/8"

Gas Pipe (Φ, mm)

15.88

Gas Pipe (Φ, inch)

5/8"

Installation Limitation

Max. Length (m)

150 (175)

Max. Height (m)

50 (40)

Field Wiring

Transmission Cable (mm2)

0.75 ~ 1.5

Refrigerant

Type

R410A

Factory Charging (kg)

3.2

Sound

Sound Pressure (dB(A))

50

Sound Power

66

Operating Temp. Range

Cooling (℃)

- 5 ~ 48

Heating (℃)

- 20 ~ 26
* Samsung air conditioners contain fluorinated greenhouse gas R410A with GWP=2088
Manual Download
DVM S Eco, Essential, Heat Pump, 4PH (AM040FXMDEH/EU)
Manuals

2019.01.15

Installation Guide ver 1.0

(ENGLISH)