5 Tips for Creating the
Ultimate Gaming Setup
Get next-gen ready
Video games have come on in leaps and bounds in recent years. Graphics no longer reside in the uncanny valley, but are today scarcely discernible from reality. Wildly ambitious storylines spiral off in surprising directions, but player agency allows gamers to shift the narrative to their will. Innovative gameplay and intuitive controls help anyone pick up and play in mere moments.

There are now over 3 billion gamers worldwide, and that number is only growing. Gaming isn't just the hobby of teenage boys anymore – it's for everyone. Today, video games are popular with all demographics of people. We play them on multiple devices, from dedicated consoles to computers and smartphones, and there are titles to suit every possible interest.

Of course, as players, we want to do our games justice and create the best setup possible. The following five tips will help you level up your gaming setup to smart home system standard.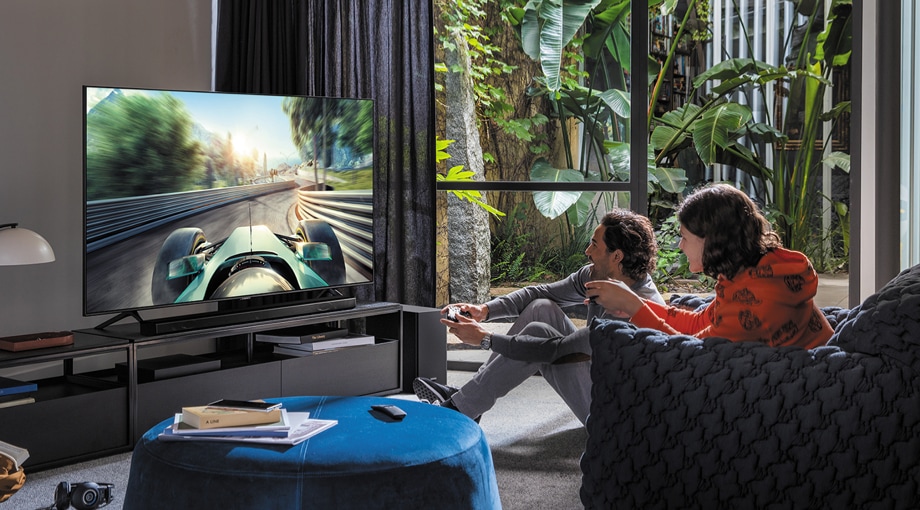 Invest in the best
gaming TV or monitor
If you're in a committed relationship with your new-generation console, a television upgrade is the best investment to power up gameplay. The undisputed showpiece of the modern smart home, an elite-level gaming television will become the focus of your overall setup. When it comes to open-world games, a big screen really is better. Samsung's 2020 8K QLED TVs use artificial intelligence to upscale content to higher definition, restoring lost detail, improving image texture and edge definition. If you play on PC, the ultra-wide 49" Odyssey gaming monitor offers the same effect – spellbinding QLED resolution and a beautiful 1000R curved screen.

For a totally immersive experience, try a soundbar with Object Tracking Sound+. This three-dimensional audio syncs up with action on screen, so you'll feel like you're right there in the stadium in your next FIFA fixture. It could even help you detect where your opponents are attacking from in a shooter.

Stay on top of your game with VRR
HDMI 2.1 is a big deal for gamers that want to improve their setup as we approach the dawn of PlayStation 5 and Xbox Series X. VRR stands for Variable Refresh Rate. It allows a TV to adjust its refresh rate in real-time to the frame rate output by a games console. Engineered so that TV and console work together seamlessly, Samsung QLED TVs deliver the smoothest ever gaming-monitor performance where you can experience next-level detail, battling off the effects of lag, tear and buffering. The TVs intuitively match the frame rate from game to TV, giving you competitive edge.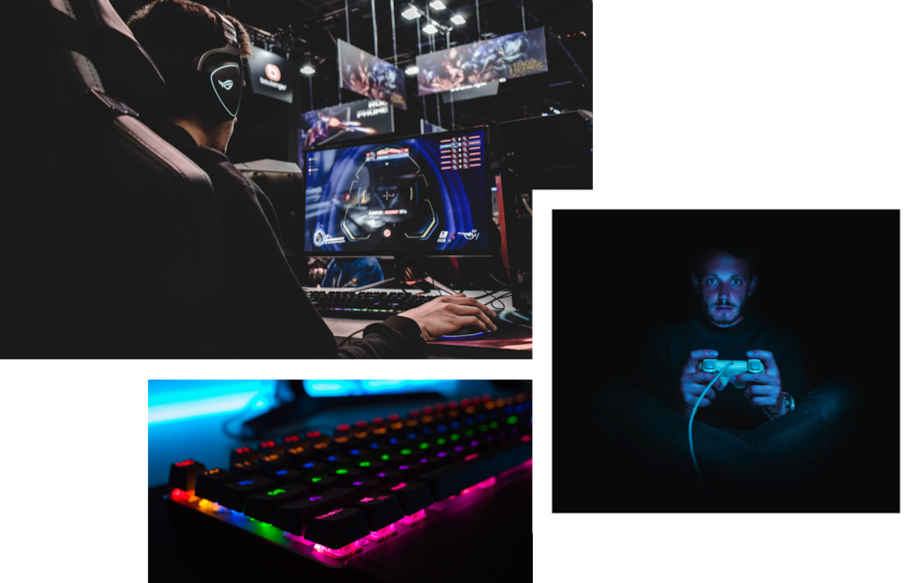 Protect your posture
with a gaming chair
When you're the proud owner of a next generation QLED TV, you could say that every seat is the best one in the house. Still, it's pretty important to kickback in a decent gaming chair if you whittle away many hours gaming. It's all too easy to slump on the sofa for the duration of your gaming session – which isn't particularly great for your back. Ergonomically designed gaming chairs are intended to keep you healthy, offering maximum comfort and enabling you to maintain good posture while you game. Ultimately, being comfortable in your setup will lead to better focus and motivation.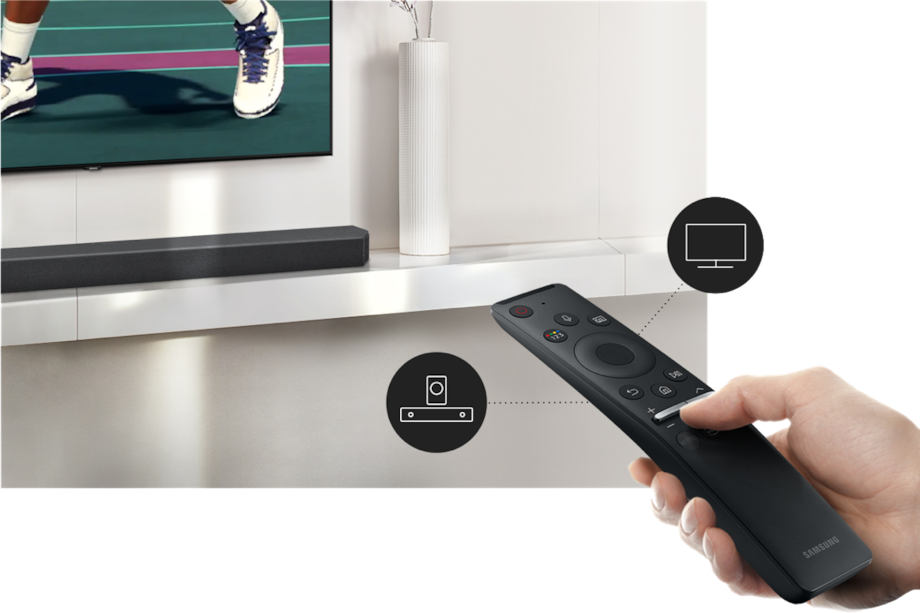 Ensure seamless connectivity
Did you know that Samsung home, TV, and mobile technology can all be linked for a seamless gaming setup? Connecting devices is a great way to level up your gaming experience, allowing you to play from your phone on the go and on your tablet when you get home, cross-saving between devices so you don't lose progress. Smart technology allows you to project your phone screen to your television for bigger screen size whenever you wish. Different devices in your gaming setup now work together too. You might play a few rounds of NBA 2K on your console on the TV, then make tweaks to your team and tactics out and about, using the companion app on your phone.

Supercharge online gaming
Any good gaming setup relies on strong internet when playing with other people. Online connection is also important for downloading new games and DLC, online chat and streaming to social platforms such as Twitch and YouTube. The dawn of 5G promises faster, more reliable connections for home internet, smartphones, and other compatible devices – including games consoles. Faster speeds allow you to download files more quickly, and the lower latency will give players an improved online gaming experience. This is particularly interesting for those looking to add streaming services such as xCloud to their gaming setup.
Ready to level up your gaming?
Here's everything you need

Curved HDR QLED Gaming Monitor