Bubble technology
Bubble technology
A+++
Energy Efficiency Class
FEATURES
AddWash™ lets you add to the wash during the wash
Wash cool and save energy with ecobubble™ technology
Why wait? Control your washing from anywhere with Smart Control
Huge 12 kg capacity to wash even more in one load
Add to the wash during the Wash
Add to the wash during the wash
Open the innovative AddWash™ door to quickly drop in anything extra during the wash* – whether that's a stray sock you missed, extra softener, or a hand-washed garment for final rinsing.
* AddWash™ door can be opened at any time when the drum temperature is below 50 °C.
Take control anytime, anywhere
With our mobile app, your smartphone is the remote control for your WW8500 washing machine. You can check the washing from the sofa, the office or even when out and about.*
* Open washing machine is on slide
Washing machine
is on
* Open found forgotten items slide
Found
forgotten items?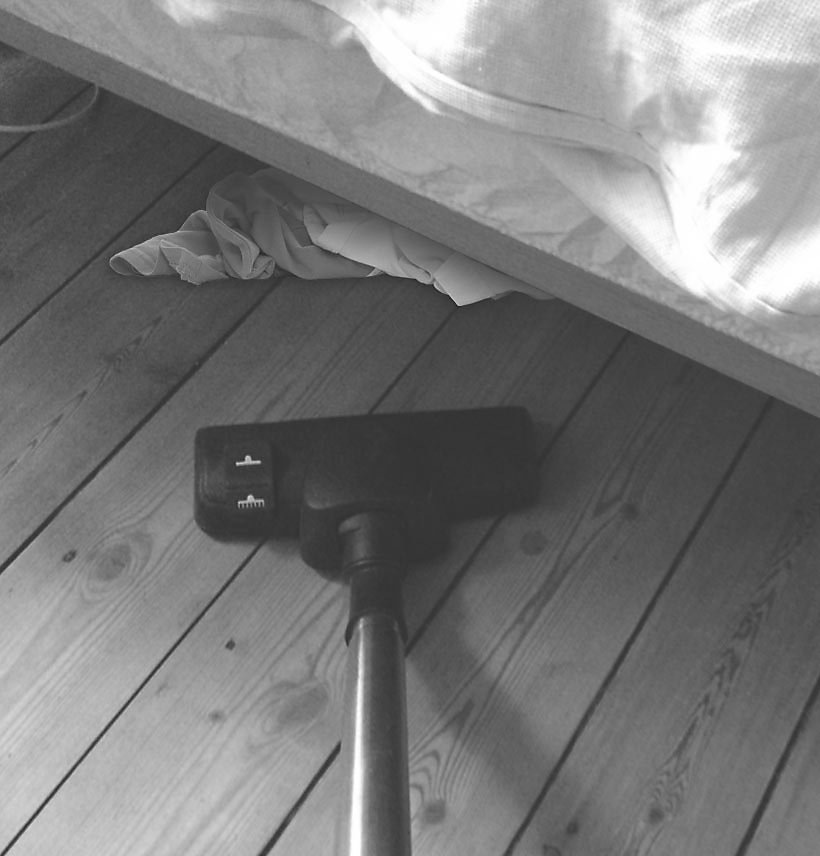 * Open pause the cycle on your smartphone slide
Pause the cycle
On your smartphone
* Open add them when you wnat to slide
Add them
when you want to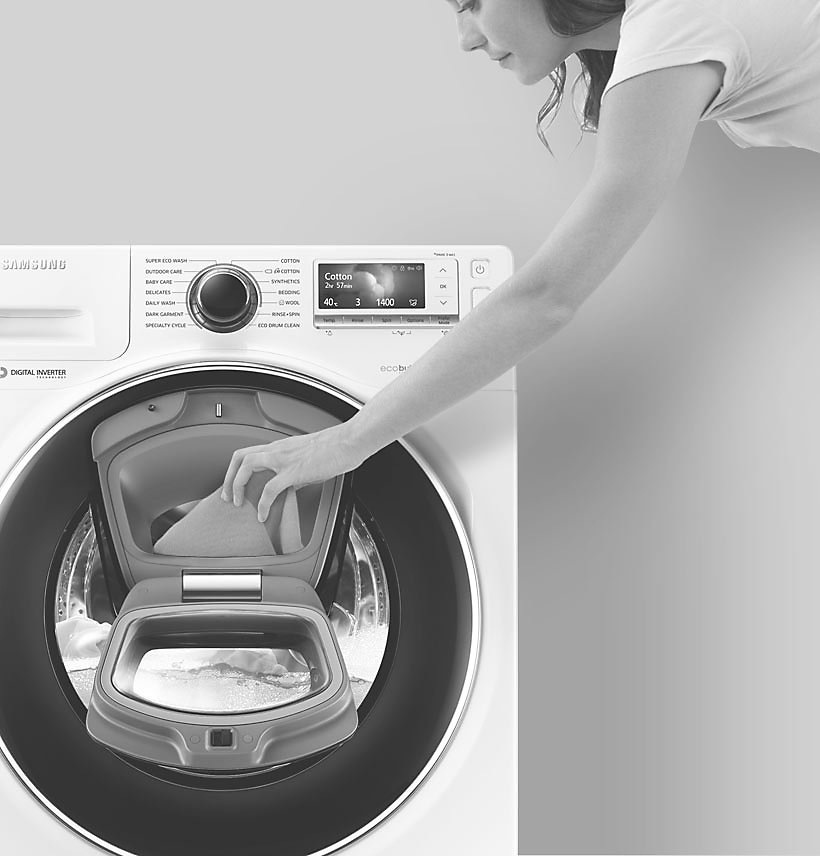 * Open smartphone alarms when rinsing starts slide
Smartphone alarms
When rinsing starts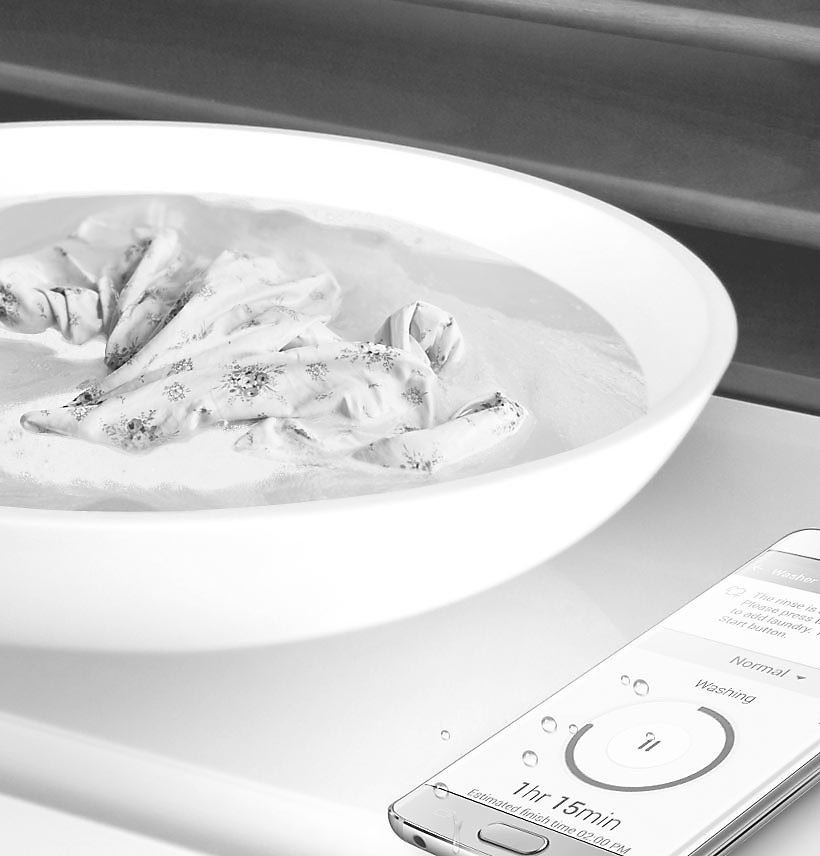 * Open prewashed items for rinse only slide
Prewashed items
For rinse only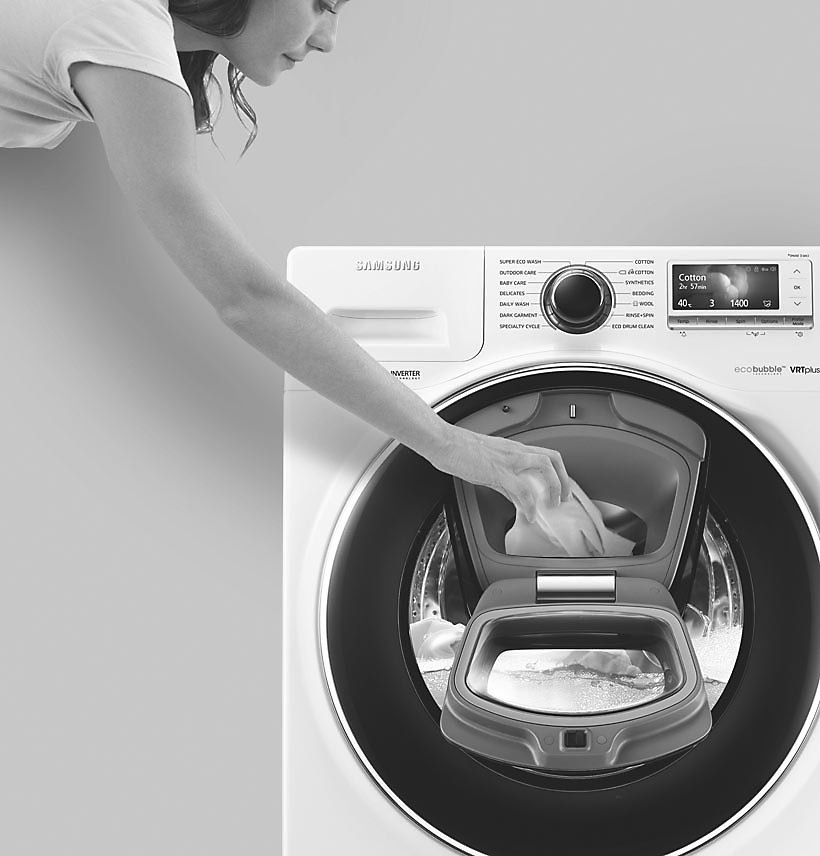 * Available on Android and iOS.
Undeniable performance of bubbles
Our efficient ecobubble™ technology mixes air, water and detergent to create bubbles that penetrate your clothes faster, helping you wash at cooler temperatures. Better for the environment and your bills.
* Tested in accordance with IEC 60456-2010 / 4 kg Wash Load / Super Eco Wash cold (WF80F5E5U4W) vs. Cotton 40° without ecobubble (WF0702WKU). Individual results may vary.
** Based on the Performance Lab Test report by Springboard Engineering on EMPA strips, between normal detergent solution and bubble technology without mechanical action.
*** Drum pattern may not be identical with actual product.
Powerful Cleaning in Less Than an Hour
Our Twin Water Supply fills your machine faster, and a clever Spin Speed Rinse accelerates your cycle, cutting a standard 5 kg wash (that's 25 t-shirts) to just 59 minutes. Meaning less time waiting, more time for you.
Time Saving
Start
Speed Spray
Fast spin
Finish
* Based on Super Speed at default settings with a 5 kg load.
Intensive Stain Removal
Whether its cotton, synthetics or baby clothes, add a 30 minute Bubble Soak to any of your preferred programmes at the touch of a button. Then let our unique ecobubbles penetrate deep into the fabrics to loosen tough stains – giving you a thorough and efficient clean after every soak.*
* Tested in accordance with IEC 60456 5th edition / 8 kg Wash Load / Bubble Soak Wash (WF80F5E5U4) vs. Cotton 40 / 60°, Synthetic 60°, and Denim 40° without Bubble Soak (WF0702WKU).
12 kg Capacity. Less washes, more time to relax
The Samsung WW8500 washing machine's huge 12 kg capacity lets you wash piles of laundry in a single load – meaning you can enjoy less time washing and more time for yourself.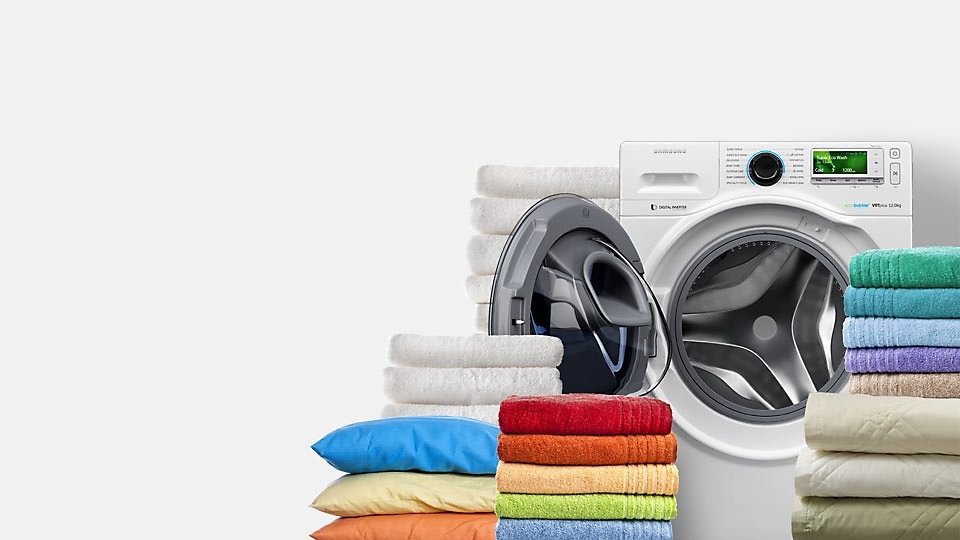 Quiet, reliable performance
The quiet Digital Inverter Motor gives you long-lasting, reliable performance. Less noise, less vibration and less wear and tear – it even has a 10 year warranty.
Less noise and
vibration
Thanks to our VRT technology, now everyone can enjoy a more peaceful wash with a drum that keeps in perfect balance, even at high spin speeds.
* Compared to Samsung conventional washing machine without VRT feature
** The actual noise / vibration level may be different by the operating environment.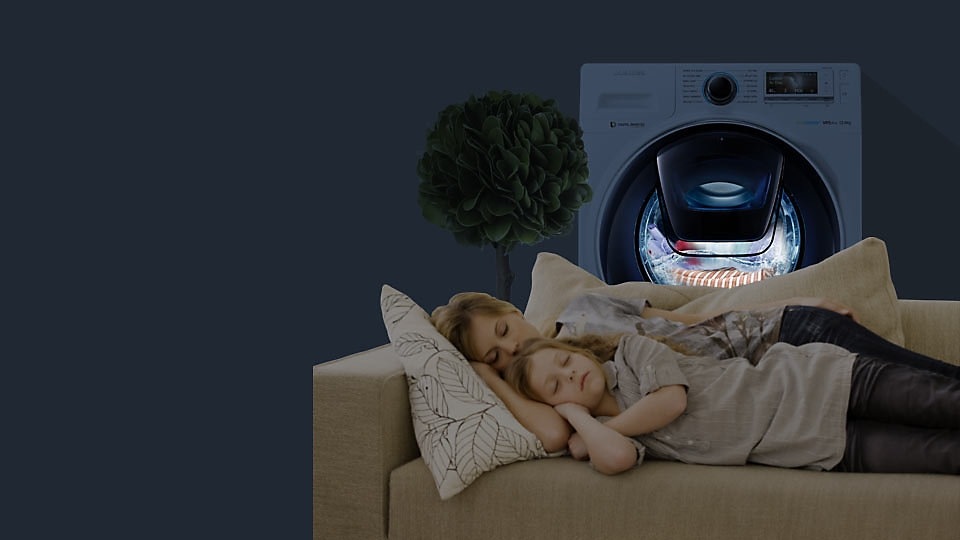 Support at your fingertips
Smart Check is an automatic error-monitoring system that detects and diagnoses problems at an early stage. Using a Smartphone App*, this useful feature provides quick and easy troubleshooting solutions, saving you from the inconvenience of unnecessary engineer callouts.
* Available on Android and iOS.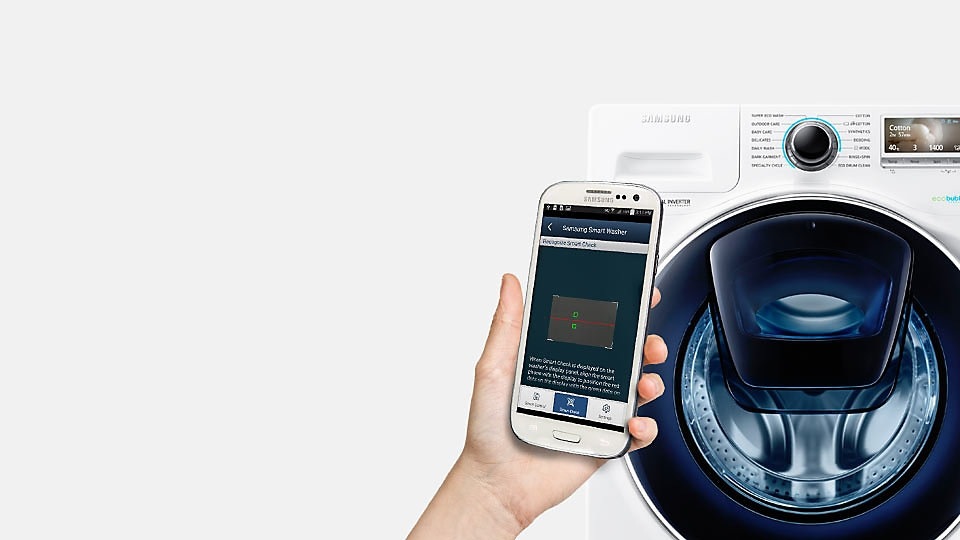 Compare
WW7500, 9 kg

WW7500 AddWash™, 9 kg

WW8500, 12 kg

WW8500 AddWash™, 12 kg

WW9000, 10 kg

WW9000, 10 kg

Available colours

ecobubble™

AddWash™

Smart Control

Colour LCD Screen

Specialty Cycles
12 

Washing Capacity (kg)

Bubble technology

Bubble technology

VRT plus

VRT

A+++

Energy Efficiency Class

600 x 850 x 600 mm

Net Dimension (WxHxD)

76 kg

Net Weight
How It Stacks Up
Washing Capacity (kg)

12 

Bubble technology

Yes

VRT

VRT plus

Energy Efficiency Class

A+++
QuickDrive™

Super fast

Washing Capacity (kg)

9 kg

Energy Efficiency Class

A+++