Galaxy Unpacked February 2023: what was announced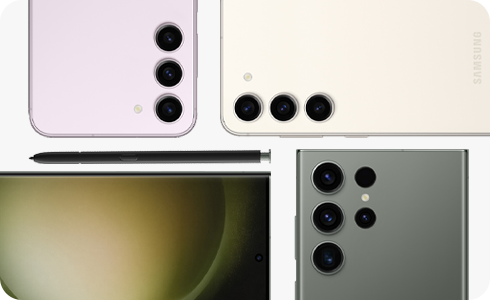 The wait is over! On 1 February 2023 Samsung streamed Galaxy Unpacked, unveiling its brand-new flagship products. The exciting new products announced at the event were the Galaxy S23 series, along with the Galaxy Book3 series. During the event, Samsung revealed everything you need to know about these new products.
What was announced?
Samsung has announced the launch of the Galaxy S23 series – the Galaxy S23 Ultra, the Galaxy S23+ and the Galaxy S23.
The Galaxy S23 Ultra comes with an embedded S Pen, features Samsung Galaxy's most advanced camera system (200 MP Adaptive Pixel sensor), with improved Nightography capabilities, Snapdragon 8 Gen 2 for premium experience and the first to feature Gorilla Glass Victus 2.
On the Galaxy S23+ and the Galaxy S23, Samsung Galaxy's iconic camera has an upgraded look, with the removal of the contour housing.
Along with these new mobile devices, Samsung has announced the launch of the Galaxy Book3 series. This is Samsung's new flagship PC line-up. The series includes the Galaxy Book3 Ultra, the Galaxy Book3 Pro 360, the Galaxy Book3 360 and the Galaxy Book3 Pro.
The Galaxy Book3 Ultra is the fastest Galaxy Book to date and comes with 13th Gen Intel® CPU. The Galaxy Book3 Pro 360 and Galaxy Book3 360 include a 2-in-1 convertible form factor and have S Pen functionality. And the Galaxy Book3 Pro has a thin, light design.
Where can I pre-order the products?
Where can I watch it?
If you missed the event, don't worry!  You can catch up on everything that was revealed by watching the Galaxy Unpacked stream on the Samsung YouTube channel.
We would love to know your feedback to help us improve. Please click submit to tell us what you think.
Please answer all questions.