Unique camera experiences with Flex mode on Galaxy Z Flip3 5G
Thanks to Flex mode on Galaxy Z Flip3 5G, you can use your phone handsfree by standing it up on a surface. Take selfies at whole new angles, make video calls, or capture long-exposure images without the use of a tripod easily by folding the Galaxy Z Flip3 5G. It takes your camera experience to a whole new level.
Before you try the recommendations below, be sure to check if your device's software and related apps are updated to the latest version. To update your mobile device's software, follow these steps: 
Step 1. Go to Settings > Software update.
Step 2. Tap on Download and install.
Step 3. Follow the on-screen instructions.
What is Flex mode on Galaxy Z Flip3 5G?
When the Galaxy Z Flip3 5G is folded halfway to create an "L" shape, the device will go into Flex mode. In Flex mode, the layout of some apps will change automatically. For example, when using the Camera app, the shooting options at the top of the screen will go down for easier control and the device will sit upright without a tripod for easier use. Then, fully unfold the phone to use the camera app in full screen mode again.
Note: 
If the device goes beyond a certain range, the device will become either fully unfolded or folded automatically.
Changing the screen layout is only available in some apps.
Take a hands-free selfie at a whole new angle
The Flex mode on Galaxy Z Flip3 5G allows you to capture pictures and videos from various angles hands-free. You can fold your device and stand it up without using a tripod making use of the camera more convenient. Even when traveling alone, take amazing selfies that look like someone else took your picture for you.
With more advanced *Face AWB (Auto White Balance) and *AI Face Restoration technology, you can get natural skin tone portraits in any environment with AI. Check two ways to take hands-free selfie photos in unique poses below with the Galaxy Z Flip3 5G.
Show palm: Take photos and videos by showing your palm to the screen.
Step 1. Launch Camera.
Step 2. Half-fold the device and place the phone on a flat surface.
Step 3. Take a hands-free selfie or start to record a video by just showing your palm.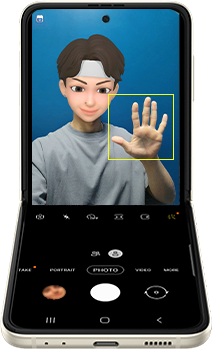 Backdrop: Change the background to match the subject's clothing.
Step 1. Launch Camera, and then select PORTRAIT.

Step 2. Tap the bottom-right icon, and then select BACKDROP.
Step 3. Take a portrait of a subject.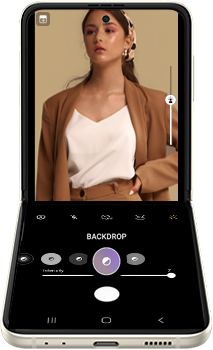 Note:
Show palm option is turned on by default.
Face AWB (Auto White Balance): Shoot portraits with more natural skin tone without less interference from light sources around the subject.
AI Face Restoration: Restore the blurred details (low light/shaking).
Shoot cinematic videos with Auto Framing
You can set the device to change the shooting angle and zoom automatically by recognizing and tracking people while recording videos. If you enable Auto Framing, you can keep the subjects centered in the video frame with a smooth zoom. To enable Auto Framing, follow the steps below.
Step 1. Open the Camera app, and then tap VIDEO on the shooting mode list.
Step 2. Tap the Auto Framing icon to activate it, and then record a video.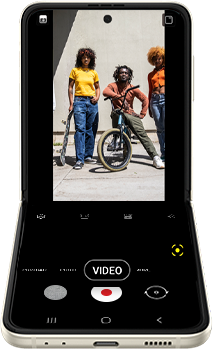 Note: 
Auto Framing is available in Flex mode with front and rear camera.
The range for Auto Framing recognition is up to 4 people within a distance of up to 3.5 m.
Check it out right away with Dual Preview
When you take a picture or video with rear camera in Flex mode, you can check the previews that include filters, beauty effects, AR Emoji, Portrait, Portrait Video on both the Main and Cover screens. To see the preview on the Cover screen, just tap the Dual preview icon.
Note: This feature is only available in some shooting modes.
Additional improvements in Z Flip3 5G camera feature
Quick shot allows you to snap a high-quality selfie or selfie video without opening the device. You can view related information, such as flash, the video recording icon and timer countdown on the Cover screen.
① To launch the camera directly, double-click the Side key.
② Swipe left and right to switch between PHOTO/VIDEO modes.
③ Swipe up and down to switch between Wide/Ultra Wide cameras.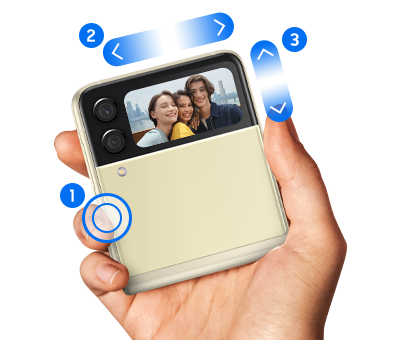 Enhanced low light camera gives you clearer, brighter photos even at night. You can choose the maximum exposure time for clearer night shots with the rear camera. Also, you can get naturally bright selfies with the display flash in extremely low-light conditions. To shoot in Night mode, follow the steps below.
Step 1. Tap MORE in the Camera app.
Step 2. Select NIGHT.
Note: Device screenshots and menus may vary depending on the device model and software version.
Please answer all questions.